Useful Links and Entrepreneurship Opportunities
Useful links to websites that will help with your entrepreneurship activities and learning.
---
International Competitions
The HUMLOG Challenge
GBSN and The Hanken School of Economics' HUMLOG Institute invite students from all over the globe to participate in The HUMLOG Challenge, an international virtual student competition focused on developing local solutions to problems related to humanitarian logistics. The HUMLOG Challenge is part of the GBSN Beyond Learners Track.
The Covid-19 pandemic has tested communities across the world on preparedness and resilience. Major hazards constantly threaten the livelihoods of the most vulnerable populations across the world. To mitigate this trend, increased Disaster Resilience and Community Preparedness is essential to reduce the potential impact of humanitarian crises in the poorest communities who are often disproportionately affected by these disasters. This year, The HUMLOG Challenge focuses on Community Disaster Resilience. Student teams will be challenged to identify a natural disaster relative to a geographical region and address the community's preparedness, response and level of resilience.
Prizes
The winning team will receive a 5,000 USD cash prize, sponsored by the Hanken School of Economics' HUMLOG Institute, to be used towards their continuing education. The Top Five teams will be offered a one hour professional mentoring session from a leading industry expert.
Students also have the option to take a Hanken School of Economics online course, Introduction to Humanitarian Logistics, available on the FutureLearn platform. Participants will have the opportunity to earn an optional certificate of excellence for completing both the competition and the online course.
Student Teams will be given access to a private space on the Localized platform to use for team collaboration throughout the competition. Localized is a career development online community where students can access career development resources and connect with potential employers.
Competition Details
We highly encourage Undergraduate, Graduate and Postgraduate students to form multidisciplinary teams

GBSN Membership is not required to participate

All teams will be required to submit a concept brief to provide organizers and mentors an idea of the team's project focus

There is no cost to participate. Students must be from an institution that has registered for GBSN Beyond: Virtual Conference Reimagined
Team Registration
Each individual team member must complete a GENERAL registration form for GBSN Beyond. Only one team member will register the team for the competition. The team sign-up link will be included in the GENERAL Beyond registration confirmation email. The individual who submits the team registration will be the designated Team Captain. Students should reach out to their institutions for their unique conference registration code to waive all fees.
Team Registration Deadline: September 29
Once teams are registered, a Student Handbook will be provided once Team Registration is completed. The Handbook offers more detailed information on deliverables, key dates, resources.

Danish Government - 2030Challenge
The Danish Embassy in Cairo thrilled with the opportunity to offer a case challenge titled: Egypt's Aquaculture Sector – Food Security and Sustainable Production.
Four graduate Egyptian students will work with four Danish students to develop and pitch a business proposal on the above-listed theme. From June 17 to August 10, the students will work on the case. The students will receive mentorship from the embassies, have access to industry experts, and collaborate with like-minded students from around the world. In addition to working on this interesting case, the winning team will be invited to Copenhagen to present their project at the Youth Peoples Meeting in September 2021. After this presentation, the team will then have the opportunity to work with the Embassy of the winning country team to implement their proposal on the ground!
More information about the challenge can be found here
University Startup World Cup 2021
Venture Cup China is pleased to invite you to participate in our global competition, University Startup World Cup 2021!
University Startup World Cup is an annual startup competition where the best university startups from around the world come together to network, exhibit, and pitch for a chance of becoming the world's best university startup! Started by Venture Cup Denmark in 2015, this would be our 7th year in running the competition.
What will you get out of participating?
You will be invited to join around 100 other startups to meet and greet Danish and Chinese investors, companies, and tech experts with a cash prize of 15,000 USD for the winners and a 1,000 USD stipend for your travel to China as a finalist.
How to apply?
It's FREE to participate. You can click on the link below by the deadline of June 13 with your startup name, contact person, and pitch desk, and then we will verify if your startup complies with our filtering regulations as listed below:
Must be a current student (Bachelor, Master's PhD, etc.) or have graduated within 2 years from a higher education setting.

Must have at least 2 co-founders on the team.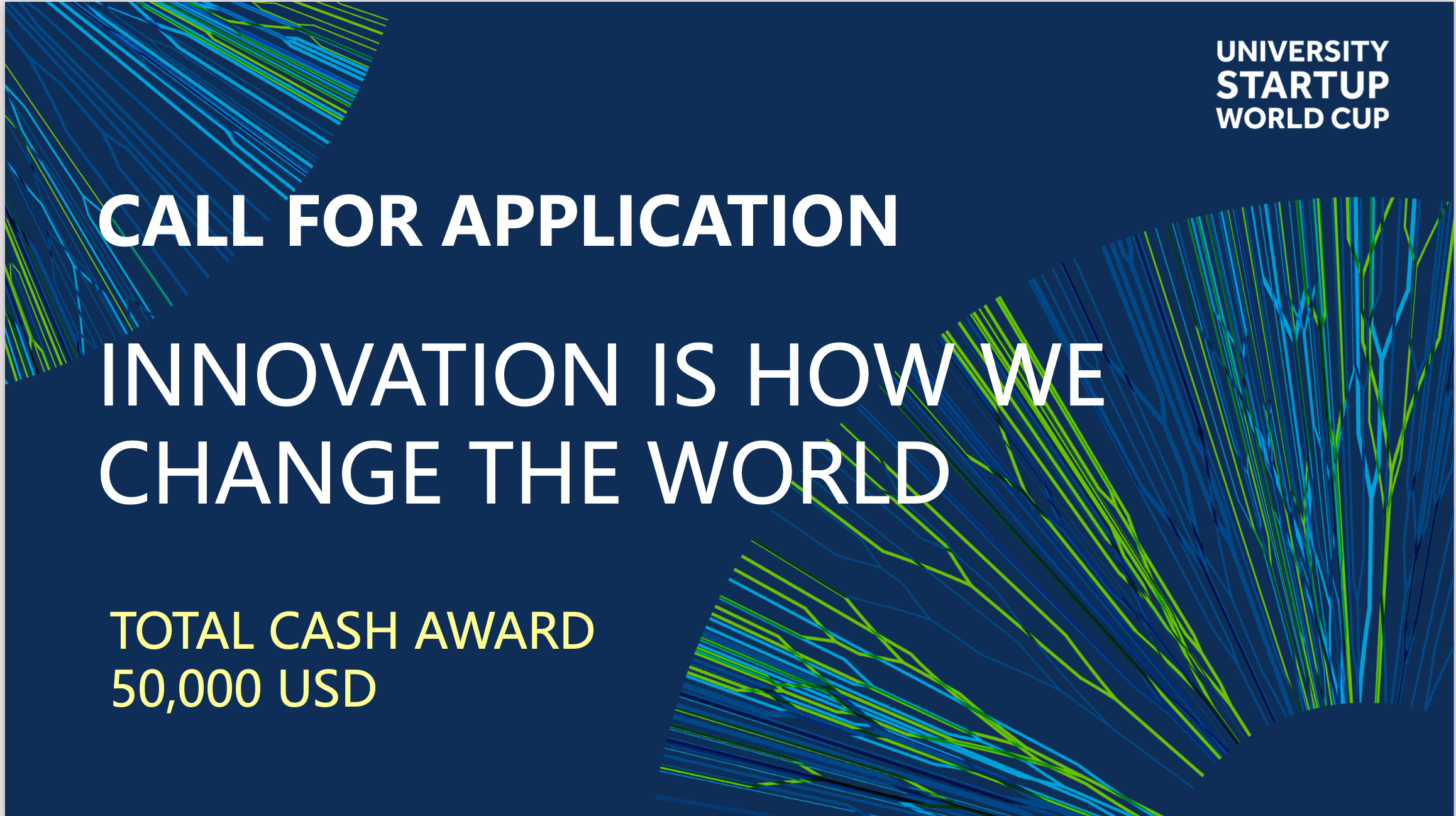 International Summer School 2021 at

Universidad de Los Andes School of Management
Held from Monday, July 19 – Friday, July 23 (8:00 am – 2:30 pm)
The Uniandes Impact Entrepreneurship Bootcamp is an intensive course for developing entrepreneurial skills and creating high-impact entrepreneurship projects in the International Summer School at Universidad de Los Andes School of Management.
All sessions can be taken virtually; it is expected that three will be held in person at the University of the Andes Campus, taking into account the restrictions and regulations of COVID at that time
AWARD US$10.000 in cash for the project chosen by the jury of experts. The project that received this award will not necessarily have the highest grade in the course. The awarded project will also have the subsequent support of the Entrepreneurship Center at the Universidad de Los Andes.
For more information, click here.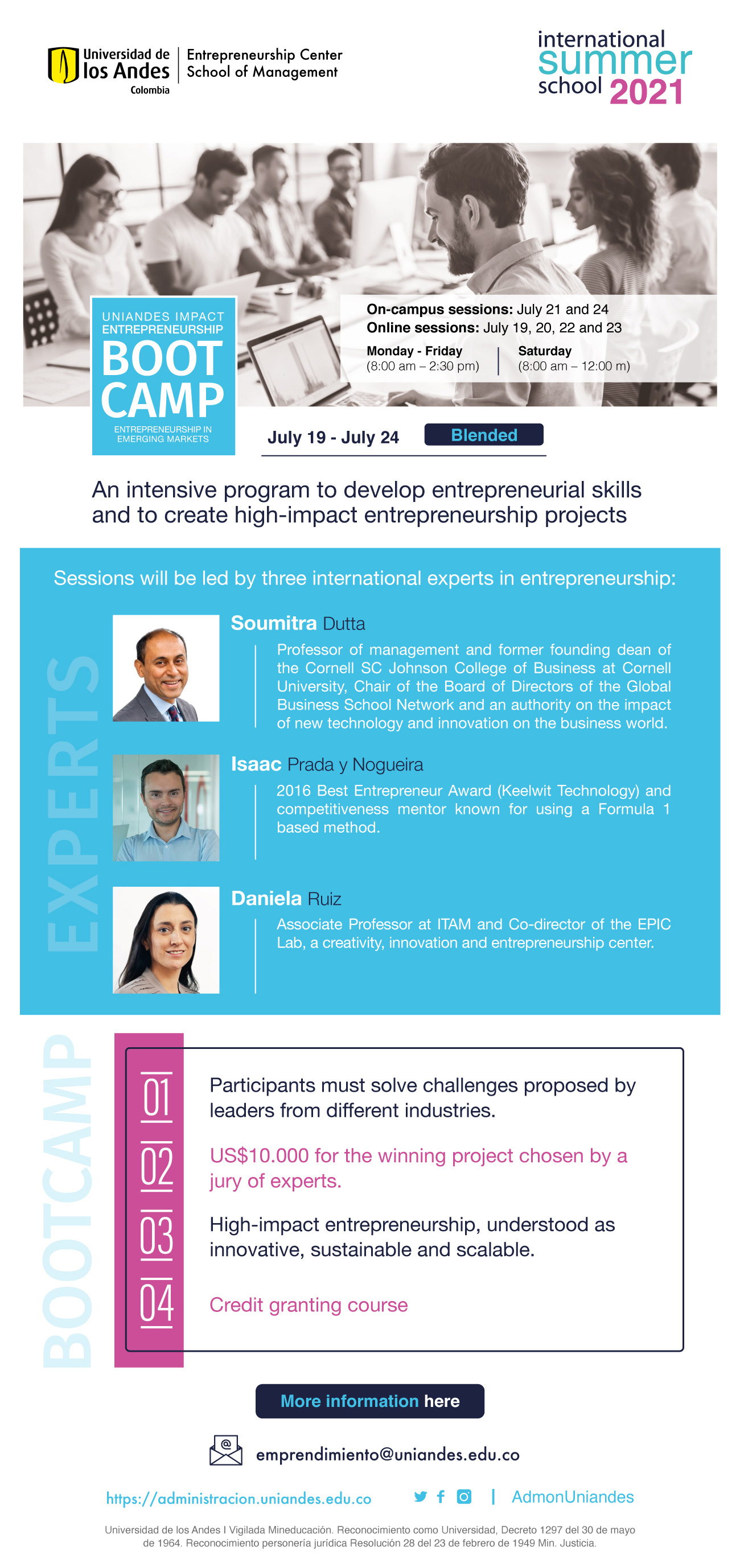 How do we Create a Waste-Free Future?
For a chance to; receive a cash prize up to CHF 250 000 to be allocated to the 5 specially commended and the overall winner (based on the ranking and project sizes), get training and or mentoring from Nestlé, and gain visibility through Ashoka and Nestlé's media and social media activities.
Together with Ashoka, the creating shared value awarded will reward and support innovative solutions addressing packaging waste.
Are you innovating in sustainable packaging? We want to hear from you!
---
International Conferences
Undergraduate Entrepreneurship Expo Track
Join The Undergraduate Entrepreneurship Expo track of the EURECA Conference, a showcase of innovative student startup ideas across the disciplines. This track is open to any undergraduate student, as described below. Attached is a poster as well as a Call for Abstracts.
The conference is virtual and will be held from March 28 to April 1, 2021. The Early Bird deadline for abstract submission is on December 20; however, abstracts can be submitted until February 10, 2021.
To submit an abstract, students will need to create an account with our conference tool. Our organizing committee will review the abstracts.
---
International Courses
The Global Entrepreneurship Summer School (GESS) is looking for the best, engaged students from all around the world!
During the five-day program, 50 international students will get the chance to participate virtually to develop entrepreneurial solutions that meet the world's biggest challenges. This year we are looking for future entrepreneurs to develop sustainable solutions surrounding the topic 'Circular Systems'.
We again accept applications until the 20th of May, 2021
The global virtual program will then take place from 07-11.09.2021
GESS offers a unique opportunity to participants to launch their entrepreneurial journeys through a virtual and truly global experience. Students will work in international and interdisciplinary teams during the interactive program to develop impact-driven ideas and take climate action.
Find more information here
Babson College; Entrepreneurial Mind shift
January 18 –22, 2021
If interested email CEI@aucegypt.edu to get the discount code, kindly mention the course name in the subject.
African Women Entrepreneurship Cooperative
AWEC is the accelerant behind hundreds of African female entrepreneurs who have transformed and grown their businesses. We seek the next 200 women who are ready to join our cohort for a high-impact applied learning experience.
From 18 January 2021 - 31 January 2021, AWEC will accept applications for its highly selective leadership and business management capacity building program. This program is designed for African women entrepreneurs seeking to expand their knowledge, increase their skills, broaden their network, and make lifelong connections.
---
International Summit
WBG Youth Summit
The WBG Youth Summit is an annual event hosted by the World Bank Group (WBG) to engage with youth globally on the most pressing topics facing our generation, bringing hundreds of participants together from across the globe. This year's Summit will take place virtually from June 9-10, 2021, under the theme of Resilient Recovery for People and Planet.
As a critical component of the Summit, each year a highly selective, social entrepreneurship competition is held to highlight the amazing work being conducted by young entrepreneurs globally. To garner the most innovative solutions, we wanted to identify innovation/tech hubs, incubators, maker spaces, hackers, and co-working spaces around the world that may have interests in this area.
Five finalist teams will have the chance to present their pitch virtually in front of a live audience and judging panel of experts.
For more information, please see our 2021 WBG Youth Summit Competition website or reach out to us directly at youthsummit@worldbank.org.
Africa Fintech Summit 2020
Bringing more opportunities to Egypt's fintech ecosystem November 9,10, and 12, 2020.
For a 50 percent discount on passes kindly send an email to CEI@aucegypt.edu to receive a code.

For AUC students kindly fill in this

survey to receive a free pass (l

imited free tickets for students).
---
Events
CEMS Life long learning Hackathon Launch
With CEMS' partner SpeedUpEducation.org, we invite all our stakeholders to explore new ways to create a lifelong learning community in CEMS, preferentially through digital technology. The focus will not lie on the enhancement of the CEMS MIM program, nor will we be interfering with the member school's own local Executive Education offer - the intention is to make a new and additional offer mainly to Alumni, Faculty, and Corporate/Social Partner representatives to exchange knowledge and good practice in continuing education.
If you are interested in participating, please feel free to register and to forward this invitation to other interested colleagues:
The best ideas from the Hackathon will be presented to the CEMS Management Council, who in turn will identify the potential for concrete action to be proposed to the General Assembly.
Techne Summit 2020

Disclaimer
The inclusion of a website constitutes a recommendation from the CEI, yet CEI is not responsible for the content of any of the websites included in this list.
CEI makes no warranty, either express or implied, as to the accuracy, availability, or content of any information, data, text, or graphics on the links below. CEI has not tested any of the software located on the linked sites and does not make any representation as to the quality, safety, reliability, or suitability of said software.
The CEI reserves the right to add or remove links at its discretion and without prior warning to the operators of the site(s) concerned.
The CEI is under no obligation to comply with requests to add a link to a website or requests by third parties to remove a link to a website.