"It was all worth it!" – AUC School of Business classes of 2020 and 2021 finally celebrate their graduation
"It was all worth it!" – AUC School of Business classes of 2020 and 2021 finally celebrate their graduation
After a year and a half of lockdown, AUC had finally opened its doors for its students, faculty, and staff. The next step was to celebrate last year's and this year's graduates with a live commencement ceremony.
September 28 and 29 are the days AUC School of Business Spring '20, Fall '20, and Spring '21 graduates finally received their diplomas during a commencement ceremony they had truly deserved. "Commencement days are the culmination of several years of study, hard work, commitment and sacrifices not only for you, the students, but also the families, the faculty, the staff and the entire school community," Dean Sherif Kamel opened the ceremony.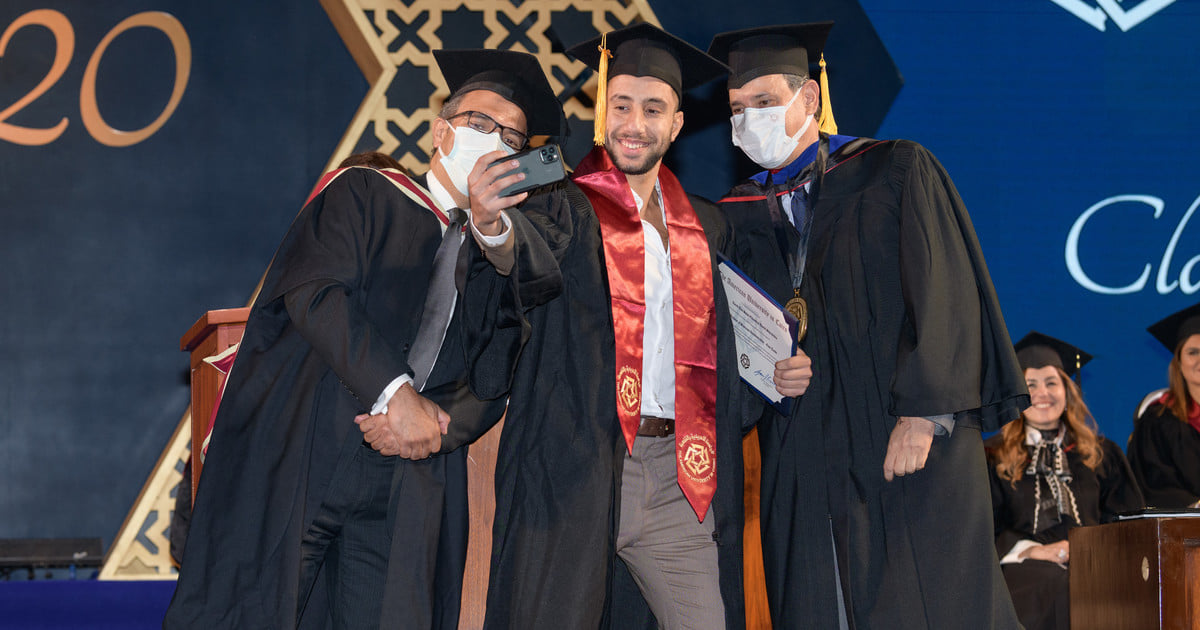 Classes of 2020 were composed of 36 graduate students and 340 undergraduate students; with 46 students graduating with honors (cum laude), 96 students with high honors (magna cum laude), and 100 students with highest honors (summa cum laude).
The school graduates of Fall 2021, on the other hand, were composed of 51 graduate students and 540 undergraduate students; among those, 41 students were graduating with honors (cum laude), 52 students with high honors (magna cum laude), and 57 with highest honors (summa cum laude).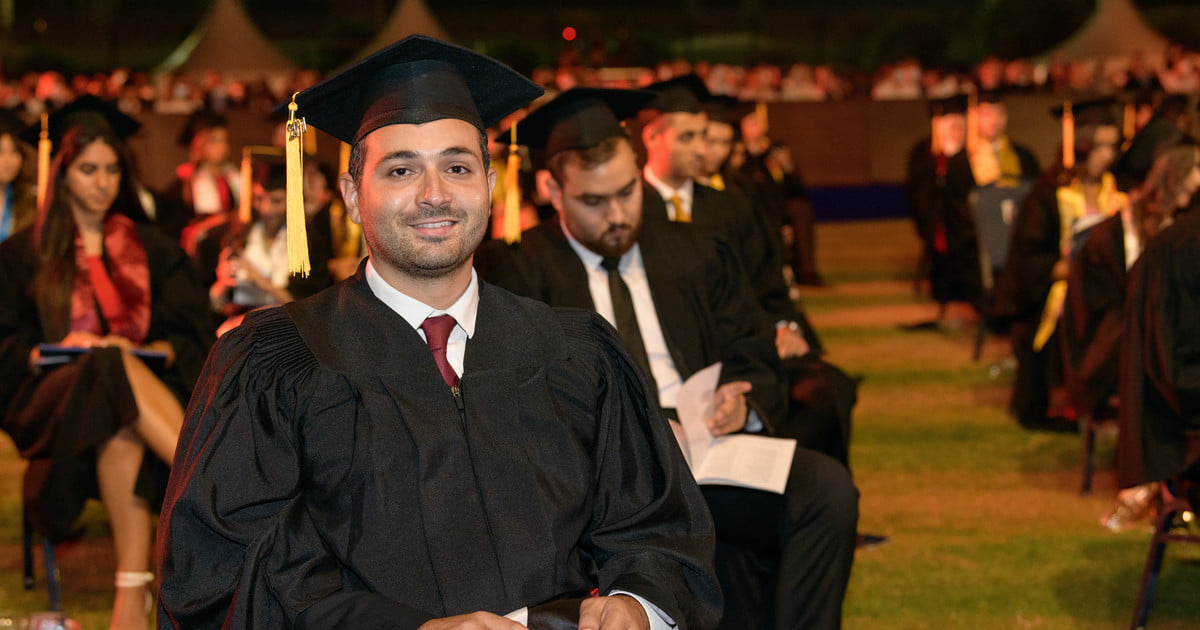 Coming back to campus to graduate is something that our newly minted alumni were looking forward to. "I feel very nostalgic and very, very overwhelmed," Ziena Halaly, graduate of the class of 2020, described her feelings coming again to campus, adding that "AUC was basically my home." "Thrilling," "inspiring," and "life-changing" is what the graduate's four-year experience at AUC School of Business was like. 
Graduates of the school have experienced the shift for online learning, for some 16 months, and for others just over 8 months. "We, as a school, together with the university leadership and the entire university community, have your wellbeing, health and safety at our utmost priority – a goal equally important to what we all strive to, day in and day out, and that is to offer you a unique impactful learning experience," highlighted Kamel.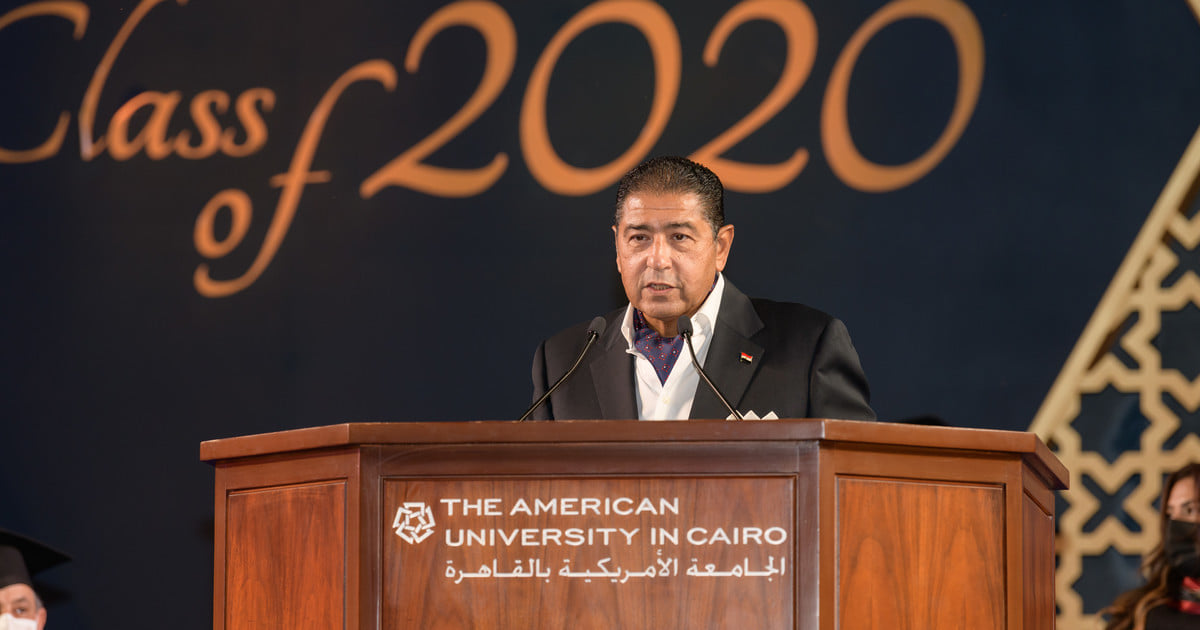 Speaking of impact, this year's guest speakers were two powerful businessmen who left their mark on Egypt's economy. "Today as you graduate, don't think you will stop learning; you learned how to learn," commented Hisham Ezz Al-Arab, managing partner at HE Advisory and former chairman of CIB Egypt, advising the graduating class of 2020, to keep on with their growth and development beyond the doors of the university.  "As you go into the business world, be keen to interact, accept and learn from others. Listen to understand, don't listen to respond. Have confidence in yourself and respect yourself through honesty," he added.
On a different note, Alaa Hashim, co-founder and executive partner of Transcendium and chairman of Delicious Inc., was concerned with the role the graduates are about to play in the larger Egyptian community and the world. "If you guys will not make our future better, who will?" he asked the graduating class of 2021.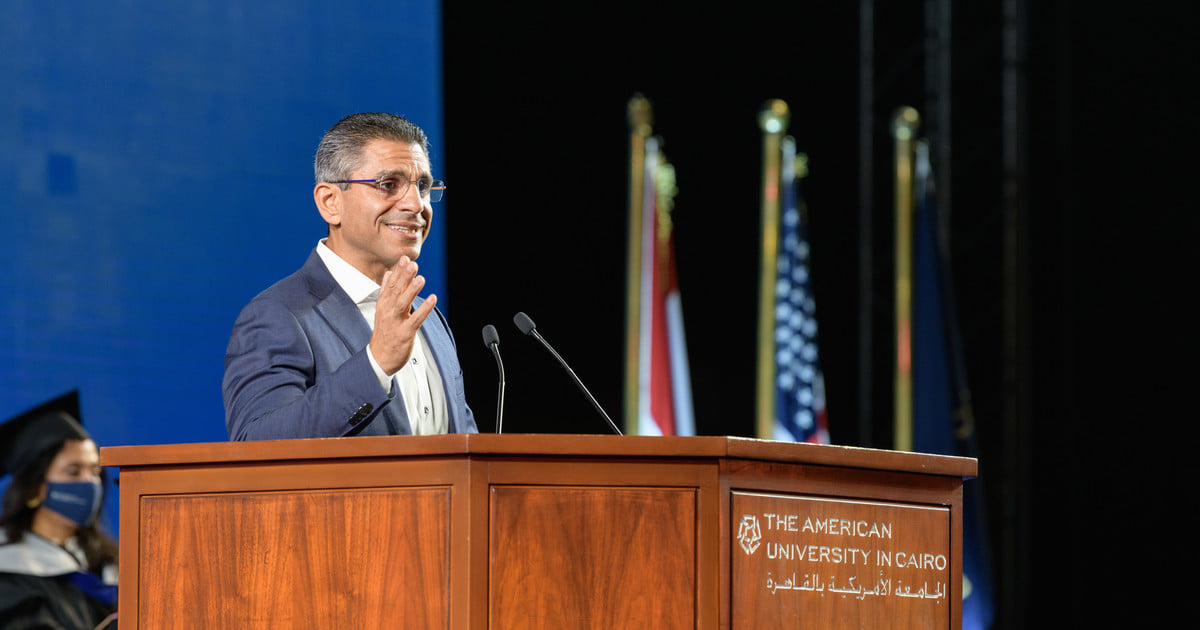 As always, the graduates also received advice from their fellows. During the 2020 ceremony, Halaly advised current and prospective students at AUC School of Business to "be open-minded and try a lot of different things."
Feras Almekhlafy, graduate of the class of 2021, emphasized on the importance of keeping a positive attitude and good connections with each other. "It is good to have competition between you and your classmates, but keep it healthy. Don't let competition and striving to be the best get in the way of making connections with other students, because you don't know, in the not so distant future, you will meet again and you will remember your life as students, even if that happens 20 years from now," he stressed.
Representing the graduate class of 2021, Mahmoud Kalila commenced his speech stating that "the year 2020 is a special one, it's the year that shook the whole world. I believe that my past experiences prior to 2020 have prepared me for this difficult year." He explained: "All those skills you learned so far, the traumas, the experiences and the blessings you counted made you who you are today. Today is the present, the junction in time where you can alter your destiny. There is hope in the making."
This message of humbleness and hope was also shared by Youssef Abdelkader to the graduating class of 2020. "Kindness is the most important course in our curriculum as humans. It is the prerequisite to all the important courses and it should be an easy A, because in each and everyone one of us there is fundamental good," said Abdelkader.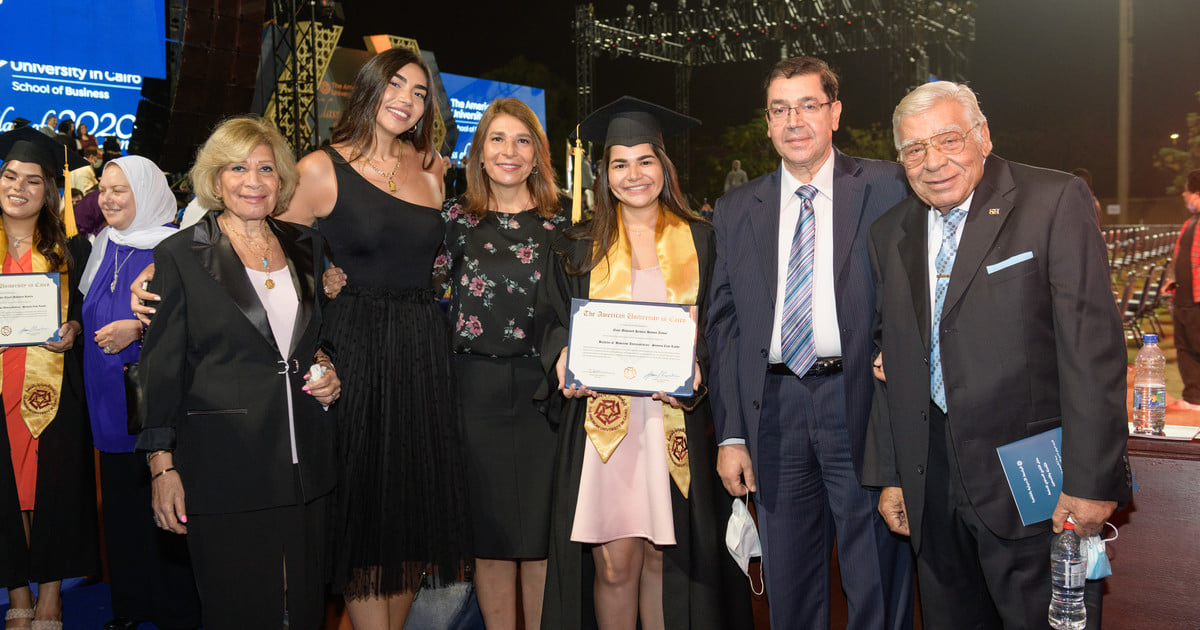 Lastly, Nour Hesham, who delivered the speech on behalf of the undergraduate class of 2021, shared her unique perspective on how, as humans, we are all storytellers. "This moment, our final goodbye is the start of something bigger than all of us, a story worth a thousand words. It is time for us to step out into the real world and finally tell the stories that we have."
Watch the full commencements, here for 2021, and here for 2020.