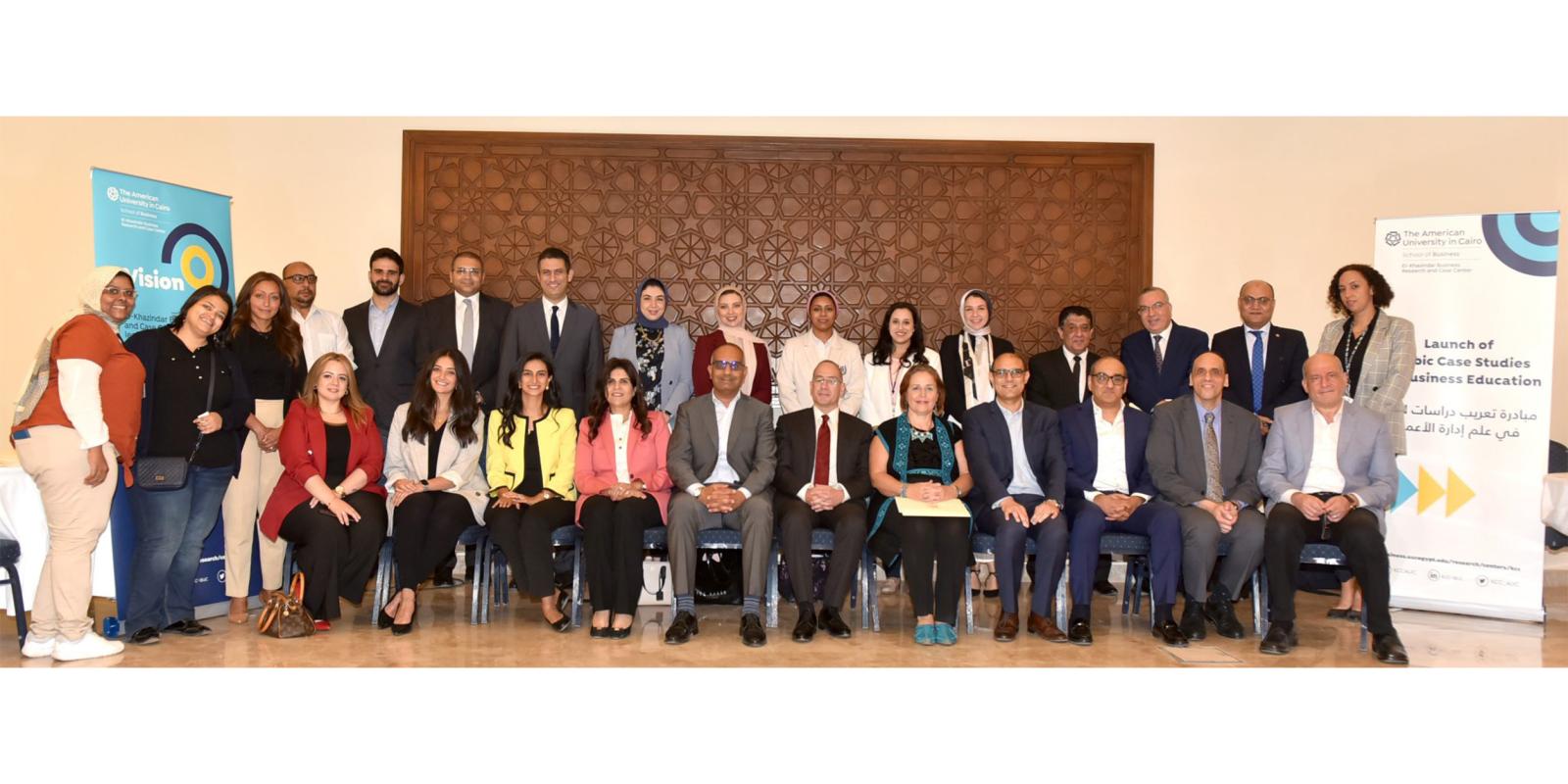 Arabizing Case Studies for Business Education: Why Now?
Arabizing Case Studies for Business Education: Why Now?
The Arabization of case studies has been a long-awaited initiative of the AUC School of Business and the University at large. Its widespread impact on the teaching and learning of business in Egypt and the region will be undeniable.
AUC School of Business and the region's first case center El-Khazindar Business Research and Case Center (KCC) has taken on this challenging initiative and on May 24 it finally saw the light during a high-profile launch event held at the AUC New Cairo Campus.
During the launch event a panel of AUC School of Business professors, as well as Merihan Khairy, General Manager for Egypt Intracity trips at Swvl, the tech-enabled ridesharing services and the subject of one of KCC's most successful case studies, discussed the significance of Arabizing case studies and the importance of their use in business education. The floor was then open for discussion with the audience, which included deans and professors from business schools all over Egypt.
Why Case Studies Matter
KCC Co-founder and Managing Director of Qalaa Holdings Hisham El Khazindar delivered a keynote speech emphasizing what inspired him to fund the center in the first place. "Case studies are a way of learning by doing, it allows students to debate real cases and provide knowledge that lasts a lifetime," highlighted El Khazindar adding, "Yes, AUC is an English-speaking university, yet we are still rooted in Egypt. And as such we want to spread this method of teaching and the use of the cases that we worked on amongst Arabic-speaking institutions. This is why the Arabization of case studies is a crucial step to reach this goal."
"Case studies inspire students on a personal level because they showcase success stories of companies and entrepreneurs navigating business problems," said Ayman Ismail, associate professor, Abdul Latif Jameel endowed chair of entrepreneurship, and founding director of the AUC Venture Lab.
"Case studies help students rediscover themselves," commented Samer Atallah, associate professor of economics and associate dean for graduate studies and research.
"I started using case studies in my classes this semester and it really made a difference," agreed Riham Halim, marketing professor at Tanta University Faculty of Business. "Case Studies can be applied to multiple types of courses and topics such as research and development, strategic management, and brand management," she added.
The professors emphasized the changing dynamics of today's business students. "Today's students are smart and ambitious, but their brains are wired differently. They cannot sit in classes and listen to a professor lecture for hours anymore. They need more engaging classes," explained Ismail.
"Nowadays, information and knowledge is easily accessible online. Teaching with case studies is a more skill-oriented method, which provides a higher value to the students," agreed Maha Mourad, associate professor and associate dean for undergraduate studies and administration. "Not to mention, most cases cover companies that students are already familiar with. This makes the students more knowledgeable about the job market before graduation," added Mourad.
"We always push our faculty to develop research with impact. Targeting A and B journals is important and so is working on cases and publishing them in case repositories," elaborated Mourad, adding: "Needless to say, for faculty to teach with cases they developed personally is incredibly rewarding."
"International entities rank universities based on innovation. Allowing students and professors to work on solving and writing cases is a great way to improve a university's impact and innovation," noted Mourad.
Since its inauguration, KCC aimed at spreading the use of local case studies in the School's classrooms. "Our goal is to spread the culture of cases beyond AUC and in other business schools in Egypt and the region," highlighted Ahmed Tolba, co-founder of KCC, associate professor of marketing, and chair of the Department of Management.
"The problem with governmental universities in Egypt is that the number of students in each lecture is huge, which makes it difficult to teach using cases. It would be great if KCC can provide training on how to use case studies in my teaching for larger audiences," commented Alaa Game', professor at Alexandria Faculty of Business French Section.
Case Studies Beyond Business Education
The significance of case studies goes beyond the walls of a classroom, too. "Arabizing case studies would help expand the reach of cases to native Arabic-speaking youth. Cases are not only aimed for business students, but it also allows students and young professionals from non-business fields and who might not be able to afford a formal business education to learn from existing case studies to expand their business knowledge," explained Merihan Khairy, general manager for Egypt Intracity Trips, Swvl.
Merihan also highlighted how she uses case studies in her hiring process at Swvl. "Case studies are an essential part of our interviews," she mentioned.
"The skills that are available today are not what students will need tomorrow. Case studies enhance the skills of the talents available in the market and Arabizing them will expand the base of participants and beneficiaries," underlined Mahmoud Dawoud, marketing and training coordinator at the Egyptian Knowledge Bank.
In addition, companies that become the subject of a case study benefit a lot from the innovative out-of-the-box ideas that can come out of them. "Case studies allow companies to overcome their problems through new ideas from students," emphasized Mourad.
The Significance of Arabization
"Case studies are a vital pedagogical tool that bridges the gap between theory and practice, and provides students with hands-on experiences," emphasized Engy Magdy, director of KCC, adding: "KCC has several partnerships and collaborations with case institutions across the globe that help us in providing high-quality cases, after undergoing rigorous review processes, as well as disseminating our cases." Engy also emphasized that publishing case studies in Arabic will give KCC an edge over other publishers as none of them publish in Arabic.
"Since 2016, our case studies have been available through the Egyptian Knowledge Bank and the Arabization is a great initiative that will facilitate the introduction of case studies and what they are to larger audiences," expressed Mahinour Ouda, publishing relationship manager at Emerald Publishing, one of KCC's partners.
"Our role as school of business is to showcase the companies that exist in Egypt on a global level. We wanted to develop case studies that reflect what is happening on the ground in the Egyptian market," highlighted AUC School of Business Dean Sherif Kamel, adding" "More than 1000 of our students participated in writing case studies over the past 15 years and KCC organized multiple workshops to train our faculty on using case studies in class."
After Arabizing existing English case studies, AUC School of Business hopes that other business schools in Egypt start writing their own Arabic case studies as well. "We are here to help and provide capacity building," stressed Atallah while inviting the wider business education community to connect with KCC and the School over the next period.