The AUC School of Business Dubbed Best Business School in Africa for the Fourth Consecutive Year by Eduniversal
The AUC School of Business Dubbed Best Business School in Africa for the Fourth Consecutive Year by Eduniversal
Our commitment to quality remains unshakeable despite the challenges. AUC School of Business is proud to receive the 5 Palmes of Excellence at the 2020 Eduniversal 3D World Convention, which took place virtually for the first time from November 10 to 13. In addition, the School was awarded the "Africa Golden Award", cementing its position as the best business school in Africa for the fourth consecutive year.
Founded in 1994, Eduniversal is a France-based consultancy committed to promoting international student mobility, as well as educational excellence and rankings. Its annual flagship event, The Eduniversal World Convention, celebrates the highest-ranked business schools from 1000 schools across 154 countries worldwide. The schools selected by members of the scientific committee are grouped by country and ranked in the different Palmes of Excellence leagues according to their international influence, reputation, and quality.
The AUC School of Business delegation to the virtual event actively participated for the first time ever in their impressive 3D avatar selves.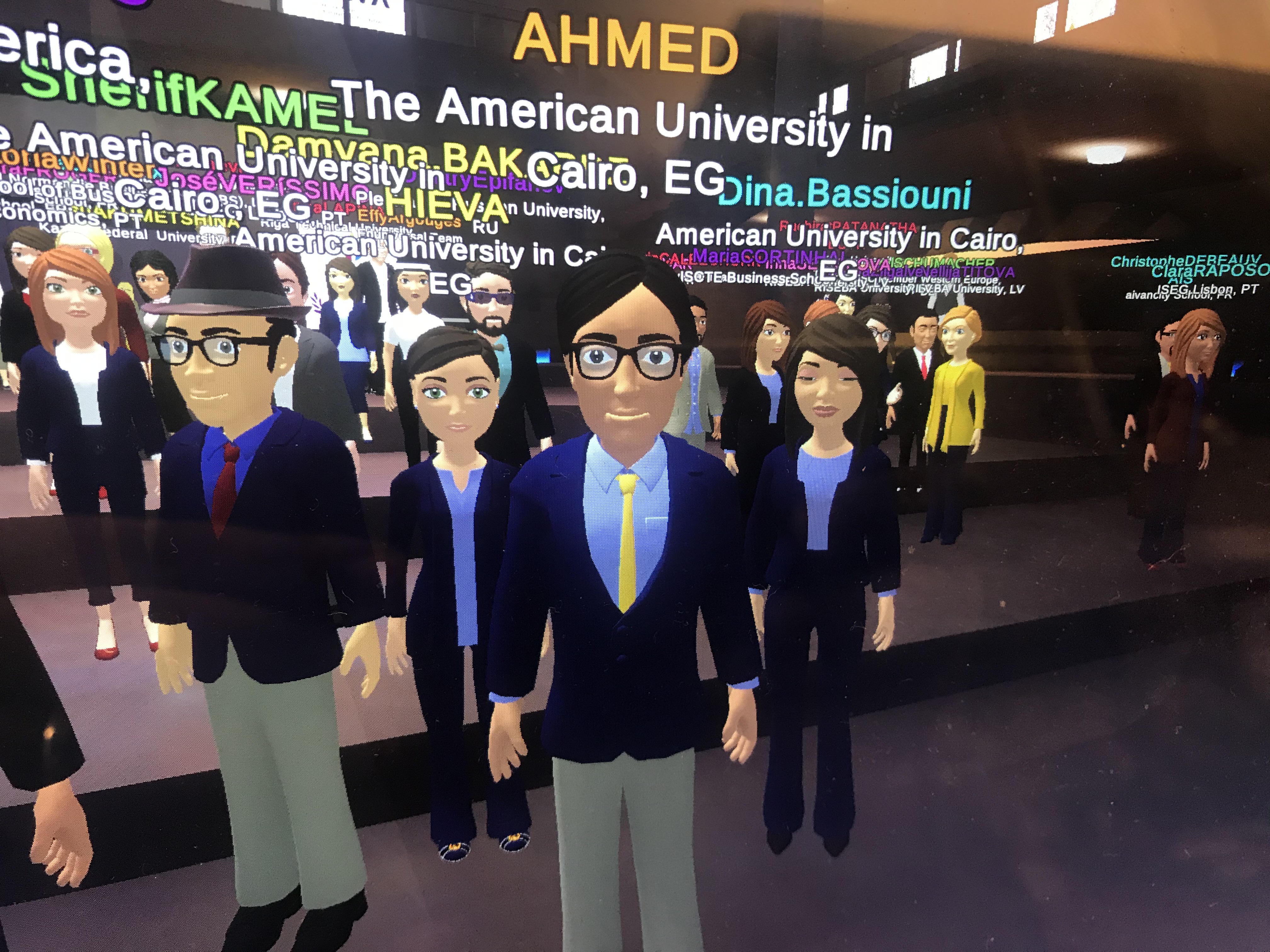 The 4-day event commenced with a keynote speech by our very own dean Sherif Kamel who discussed a reimagined future of work, while Dean's Strategic Advisory Board (SAB) member and Cofounder and Executive Partner of Transcendium Advisors, Alaa Hashim also gave a keynote speech on the skills of the future and how, looking ahead, the barriers between hard and soft skills are blurred.
The event also witnessed the awarding of the Five Palmes of Excellence on behalf of the school by dean Kamel, who was joined by Dina Bassiouni, associate professor of marketing and associate chair of the department of management, Damyana Bakardzhieva, visiting associate professor of economics and associate chair of the department of economics, and Ahmed Abdel-Meguid, associate dean for undergraduate studies and administration and associate professor, department of accounting.
"We meet to celebrate success and accomplishments and highlight our business schools' invaluable impact on our respective communities, countries, and regions at large," stated Sherif Kamel, dean of the AUC School of Business, as he accepted the award at this year's virtual ceremony, also highlighting that "this year is different, but collectively and passionately we are all determined to still make this a successful and memorable convention."
Our team also delivered more interesting sessions including one titled "Imagination, Initiative, Inspiration, Ignition, Investment, Entrepreneurship, and Higher Education," where Associate Professor Ayman Ismail, the Abdul Latif Jameel Endowed Chair of Entrepreneurship and founding director of AUC Venture Lab was the moderator, in addition to a very interesting opening note by Associate Dean Ahmed Abdel-Meguid on "Active Learning for Motivated Learning," as well as active participation in a roundtable discussion on "Teaching and Learning Revolution."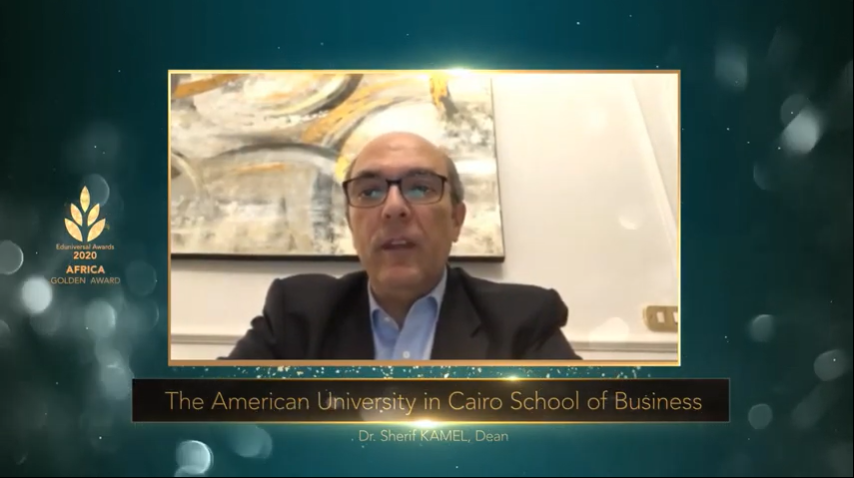 For 13 years, the convention has been a prestigious event that allowed members of the world's top schools and universities to discuss ideas, views, experiences, and plans.
"I want to seize this opportunity and extend my utmost gratitude and appreciation to my distinguished peers […] for all the hard work they do throughout the year to navigate the different challenges, as well as regularly opt to be creative and offer the students the best possible learning experience." Watch Dean Kamel's full acceptance speech during the virtual convention here.
2020 was an especially difficult year for academia and educational institutions worldwide, yet we are proud to have been recognized for the school's resilience against every challenge and are certainly looking forward to next year's convention.