AUC School of Business hosts the 15th Edition of the Eduniversal World Convention: Notable attendees reflect on their experiences
AUC School of Business hosts the 15th Edition of the Eduniversal World Convention: Notable attendees reflect on their experiences
After two virtual editions, the Eduniversal World Convention (EWC) is back with a dynamic face-to-face experience bringing together academics and educational leaders with diverse backgrounds from around the globe, subsequently providing opportunities for fruitful networking, discussions, and collaboration. This year the convention was held on the grounds of The American University in Cairo School of Business, marking the convention's first time being held in Egypt and its second time in Africa.
"We, at the School of Business of The American University in Cairo, are delighted to host the 15th edition of the Eduniversal World Convention. The convention was attended by more than 100 delegates from 30 different countries around the world, who discussed timely topics such as sustainability, climate, digitalization, entrepreneurship, innovation, leadership, and societal impact," emphasized Dean Sherif Kamel.
The event held both in person and virtually, included multiple talks, group discussions, and networking sessions. During the event, the new 2022 Eduniversal Awards Ceremony revealed the top three business schools in nine geographical zones based on the 2022 Deans' Vote Survey and the Eduniversal Palmes of Excellence Trophies Ceremony.
The Impact of the Eduniversal World Convention
Many of the convention attendees have expressed their thoughts on the convention's ability to positively impact higher education in business schools worldwide.
Macdonald Kanyangale, acting head of masters' research at the University of KwaZulu-Natal, South Africa, touched on this stating: "Business schools should create a caliber of students that are catalysts for change, not just within their respective universities but also outside them, in their surrounding societies," he continued: "Hence, we need to become academics which manifest characteristics of an activist, cultivating a culture of change in our students. I believe that this convention is a driving force towards the future of the business schools in terms of this type of activism."
Nellie El Enany, associate professor on management at AUC School of Business, also shed light on the importance of the convention from her point of view. "I believe this convention is a great opportunity to bring individuals together from different countries that have vastly different pedagogical perspectives, experiences, and ways of thinking," she also added: "I think that the cultural and institutional diversity encompassed in this convention really enriches each of our own approaches to learning and teaching as educators and informs our outlook on the educational system as a whole as well."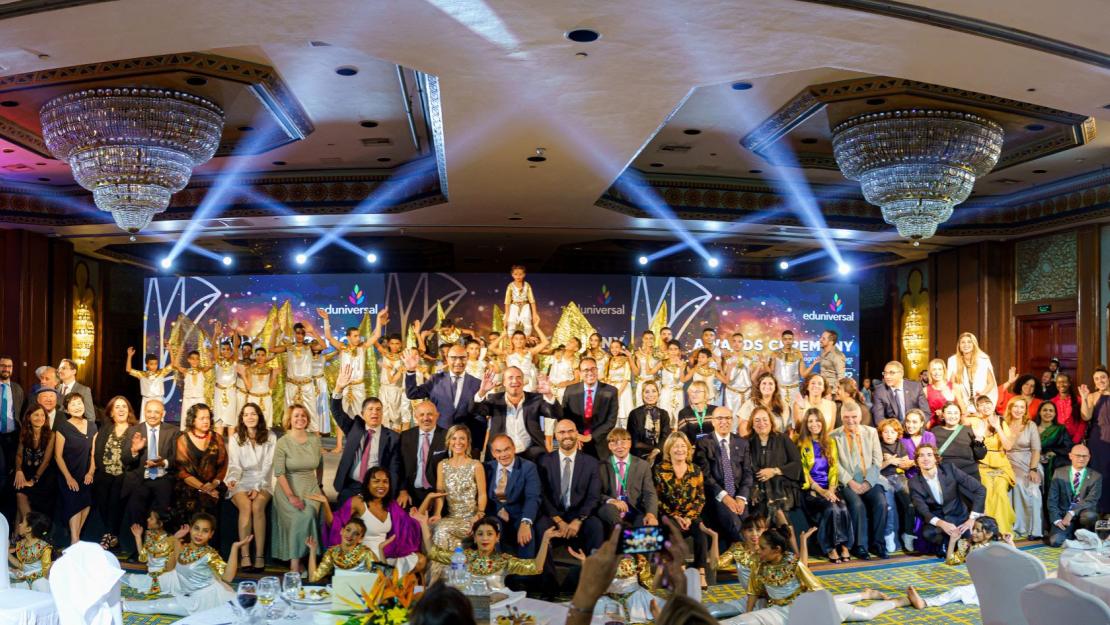 Remarks on Convention's Return on Ground
The convention participants have highlighted their enthusiasm towards the convention's return to the face-to-face modality.
Sudha A Rao, senior manager, Academia programs, ranking, and accreditation, at the Indian Institute of Management, Bangalore, stated: "It is really refreshing being back on ground and engaging with everyone here," she added: "What happens at these conventions is that you become friends with other attendees, once you become friends it is easy to strike collaboration. I believe this is done more effectively when meeting face-to-face rather than online."
Similarly, Per Agrell, dean, UC Louvain School of Management, Belgium, illustrated a similar notion to that of Rao. "I believe conventions held online emphasize mainly the content highlighted by the keynote speakers rather than the networking opportunities," he continued: "I believe that a face-to-face convention has an added benefit as I would get the opportunity to speak with other deans and gain insights on how they tackle certain issues. I would not be able to do this as effectively if the convention was held online."
"At the convection, we had very interesting exchanges with other faculty members to learn about how other business schools recover the confidence of the students after COVID-19, as well as how we reinvent our operations. I think this is a precious part of having the convention face-to-face this year," he added.
"This is a really special edition, because the previous ones were online and we are really enjoying the face-to-face sessions, panels and award ceremonies," echoed Cécile Escape, managing director of Eduniversal.
This year's edition of the Eduniversal World Convention created synergies between academics leading to positive shifts in the higher education industry and an engaging exchange of knowledge, experience, and emergent ideas that aid participants of the convention towards the betterment of themselves and, accordingly, their respective institutions.
In addition, delegates from business schools around the world got a glimpse of the rich Egyptian culture and heritage through well-curated excursions and events that saw them visit the Great Pyramids of Giza, the National Museum for Egyptian Civilization (NMEC), cruise the Nile River, and spend a day of discovery at Fayoum Oasis. The delegates also got a taste of the diverse and rich Egypt heritage and culture through the range of authentic handmade crafts, henna tattoos, musical recitals, folklore dances, and acrobatic shows with a pharaonic twist offered by the talented and dedicated Tawasol Egypt students.
For more information about the 2022 Eduniversal World Convention, click here.
To watch Eduniversal World Convention 2022 Recap, click here.