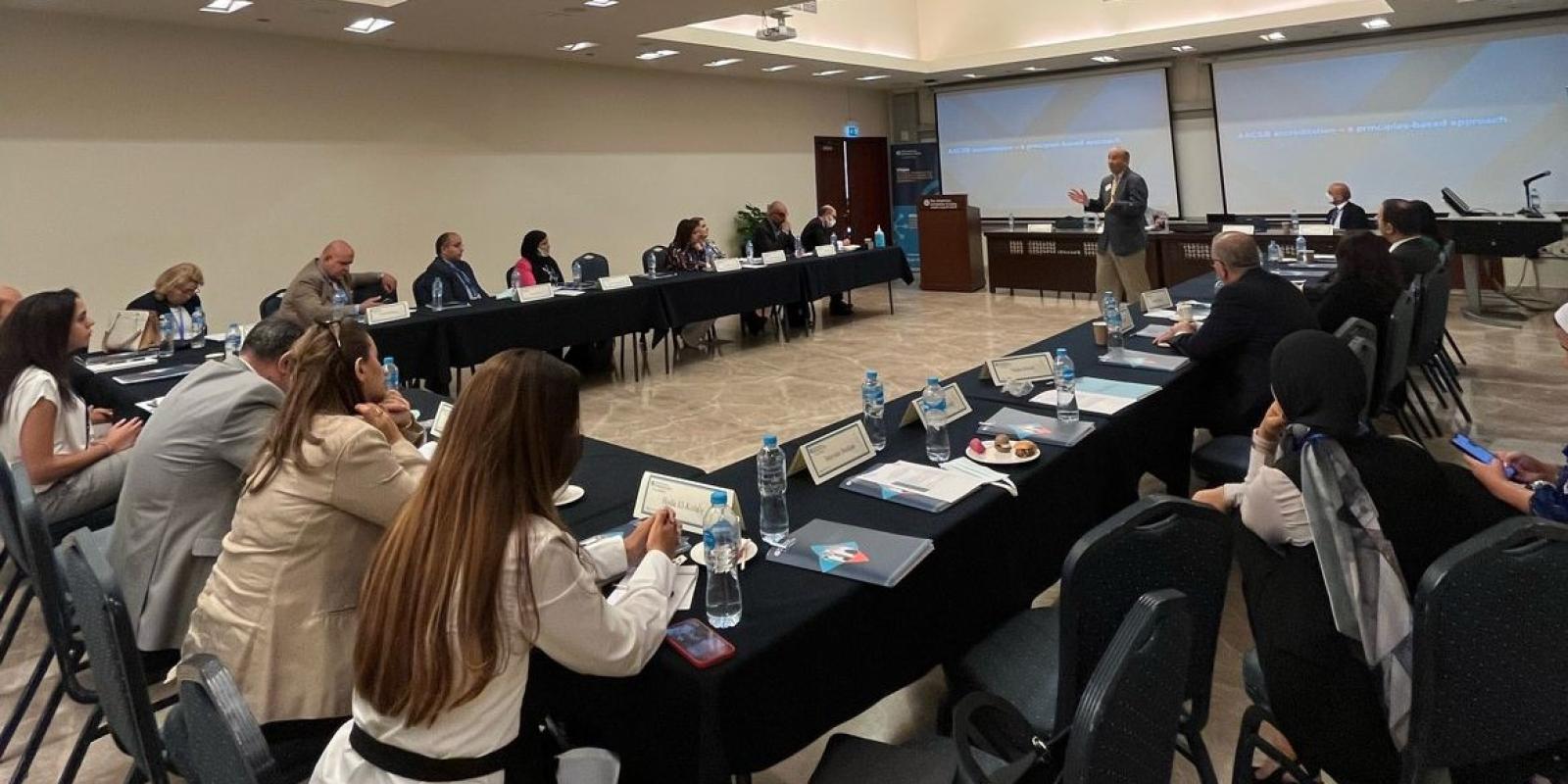 AUC School of Business hosts AACSB info session for business schools across the region
AUC School of Business hosts AACSB info session for business schools across the region
On September 25, The Association to Advance Collegiate Schools of Business (AACSB International) and its member AUC School of Business hosted an Information Session for regional business schools on the value of the AACSB International Membership and Accreditation.
The interactive session focused on the business education landscape in Africa. The event featured Sherif Kamel, dean, AUC School of Business, Jonathan Foster Pedley, dean and director, Henley Business School Africa, and AABS board chairman, Tim Mescon, executive vice president and chief officer EMEA, AACSB International, and Ihsan Zakri, regional head, Middle East and Africa, AACSB International.
AACSB International is the world's largest business education network connecting students, academia, and business to advance business education worldwide. It offers the world's most widely recognized and sought-after endorsement for business programs, which the School acquired for the first time in 2006.
"We only accredit less than five percent of business schools around the world, so it is very exclusive," underlined Tim Mescon during the information session.
"We have been in the AACSB cycle for the last 19 years, it is a journey not a destination. The process of accreditation really gets us to challenge ourselves taking the School to the next level by helping us remain relevant, timely, ambitious and future-oriented," highlighted Dean Kamel.
The accreditation is a stamp for all stakeholders that the accredited school produces graduates who are prepared to succeed in the business world.
"It is not about being the biggest school, it is about being the quickest. What matters for business schools is not size, but agility to respond to the constant change in the world," explained Mescon.
The session explained how a business school's effort in student engagement, its constantly updated curricula, its societal impact and how that is reflected in its research, as well as its mission statement, among other criteria, are how schools are measured by AACSB.
"There are really good business schools around Egypt, Africa and the rest of the world and they rarely come together. Education is so important to the growth of nations, and having an open discussion like that of today is what makes quality education," stressed Jonathan Foster Pedley.
The session included more than 20 representatives from eight universities and two entities, namely AABS and AACSB. The participants had the chance to discuss their inquiries and concerns regarding the accreditation, its requirements and its procedures.
Mescon stressed on the need for professors to change their teaching methodologies. "Learning is much different today, and engagement is crucial for professors to grab and retain the attention of Generation Z students," he stated.
"Human capital is the most important asset. If I had a button I would push investment in quality education," expressed Dean Kamel, adding: "We need to push the ceiling to continuously improve or else we will not be resilient or agile."
"Business schools should focus on how they can contribute to people's growth, so they can run businesses better and lift the economies of their countries," emphasized Foster Pedley. "We have to serve the young people and the executives and help make their lives better and we take that very seriously. It is not about us, it's about them and the future," he concluded.
This session fosters the School's pioneering position in advocating for quality business education not only in Egypt, but within the entire region. It is an initiative, like many of the School's, that aims to spread awareness about educational best practices within the community.
Find out more about AUC School of Business' accreditations and rankings here.