CEMS Master in International Management: alumni recounts of a one of a kind program
CEMS Master in International Management: alumni recounts of a one of a kind program
AUC School of Business has been officially ratified and joined the CEMS Global Alliance in Management Education in November 2017, making it the first business school from the Arab region and Africa to join the CEMS network.
This allowed the school to add the CEMS Master in International Management (CEMS MIM) to its program offerings, which is recognized as the most international pre-experience MIM in the world and has been consistently ranked in the top 10 MIMs worldwide.
The unique learning experience offers its students a one-year global program, where one semester is offered at AUC School of Business, while the other is offered abroad at one of the CEMS partner business schools of their choice worldwide. In addition, students are required to complete an eight-week internship at an international corporation anywhere in the world that has a global reach and international clients.
CEMS is a Global Alliance of not only the world's top business schools (such as LSE, HEC, Esade, Nova, St. Gallen, Cornell, Bocconi, and more), but also of multinational companies (including ABB, Accenture, Bain and Company, Daimler, Deloitte, Meta, and more) as well as NGOs (including Care International, WWF International, Fairtrade International, and more) that together offer the CEMS MIM program.
CEMS prides itself on the fact that 96 percent of its graduates are employed or continuing their study within six months of graduation – for AUC School of Business cohorts in specific, the number goes to 97 percent. Moreover, thanks to the program's global character and exposure, 93 percent of CEMS alumni go on to work outside of their home country.
We talked to the alumni of the first two AUC School of Business CEMS cohorts to learn more about their experience.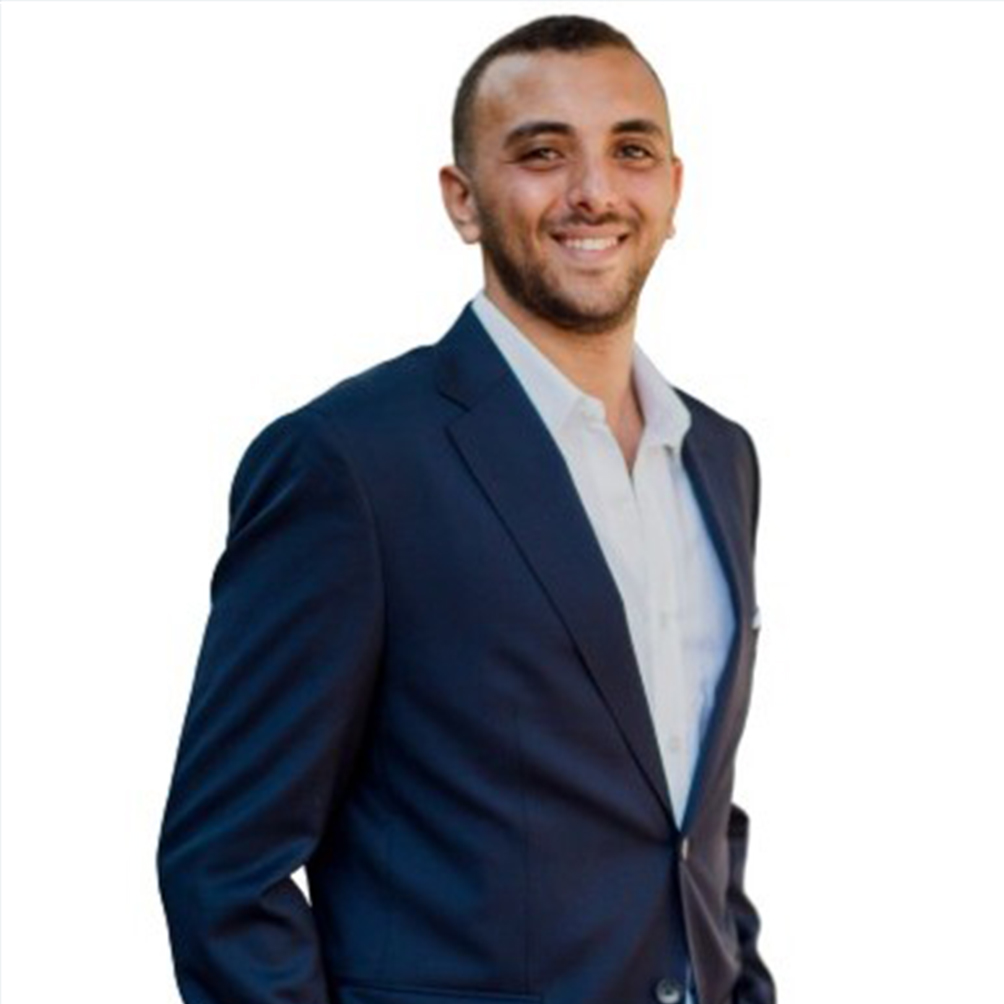 Freddie Shoukry '17 '21: A turning point in his career
After completing his Bachelor of Art in economics at AUC School of Business, Freddie Shoukry worked in a family business and then at Philip Morris International for over two years before he was finally ready to take on a bigger challenge. "I got introduced to the program when I was working, and then I started researching the program's ranking and reputation on my own," said Shoukry. "I was impressed with the academic partners and the top-notch profiles of the alumni, and I realized that the program was quite established, but we just recently found out about it here in Egypt," he continued. What made the program really attractive to Shoukry was the fact that it is technical and based on practical experience, not just theoretical. "I never bought a textbook, it was all real-life case studies," he said jokingly.
While most students studied online due to the pandemic, Shoukry was lucky enough to be able to travel and study abroad. He completed his first semester at AUC and went to Esade Business School in Barcelona for his second and final semester. "Esade is one of the top universities in Spain, but for me, the name wasn't everything," remarked Shoukry. "I chose Barcelona for the European cultural experience and because I was deeply attracted to the city," he explained. His cohort included 70 students from all over the globe, which enriched his experience. "Working with people from various cultural backgrounds opened my eyes to how people from different countries think and and work differently."
During his semester at Esade, he was mainly working on his graduation project. "The final project was a management consultation, where we worked on solving an existing problem with the global chief marketing officer of a major multinational company. It was definitely one of the highlights of the program."
"I would recommend this program to anyone. This program is made for people who are willing to learn, see different cultures, and get exposed to different ideologies," emphasized Shoukry.
After completing his CEMS program, he launched his own food truck business, Taco Migos, in Summer 2021 on Egypt's North Coast, which he is now in the process of expanding to multiple locations in Cairo. "I got a job offer abroad, but I wanted to stay in Egypt and start my own business, because I really believe in the potential of this country," elaborated Shoukry, adding: "Before joining CEMS, I was hesitant to start my own business. But once the seed was planted, there was no turning back. The knowledge I gained throughout the program gave me a push to pursue my own business."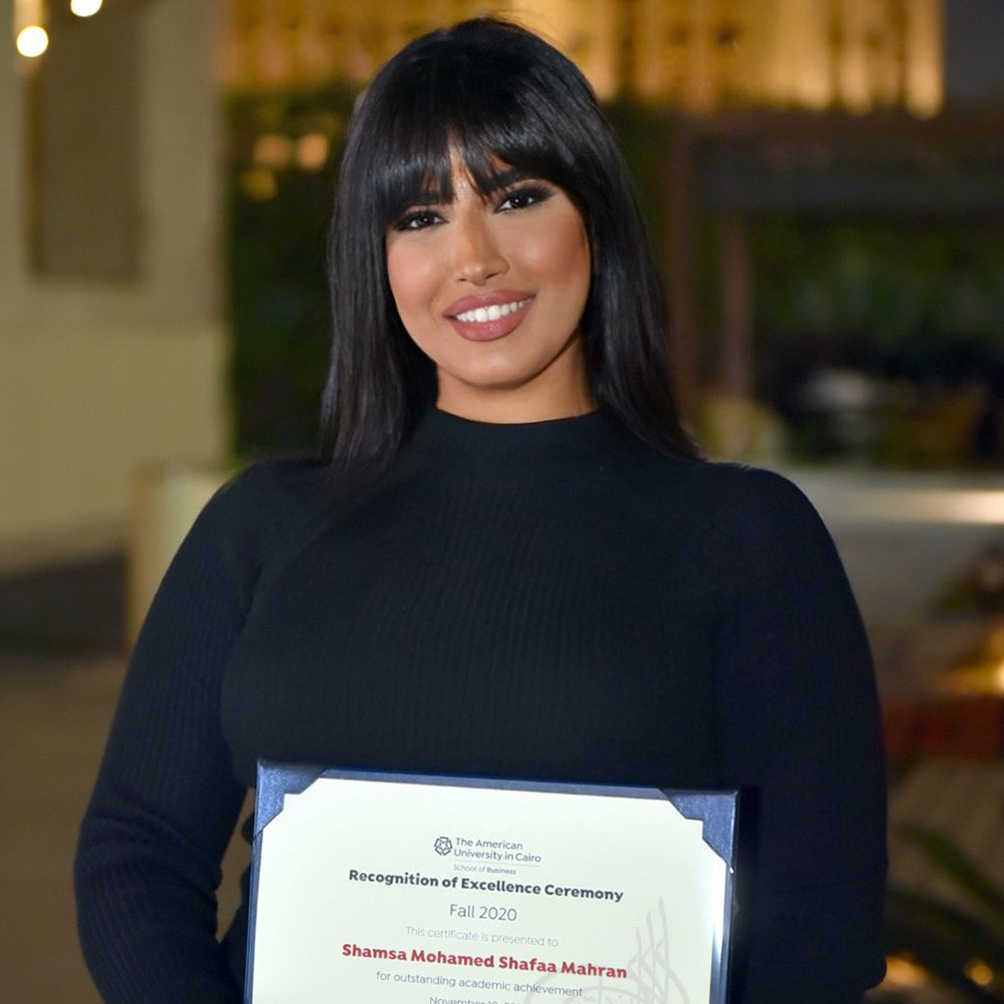 Shamsa Mahran '18 '20: the CEMS ambassador
Shamsa Mahran was really excited to share her CEMS experience. "More people need to know about this program," she emphasized, highlighting that this is why she helps promote the program to AUC students on campus. The marketing graduate enrolled in the program after having worked as a marketing researcher for a while post-graduation. She started her program abroad at the University of St. Gallen in Switzerland – a highly demanding place to study, but she was up for the challenge and decided to seize the opportunity to make the best out of her CEMS experience. "I was encouraged to enroll in CEMS, generally, and St. Gallen, specifically, by Hakim Meshreki, whom I was TA-ing at the time," said Mahran. "The university also provided me with so much support through all the steps of the application process."
For Mahran, CEMS was the perfect program to enroll in right after graduation. "I had just graduated and it was flexible," she remarked. The short duration of the program, its ranking, the work prospects and the international exposure it offers were all key factors in her decision. "It is not just about the travel," she elaborated. "The program also prepares you for a PhD." This is important for Mahran as she wants to be part of the academic arena. "Being part of education is very fulfilling for me. I believe that marrying academia with practice adds a lot of value to the students' quality of learning," she explained.
Mahran was one of the top 10 percent of her cohort and received an award at the AUC School of Business' Recognition of Excellence Ceremony last Fall. "Shifting to a European program was a challenge for me, especially because I had to get really high grades," reflected Mahran, adding: "I have to say, having developed a strong base at AUC during my undergraduate studies helped me excel in my graduate studies."
After completing her master's, she went back to work as a marketing researcher, a career she has a deep passion for. "I am extremely interested in the social side of business, and research is such a dynamic field, it basically turns you into an information hub," describes Mahran. "Currently, I'm a qualitative researcher at Ipsos for marketing research and consulting. My career did not change, but my mindset and skills have definitely improved. The experience enriched me and made me grow so much on so many levels."
"I did not expect to build such great relationships and such a strong bond with the people throughout the program. CEMS is a diverse international community with a strong connection between its members. I also discovered myself in a different context. I've always known that I have a strong personality, but I never knew I was also resilient. CEMS really gives you the time and opportunity to reflect on yourself," declared Mahran.
For Mahran, the CEMS MIM is a great program to enroll in at the beginning of your career when you are still unsure of what you want to do in life because it opens up so many doors for its students, not just in Egypt, but globally as well. "I would recommend this program to anyone who is open, curious about the world, ready to learn, is a team player, is mindful of others, and is up for a challenge."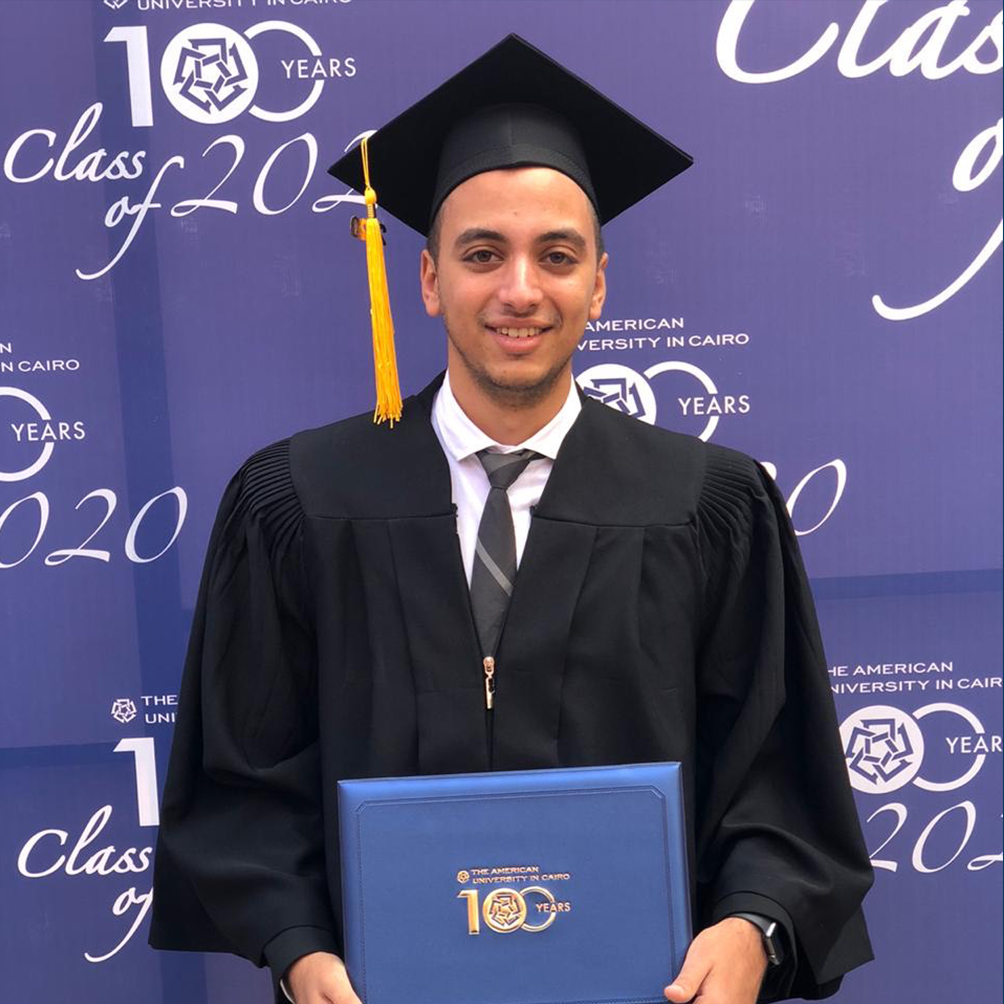 Shady Thabet '19 '21: Five years, two degrees
Shady Thabet enrolled in CEMS immediately after receiving his bachelor's of accounting from AUC School of Business. "It was the perfect deal: an extra year of studying would make me earn two degrees in just five years. I couldn't miss this opportunity," said Thabet. This convenience in addition to the program's growth potential in Egypt encouraged him to take this challenge right after graduation. "Yes, the program is heavy. It is not easy, but in return you get to study abroad and do an international internship, all in a very short period compared to other masters programs," he emphasized. The coursework, especially international management courses, was very appealing to Thabet as well. "The program was different, but really complimented my aspirations."
Thabet also went to Esade for his second semester. "It was my first choice: a top university in a beautiful city," he highlighted, adding: "The semester abroad was definitely challenging. At AUC, you are constantly guided and supported by the school and the department, but in Esade we were on our own. It taught us to be responsible and attentive."
Thabet is now an associate consultant at Mastercard, where he does the same things he was introduced to during his graduation project. "Before joining the program, I did my research and found out that not only do CEMS alumni have a high employability rate (almost 99%), but also most of them end up working in consulting, which is exactly what I wanted to do post-graduation," he explained, adding: "I always knew that I wanted to have a career in consulting for the exposure it gives you in different fields, and CEMS gave me a push with the hands-on real-life experience I got before graduation during the final project." During the project, Thabet had to perform extensive market research and interview different stakeholders within the company he was investigating to find a real solution to their existing problem.
Dealing with people from different backgrounds also exposed Thabet to different perspectives in life. "We were complimenting each other while working together on the project," he commented. Moreover, during the project, he got to work with international clients, which prepared him for his current job.
"I really think that this program should be more widely known in Egypt. The corporate partners and the network of universities are all big names, making the program highly credible and attractive," said Thabet.
"Going into this program, you have to be accepting of different opinions and be ready to live abroad and grow through being challenged. This is a tough program," reflected Thabet. "Living alone abroad is a challenge in and of itself, because your entire support system and safety net of friends and family is not there," he added, confirming that these challenges are what made him who he is today.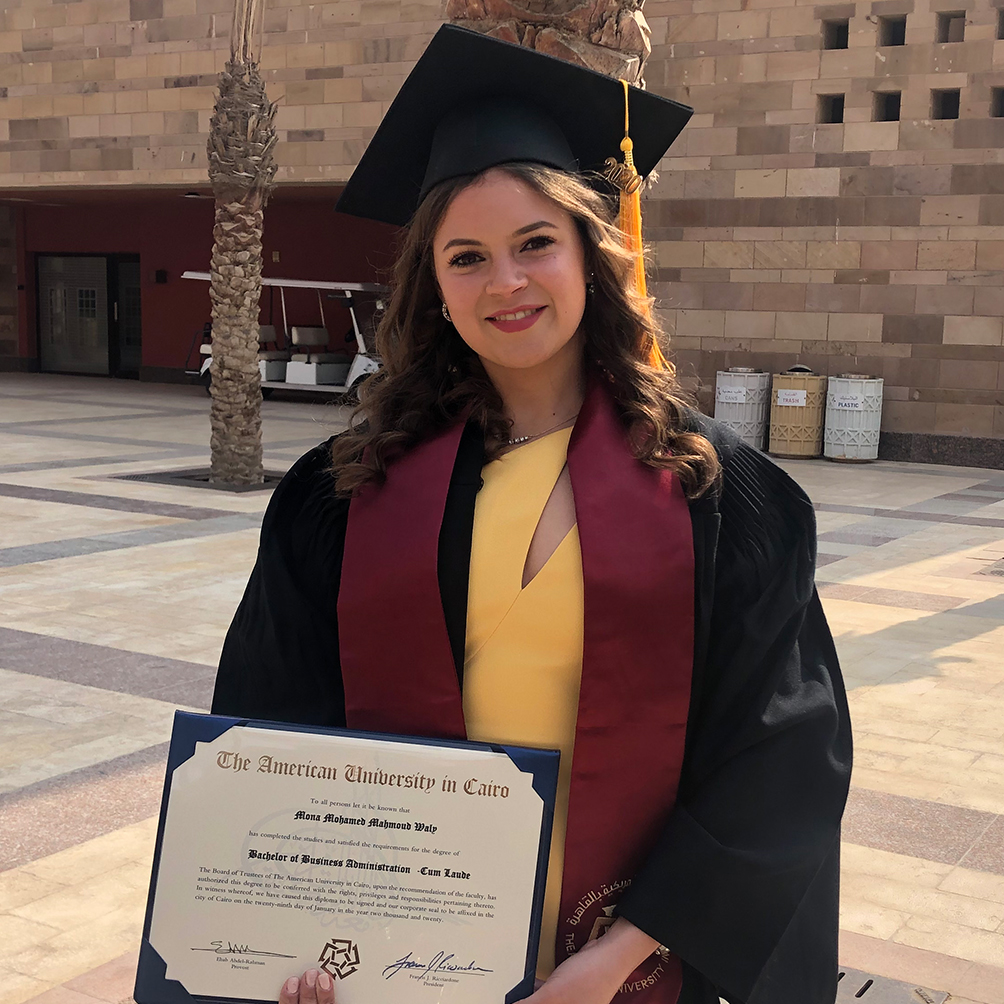 Mona Waly '20 '21: the online experience
Mona Waly double majored in marketing and graphic design at AUC and graduated at the dawn of the pandemic. "Right after graduation, I started working as a graphic designer at Maison Pyramide. A few weeks later the pandemic hit and I was working from home," said Waly. Later in May 2020, she decided to pursue her master's. "My first semester was at AUC and my second was at St. Gallen University in Switzerland. However, both were online so I was unfortunate and did not get to travel," said Waly.
However, being online did not take away from the experience. "Granted I did not travel because of COVID, but I still got to experience the global aspect of the program. I was working with international students from everywhere," she stated.
"It definitely exceeded my expectations, especially since I was doing it from home. If I could go back in time I would still do it exactly the same way. I got to meet amazing people, work with incredibly talented students, build connections everywhere in the world and learn from the most amazing professors," underlined Waly.
Prior to joining, Waly was already passionate about the program. "I wanted to join and be part of this incredible community and get the experience of it all." According to her, this program is perfect for someone who has a passion for learning and growth, a passion for new experiences and travel, and, most of all, someone who is hardworking and ambitious. "It is the best of both worlds. One semester at AUC and the other abroad, and in addition it is both theoretical and practical: a year of education and studying and a three months internship, where I basically apply what I have learned in the past year in my work."
Waly also told us a little bit about her graduation project: "My final project was with Daimler AG in Stuttgart. We were asked to build a framework for the company's sub-brands: how to be a strong core brand without taking strengths from their associated sub-brands. So, one general framework that makes it possible to establish what should be the core of each sub-brand, along with their strategy and management striving towards electrified cars and maintaining the luxury in the entire portfolio without cannibalizing from their own sub-brands."
After CEMS, Waly's career has completely changed. "Currently, I'm working at FreshSource Global as a marketing associate. FreshSouce global is a B2B service that aims to leverage technology to become the leading agri-supply chain platform in the MENA region, by changing the way fresh goods are sourced, moved and sold," she explained, highlighting: "Because of my CEMS experience, I am now confident in myself to be able to hold such an important role and responsibility and lead the marketing team and hopefully expand the company regionally as well as globally."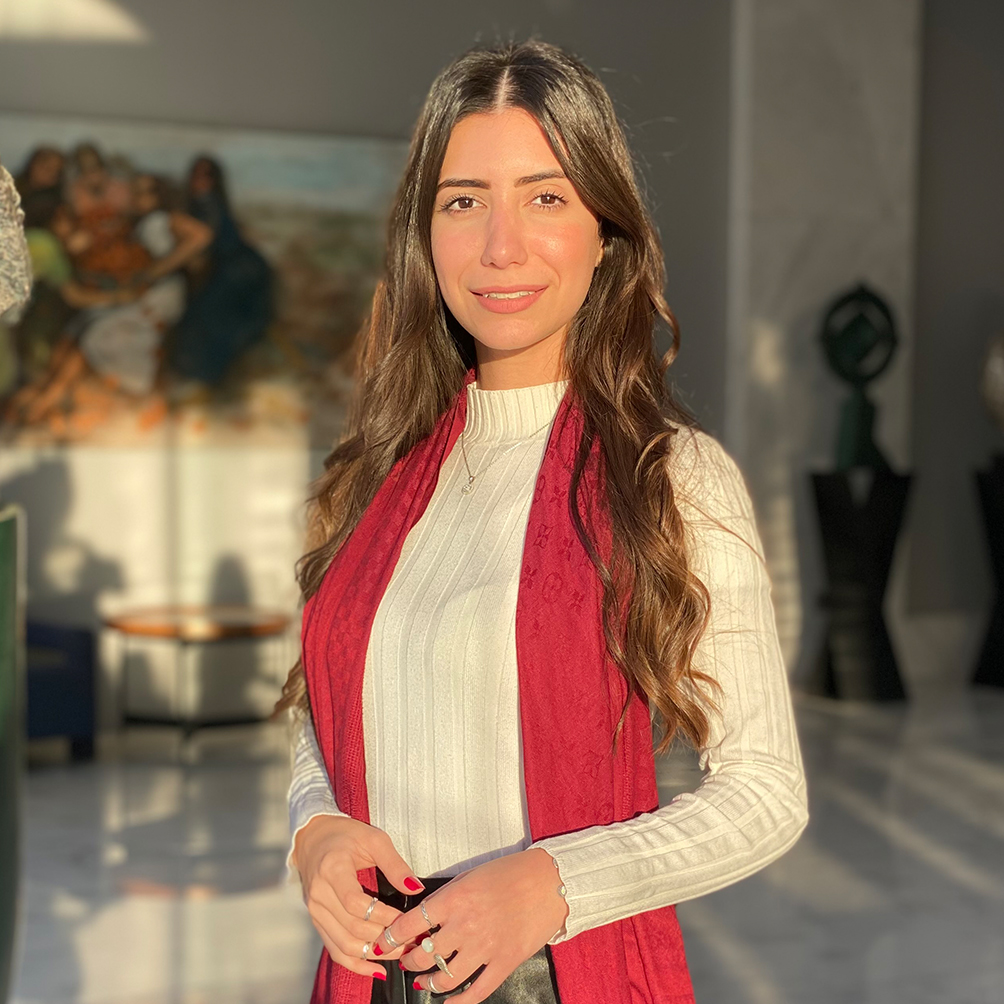 Noor Sorour '19 '21: A shortcut to academia
Noor Sorour has always wanted to pursue further graduate studies, a master's degree and later a PhD, but the demanding requirements of graduate programs were an obstacle to achieving this milestone. "There were multiple reasons that made me choose CEMS instead of any other program," explained Sorour, "Firstly, an MBA usually requires three years of work experience, while CEMS offers more or less the same flavor of content that I was looking for, but without the prerequisite of the work experience. In addition, since the program was shorter, I was able to work full-time while studying." As an undergraduate, Sorour majored in finance and minored in economics, which allowed her to work directly after graduation in the Finance Department at Philip Morris International, where she had been working part-time as an undergraduate student.
"Compared to university, where you know how the four years are going to pass, life outside campus is not as systematic, so, having a laid out plan is the essence of surviving life after graduation," reflected Sorour. "Therefore, I decided that during the first year post-graduation I will work full-time to discover myself and see what my strengths and weaknesses are before deciding on what I want to do later, specifically with my graduate studies." Indeed, after one year, Sorour knew that she did not want to pursue a master's degree that was finance-related. "The first person I called was Professor Hakim Meshreki, who is the program director as well as my academic mentor, to support me in deciding on the right program for me," she noted.
"The option of doing a semester abroad with another partner university was interesting as I want to pursue a PhD in the long-run, and having this exposure was going to give me an edge. I also liked the fact that I got two degrees – one from AUC and one from CEMS global," explained Sorour.
"The most unexpected experience I had at the program is the ability to truly enjoy the learning experience even if it was virtual, specifically during my first semester at AUC," highlighted Sorour. "All the classes were conducted online, yet, I was still able to enjoy the learning offered by the faculty, and until now I am still in touch with my AUC professors. Also, I made a great group of friends from the program and I feel lucky that I got to know each one of them," she added.
Sorour's second semester was at St. Gallen University in Switzerland, too, which she selected, not only because she loves Switzerland, but also because it is one of the top business schools in the CEMS program as well as worldwide.
Her graduation project at St. Gallen was also with Daimler AG, the German automotive manufacturer of Mercedes-Benz Group. "The core topic of the project was to develop a multi-brand management framework to be proposed to Daimler as they have multiple sub-brands such as Maybach, Mercedes-Benz, EQ, AMG, G-class, where each has a different target and specifications," explained Sorour, elaborating: "The interesting part about the project is that it was split into an academic and a corporate aspect. The academic part was to look at theories and research work related to multi-brand management frameworks, and the second part was seeing hands-on the applicability of these frameworks in the reality of the organization at Daimler. To support this, we had both an academic advisor from the university and a corporate advisor from Daimler to provide us with guidance." Commenting on the experience as a whole, Sorour highlighted the following: "Apart from having a real problem that we were trying to solve at Daimler, I personally found the exposure to be one of the best parts of the project, as we presented our project to the company's management."
Sorour is currently a supervisor of financial planning and analysis at Philip Morris International, working in the planning department for Egypt and the Levant markets. "CEMS gave me the exposure that I needed beyond the finance scope that my work focuses on," she underlined. "For example, I learned various subjects such as bottom of the pyramid marketing, leadership, business development, strategy, amongst other topics. Each course or new topic I was able to use in my current job, and it gave me the ability to look at my work from a different angle as opposed to submitting and delivering tasks only," she elaborated.
"I would highly recommend the program to someone who wants international exposure and aims to learn multiple areas in management to expand his/her scope," concluded Sorour.