Eight years of shaping Egypt's startup ecosystem – AUC Venture Lab Demo Day Spring 2021
Eight years of shaping Egypt's startup ecosystem – AUC Venture Lab Demo Day Spring 2021
After being streamed virtually for the past two years, the AUC Venture Lab Demo Day, featuring Arab African International Bank Cycle 16 and Fintech Spring '21 Cycle, was finally held physically again at the AUC Tahrir Campus this September. The event presented us with a total of 22 dynamic startups and entrepreneurs.
V-Lab's impact over the past eight years is truly something to be proud of. With a total of 250 graduate startups raising EGP 3 billion in investments and creating more than 10 thousand jobs and earning EGP 835 million in revenues, the V-Lab's startups have never failed to exceed expectations.
Of course, the most celebrated achievement by V-Lab's startups thus far is the Unicorn exit of the Startup Accelerator Cycle 8 graduate Swvl this summer. The deal that values the company at roughly $1.5 billion made Swvl the first Middle East unicorn to list on Nasdaq, the largest African unicorn debut on any U.S.listed exchange, and the only tech-enabled mass transit solutions company to list on any stock exchange.
But there is more.
Almost every week we hear news about AUC Venture Lab startups achieving one milestone after another:
Most recently, Cycle 12 graduate Little Blessings was named "E-Commerce Website of the Year 2021" at the 2021 Seamless Awards Ceremony held in Dubai in September. While Spring '21 Fintech graduate Stryve won the first prize of the Arab Financial Inclusion Innovation Prize (AFIIP), one of the region's leading scouts when it comes to financial inclusion.
V-Lab startups are also expanding their reach regionally, specifically in the Gulf area. E-commerce graduate Hoods' (Cycle 15) has recently expanded to Dubai and is now in negotiations with investment funds in Egypt, UAE and Saudi Arabia. Cycle Eight graduate Bosta will be entering the Saudi Arabian market by 2022. The overnight delivery provider for e-commerce companies is planning to expand across the Gulf region, targeting not only Saudi Arabia but also UAE.
In the meantime, other startups are expanding their services. For instance, CreditFins (Fall '21) is currently working on the "CreditFins alpha card", a new feature that will appeal to a wider customer base after closing a pre-seed funding round led by AUC Angels, Flat6Labs, and other investors.
Speaking of funding, Teegara.com, the Cycle 15 B2B2C marketplace, closed a five-figure pre-seed round led by Alexandria Angels and angel investors from KSA, Egypt, and the Netherlands; whereas Schoolz (Cycle 16), the transportation platform that provides safe and traceable ride-sharing trips for school students, raised six-figure pre-seed funding from investors in Egypt and Saudi Arabia.
Meanwhile, Fall '16 fintech graduate Neqabty signed a partnership agreement with Vezeeta.com and the Egyptian Engineers Syndicate to provide better healthcare services to more than 700,000 engineers and enable them to access the best healthcare services available.
Our V-Lab entrepreneurs have also been making headlines in the media including this Startup Scene feature on Hussien Momtaz, co-founder and CEO of Koinz (Cycle Seven), along with Tinder Founder Justin Mateen discussing what made Mateen decide to invest in Koinz and why he finds it the next success story.
It is important to note that all these achievements took place over the past three to four months only.
"It's not about the School of Business. It's not about AUC. It's about the impact we make for the community," stated Dean Sherif Kamel during the latest Demo Day, explaining that the V-Lab's journey is to accelerate towards even more innovation, resilience and creativity.
"We don't just work with startups, we work with government entities, corporates and the civil society to create a buzz across the community and scale our impact. We are part of an ecosystem that is growing."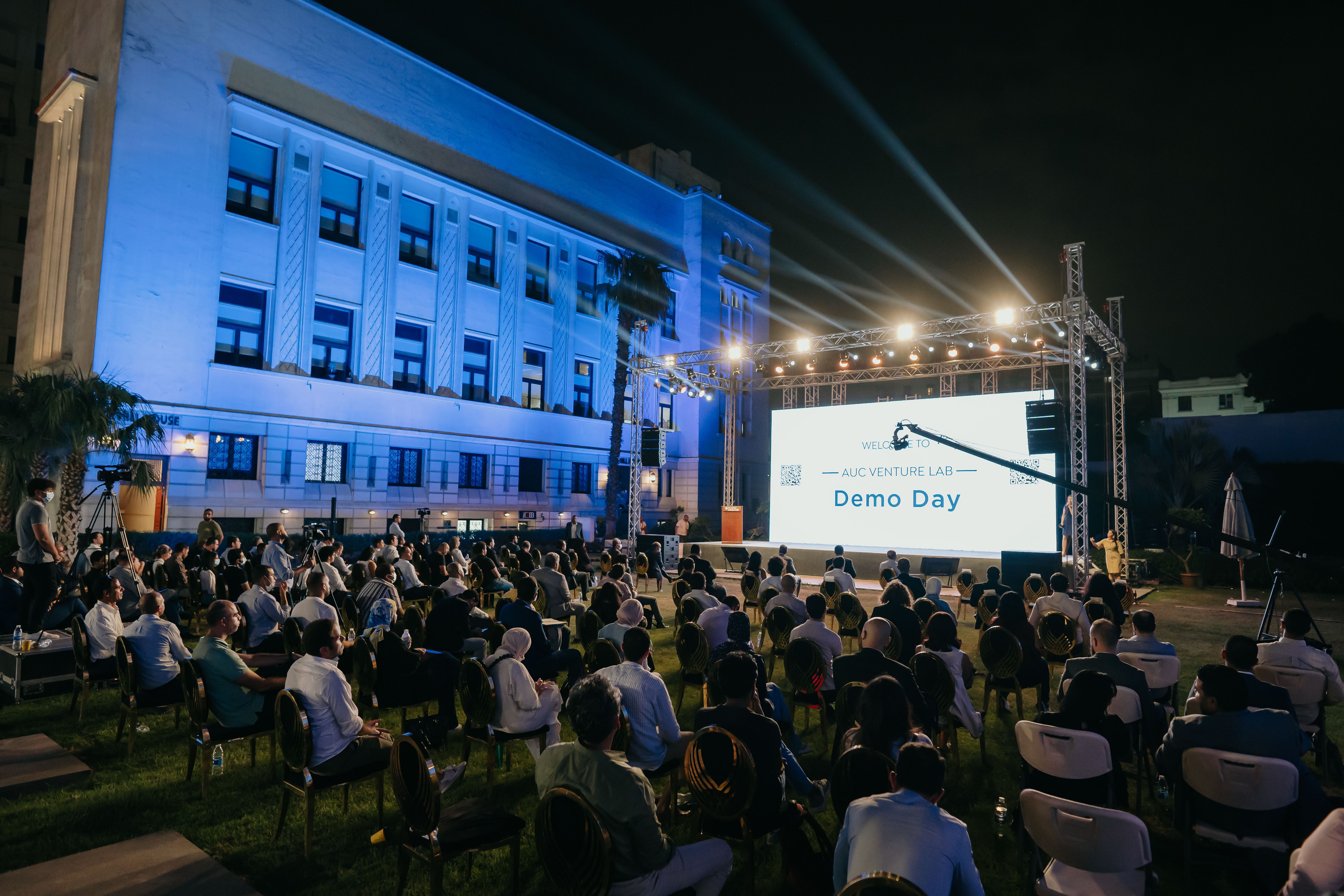 This year's Demo Day featured eight fintech graduates and 14 startups covering health-tech, e-commerce, sustainability, AI, logistics and creative industries, in addition to celebrating the Fintech Accelerator's fifth anniversary. It also featured a panel discussion with representatives of some of V-Lab's partners DROSOS FOUNDATION, Mountain View and Shell Egypt discussing why they decided to support entrepreneurs.
The Demo Day also celebrated AUC Venture Lab's strong network of partners. The AUC Venture Lab Startup Accelerator is supported by the Arab African International Bank (AAIB), DROSOS FOUNDATION, Shell Egypt, the Danish-Arab Partnership Programme, Hivos Foundation, Oxfam, Mountain View and Nestlé. The AUC Venture Lab Fintech Accelerator is powered by the Commercial International Bank (CIB) and in partnership with the International Finance Corporation (IFC) and Mastercard.
Seeing business leaders embrace entrepreneurship is something that the V-Lab has strived for. "The kinds of partnerships are changing, a lot of people are now thinking about how to support entrepreneurs," noted Ayman Ismail, Abdul Latif Jameel endowed chair of entrepreneurship, associate professor and the founding director of the AUC Venture Lab. Many businesses and corporations are inspired by the V-Lab and are trying to become more entrepreneurial. "They are working with entrepreneurs, investing in them, using their products and building a relationship between the startups and their own companies," explained Ismail.
Ismail also highlighted the trend of "serial entrepreneurs", who after exiting from startups go on to build other ones. He also noted that the quality and characteristics of the startups and their respective entrepreneurs are changing. "The level of the complexity of the ideas and businesses are changing, and the V-Lab is responding to this," he stated. The program is now more focused on growth-hacking, access to investment and investment readiness, business building, and entrepreneurial leadership.
As we speak, AUC Venture Lab continues to grow more and more, whether through launching new programs or upgrading and refining its existing ones, further making the school and AUC immensely proud.
Check out these playlists of the pitches of this year's startup and fintech accelerators' graduates.