EiR: a new transformational entrepreneurship journey for our students
EiR: a new transformational entrepreneurship journey for our students
"I felt lucky to be granted the opportunity to participate in 2021's EIR program as the field of international entrepreneurship is on the rise, and for this reason, I felt that joining such a program would be an amazing chance for me to gain international experience in entrepreneurship." - Nour Khalil, Business Administration sophomore and EiR program participant (team KLANZ).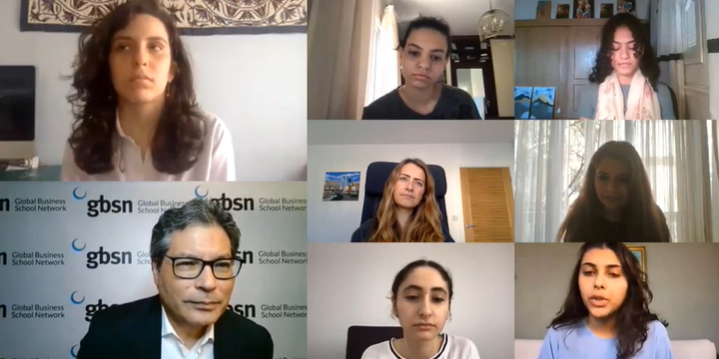 Entrepreneurship education is becoming a must for business students. To make it fun and interesting, The Center for Entrepreneurship and Innovation (CEI) at AUC School of Business, together with GBSN and Lancaster University Management School (LUMS), launched the Entrepreneur in residence program (EiR). This initiative is for AUC graduate and undergraduate teams to work closely with a Lancaster University's Entrepreneur in Residence (EiR), who is steeped in the way of life of the small-and-medium-sized business (SME) world. In this round, the students worked with Richard Baguley, managing director of GDR Communications Ltd.
"This has been an important and extremely valuable pilot program, which we now look forward to extending into different parts of the world. We've thoroughly enjoyed collaborating with the Center for Entrepreneurship and Innovation at The American University in Cairo School of Business. The students have worked exceptionally hard and have been outstanding ambassadors for both the center and the University," stated Baguley
Ghada Hafez, the associate director, CEI, said she was "very excited to launch this pilot program – the first of its kind international exchange program with the UK, the global pioneer of Entrepreneurs in Residence." Hafez continued by emphasizing that she is "very proud of our 14 undergraduate students who joined from different majors and worked virtually while being located in three different countries over the course of eight weeks with LUMS EiR Richard Baguley and with the continuous guidance and directions of Brian Gregory, teaching fellow, and co-director of the EiR program, LUMS."
The objective was to generate a simple comparative analysis report for an existing startup in Egypt or internationally and highlight best practices and new techniques in the EiR's field (in Baguley's case, it was media and PR), with recommendations on how to impact the industry locally with international exposure. Three teams ("KLANZ," "AUCPreneur," and "Mastermind") were selected to work on the project, which consists of eight online sessions over the duration of two months.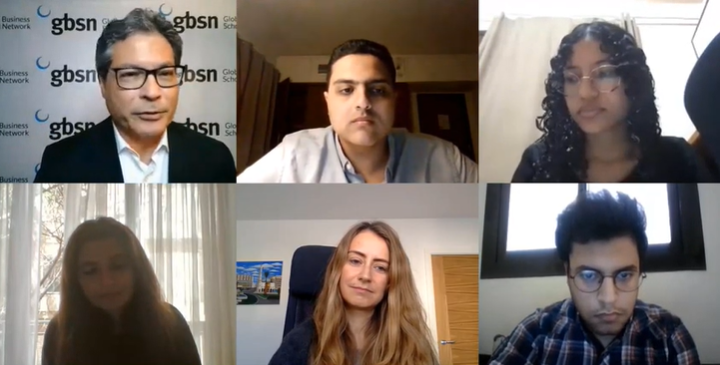 During the sessions, Baguley gave the students an overview of the industry and shared his own entrepreneurial story. Two assignments were requested from each team of students and the final presentation, i.e., research of the field of media and PR in Egypt and the MENA region compared to the UK and Europe. The research had to include challenges, opportunities and the future of this field, in general, and in specific startups.
"I very much liked that it was taught by an actual Entrepreneur in Residence, an expert in the field that is," commented Nour, adding: "Other than having taught me to never be afraid of taking risks, as there is a big chance the latter will turn out to be a positive life-changing experience, I also learnt how to be more concise in my work as Baguley and Gregory constantly pushed students to write and present in ways that go straight to the point, especially that we live in an age where people do not necessarily find the time to go through long reports and attend long presentations."
The teams were required to deliver their final presentations in a concise period of time using three slides only. This presented a challenge for the students, who had to compress their extensive research findings into a concise presentation. Luckily, all students were able to overcome this issue with impressively concise and informative deliveries successfully.
The pressure was high, as the students were presenting in front of a high profile panel, including Dan LeClair, CEO, Global Business School Network (GBSN), Sophie Alkhaled, senior lecturer in entrepreneurship, Lancaster University, and Lamia Kamel, founder, CC Plus, and moderated by Brian Gregory and Ghada Hafez. The event was also attended by dean Sherif Kamel, who gave an opening speech showcasing and highlighting the School's keenness on supporting entrepreneurship and entrepreneurship education.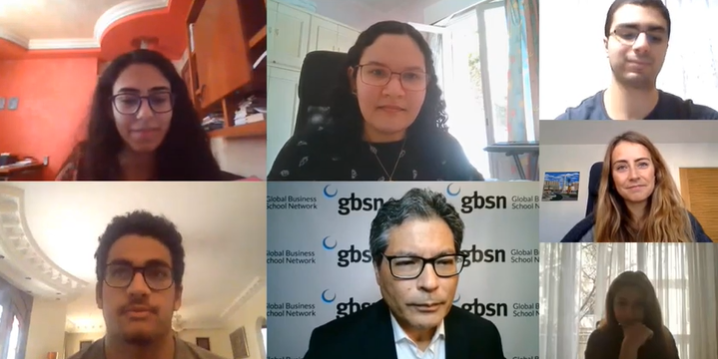 "The students performed extremely well and the results were excellent. They grabbed this opportunity with enthusiasm and passion, demonstrating commitment, dedication and innovation throughout the eight-week program,' said Baguley, reflecting on the program. "They adapted well to undertaking the whole project online, a key skill for the 21st Century, which will serve them well in the future. All of the students can be rightly proud of themselves. We wish them well with completing their degree courses and in their future careers. It is a truly ground-breaking and internationally salient program."
Watch the team's presentations and closing here.