Finomics '22: First on Campus Stock Market Simulation
Finomics '22: First on Campus Stock Market Simulation
This September, the AUC School of Business launched the first stock market exchange simulation on campus, Finomics '22. The week-long event aimed to teach students about the stock exchange through live face-to-face competitions.
The competition was organized jointly by the Department of Management and the Department of Economics with the marketing and operational support of two student-led organizations, the AUC Business Association (BA) and the AUC Economics Association (EA).
"I learned a lot of skills about how to be a broker, including customer relations, negotiations and how to be competitive with pricing. All these things will make me a better investor and I think it will really benefit my future," said Omar Mansy, one of the participating students.
Open to students of all majors, the competition was spearheaded by Wael Abdallah, assistant professor of finance, and Mina Ayad, assistant professor of economics, and powered by prominent players in the financial and investment industries, including Banque Misr, CI Capital, Abu Dhabi Islamic Bank (ADIB), Allianz, and Thndr. The competition's theoretical content was compiled and delivered by a student academic committee with the engagement of speakers from the competition's corporate partners.
As part of the experience, students attended four days of lectures to understand basic concepts of stock market dynamics, the role of regulatory bodies in Egypt, and investment strategies. This was followed by a three-day simulation competition, where candidates were divided into different teams of investors, banks, mutual funds, and brokers who engaged in a real-life financial ecosystem on campus that mimics the financial markets in Egypt and worldwide.
"As a broker in the simulation I had a great time, as it allowed me to see how the market works and to understand why investors invest and how they invest, as well as how the prices go up and down," expressed Mariam Shteiwey, one of the winning students.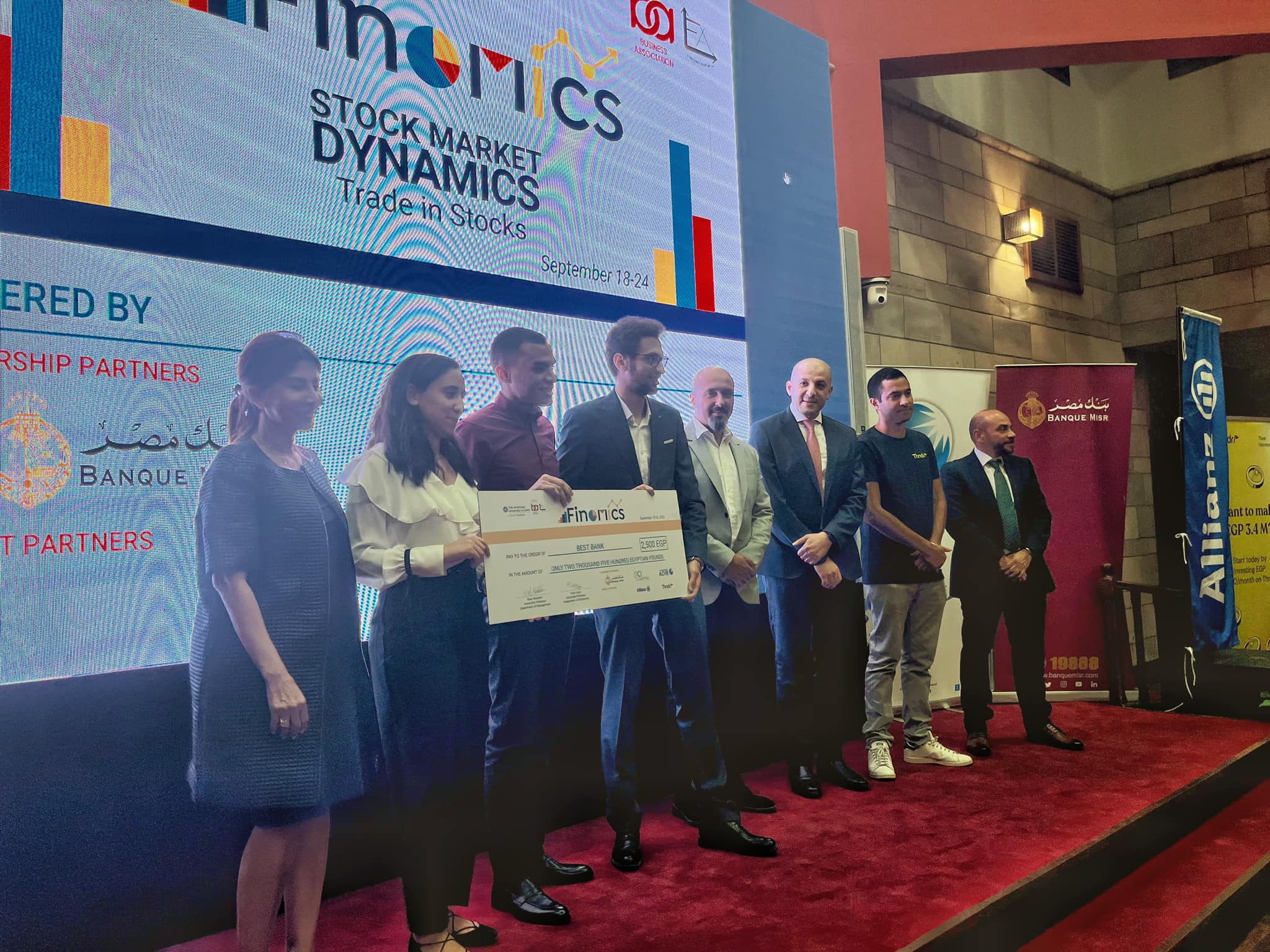 The closing ceremony was held on September 24 and featured keynote speeches by Professors Abdallah and Ayad, as well as representatives from the sponsoring entities including Hebatallah ElSerafi, vice chairman, Egyptian Exchange (EGX), Sherif Lokman, deputy governor, Central Bank of Egypt, Ayman Hegazy, chairman and CEO, Allianz Egypt, Tamer Shaheen, Treasury and Financial Markets head, Abu Dhabi Islamic Bank, Egypt.
"Allianz is proud to collaborate with the School of Business through sharing the know-how for practical experiences such as this one," expressed Hegazy.
The winners received prizes in the form of cash and Thndr wallet balances. Taking the role of "investors", Yasmine Sameh won 10,000 EGP in the first place, Mohamed Elkassa won 6000 EGP in second place, Saher Abdalla won 4000 EGP in third place. The "mutual funds" winning team consisted of Carol Bebawy, Ahmed Hashish and Bassel Samek Mikhail; the "bank" team consisted of Ahmed Mousa, Hossam Khalifa and Jana Ibrahim Ali, while the "broker" team consisted of Laila El Helw, Ali El-banbi, Lora Mounir, and Mariam Shteiwey. Each team received a total of 10,000 EGP. Winners of the competition were selected by EGX to join the EGX Ambassadors program.
"Financial illiteracy is one of our biggest problems nowadays. You have to believe in yourselves and your capabilities that you can make the future better," said Lokman.
"If you start investing your money bit by bit every month, you'll make the highest return," advised ElSerafi, while Shaheen provided some exclusive insights to the students about the future of stock markets in Egypt.
This initiative is one of many experiential learning opportunities that the School offers to AUC's students to ensure that there are no gaps between class learning and job market competencies. In addition, collaborating with corporate partners allows the School to foster its strong connections and wide networks within the business community in Egypt, opening more doors for our students post-graduation.