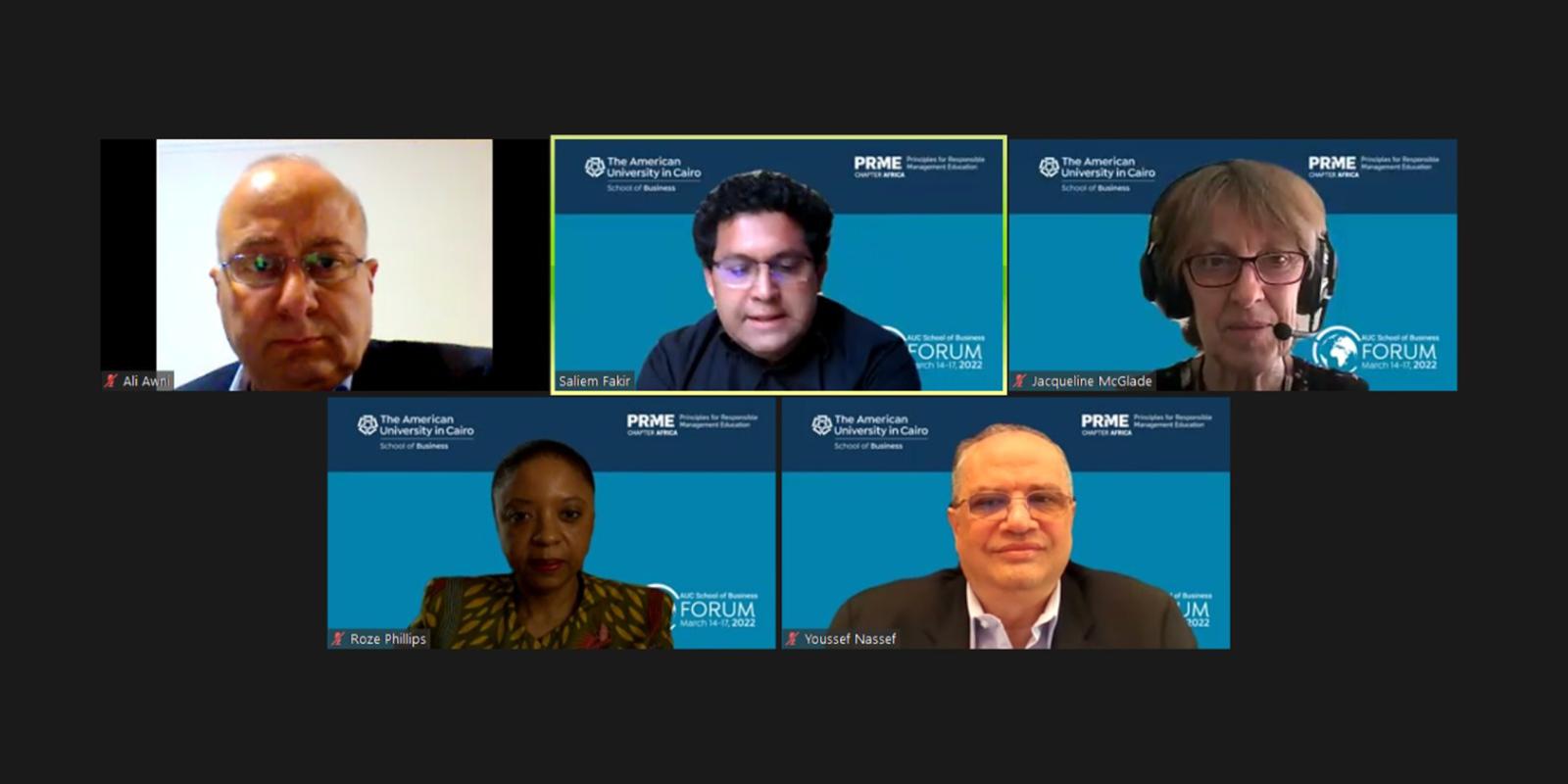 A Glimpse of the Future: Experts Discuss the Role of Business Schools in the Just Transition for Africa
A Glimpse of the Future: Experts Discuss the Role of Business Schools in the Just Transition for Africa
Nowadays, floods, droughts, and other devastating natural disasters are becoming more common and severe around the world, as evident by the increasing frequency and severity of extreme weather events. Over the last few years, the global discourse about climate change and its effects on communities, livelihoods, and enterprises has grown in intensity and urgency.
The fourth roundtable of the AUC Business Forum held on March 15 under the title "Just Transition for Africa: The Role of Business Schools" discussed environmental issues and challenges facing the African continent while analyzing related issues of social justice and energy poverty. The speakers explained key priorities for Africa at the upcoming COP27, including climate mitigation and adaptation strategies, and delved into the meaning of "just transition" emphasizing how climate action in Africa is not only about the transition from an economy based on fossil fuels to the so-called 'net-zero' economy or low carbon economy. The session was moderated by Ali Awni, professor of practice and director of the John D. Gerhart Center for Philanthropy, Civic Engagement and Responsible Business at the AUC School of Business, and featured a number of international experts working within the continent.
Resilient Economies
In this regard, Saliem Fakir, chief executive of the United Nations Climate Change Conference, shed light on the factors that must be taken into consideration in order for resilient economies to develop. "To build resilient economies, we have to think of the sectors that rely on natural resources, so that we are able to enhance investment in them". In making this statement, he was implying that economies should reduce their reliance on fossil fuels and become more flexible in order to decarbonize.
He went on to say that it is our responsibility to improve and establish this vision and to stress this narrative. Spending more money on energy access and infrastructure, as well as a strong focus on global integration rather than just regional integration, can help achieve this. Furthermore, he underlined that "we must determine how to change the architecture from global finance to green and climate goals". However, none of these energy changes can take place without widespread social approval.
Egypt's transformation agenda
According to Youssef Nassef, Director of the African Climate Foundation, the future level of funding as of 2025 includes several components and exercises. He stated that currently, "climate and sustainability issues are symptoms of an underlying flaw of how we have been doing business since the industrial revolution." He added: "This is why I encourage thinking fundamentally of moving the world to a new place."
For starters, the future level of funding incorporates the adaptation and loss damage agenda. This includes looking into optimization exercises through which disastrous risks can be reduced. There also needs to be a legitimate component of continued support in order for this agenda to work. Nassef emphasized this by stating that "the least developed countries majority are in Africa and need a specific type of support" when dealing with external shocks.
The strongest component of all regarding this agenda is the youth component, Nassef continued, which will be present at the upcoming COP conference. Youths will be expected to make strong advancements as well as identify and seize opportunities that would allow for more prosperity.
Prosperity and wellbeing
Jacqueline McGlade, Professor in international public policy and governance at Strathmore University Business School, Kenya, and professor of sustainable development and resilience, University College London, UK, discussed the matters of prosperity and wellbeing with a strong emphasis on local resilience. According to McGlade, prosperity is to really understand how we feel meaningful lives and is about our hope for the future. She then connected this to local resilience by explaining how there are so many ways in which it has been potentially overlooked, meaning that the central focus was almost always on global resilience.
The main point here was that it is not just about the money but it is also about the creativity and innovation to solve the problem. This sets the stage for the idea of building resilience on an ethical basis. In other words, the idea of the well-being economy is "to really think about how we can pursue human and ecological wellbeing instead of material wealth" declared McGlade.
After grasping these concepts, one would wonder how we might truly develop the information that will help us become more resilient. McGlade responded to this by stating that the answer is not found solely in books or academic research institutions and that we must consider constructing a bridge between theories and measurement frameworks. Essentially, the future of a just transition is about how we employ co-production and co-design terminologies, as well as experiential and hands-on learning.
From net-zero to net-positive
To wrap up the discussion, Roze Phillips, executive director, Gordon Institute of Business Science, touched upon how "just transition is not an end in itself, it is a means to achieve transformed wealth". The first step in doing so is rethinking what kind of knowledge needs to be infused into this debate on climate change. This involves casting a wider scope on what we call transformative justice: from net-zero to net-positive.
Phillips elaborated on this matter by stating that to solve the future, we have to solve today's issues. "We will create the future – one that consists of collective ownership and control of our energy systems," said Phillips, elaborating: "What we don't need is upscaling, we need to have a learning and all-inclusive mindset and encourage participation". Forming this net-positive transformed world is fundamentally the type of world that partnerships will have a wide focus on.
Other points that were discussed in the roundtable included what is unique about African countries and the implications of just transition for the private sector, including investors, alternative climate finance, and market and regulatory mechanisms. Ultimately, the main takeaway of this insightful conversation was the role of African universities and business schools in contributing to climate action and a just transition for Africa.
To watch the full roundtable, click here.