Hack-21 to an end…CEI Holds the Final Ceremony of the Annual International Hackathon
Hack-21 to an end…CEI Holds the Final Ceremony of the Annual International Hackathon
"Fantastic Four from The American University in Cairo and EX10 from Chulalongkorn University in Thailand win Hackathon 21 hosted by AUC School of Business."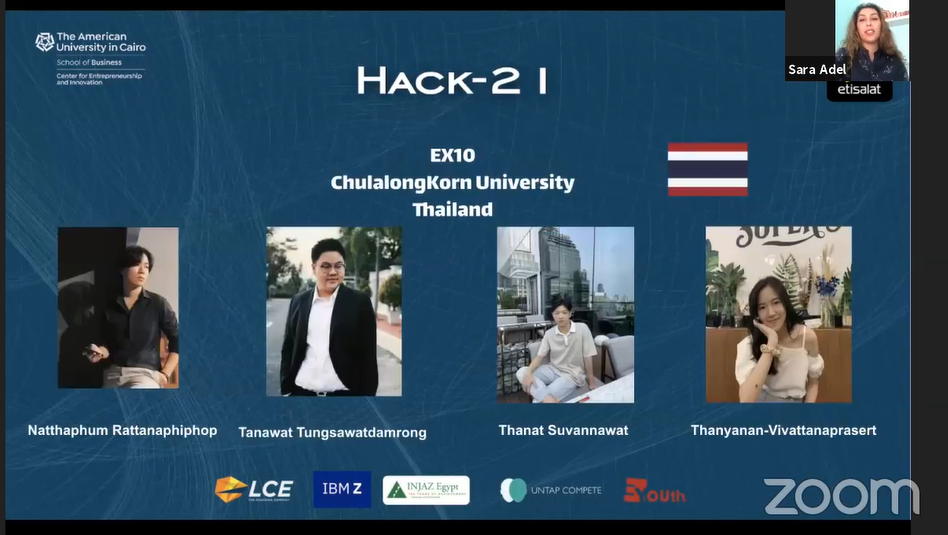 On Wednesday, June 30, The AUC School of Business Center for Entrepreneurship and Innovation held the closing ceremony announcing the winners of Hackathon 21 (Hack-21). Fantastic Four from AUC and EX10 from Chulalongkorn University, Thailand won the Hackathon, receiving a prize of USD 1000 each. The runner-up team, Tomorrow's Leaders from AUC, will also receive in-kind incubation support provided by the CEI.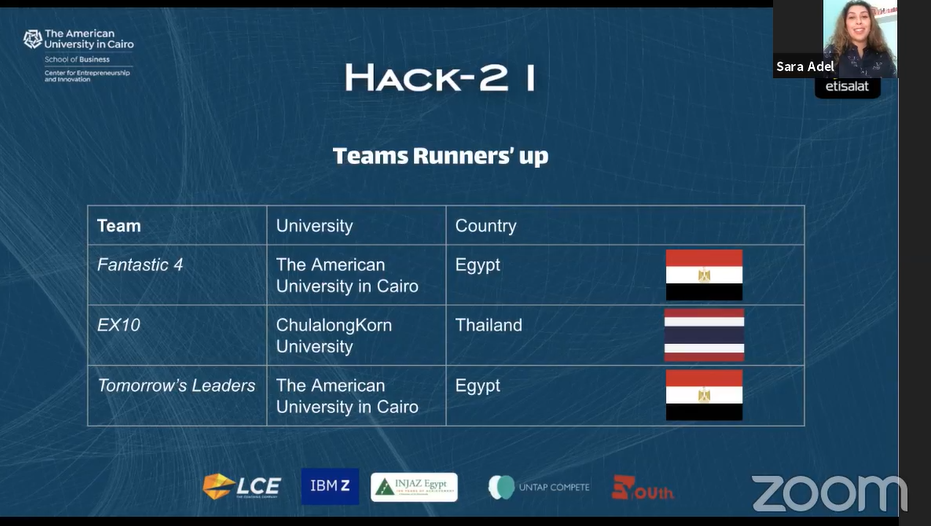 The objective of this Hackathon is to push students out of their comfort zone and unleash their creativity. Bachir Hafsi, a freshman intending business and a participant from the runner-up team Tomorrow's Leaders, said that the Hackathon was a "great opportunity to get an insight on the entrepreneurial field" and he recognized how creative he can be. Hack-21 also gave Hafsi the chance to strengthen his teamwork and leadership skills. Zeyad Waleed, construction engineering student, and a participant from team Greens, enthusiastically described Hack-21 as "empowering, challenging, and competitive experience."
Hack-21 is the sequel of Hack-19, but unlike Hack-19 which focused on the MENA region, this year, Hack-21 went international. A Hackathon for a cause, the Hackathon was about innovating ideas to help people with disabilities during the COVID-19 era by providing creative solutions focused on wellbeing or health care system support. Ayman Shaif, construction engineering major, from team Greens, added that "although the tasks were overwhelming in a very tight time, I feel that I learned something that will help me throughout the whole of my life."
An annual four-day program, Hack-21 gathered 45 teams with a total number of 143 participants (11 international teams and 34 Egyptian teams). The participating teams represented 11 countries including: Egypt, Thailand, India, Saudi Arabia, UAE, Tunisia, Algeria, Libya, UK, and Brazil. Only six teams made it to the final round.
Hack-21 included more than 20 judges and 30 coaches from around the world. More than 100 hours of coaching were provided by CEI partners. Further, International Business Machines Corporation (IBM Z) conducted two sessions around pitching, creativity, and innovation for all the teams. "As a participant in Hack-21, my journey is self-explanatory. The coaching was more than helpful, and overall the experience is once-at-a-lifetime," said Ali Saeed, political science student and member of team Greens.
CEI's partners were invaluable in ensuring a successful and enjoyable Hackathon experience. IBM Z supplied the Hackathon with resources, judging, and sessions.
Etisalat Misr, the main partner for the second year in a row, provided both prizes and judging. Etisalat Misr is so delighted about its exceptional partnership with AUC's CEI. In this context, Hazem Metwally, chief executive officer, said that Etisalat Misr is "building partnerships that provide opportunities and potential solutions not just on the business level but on a societal level. [Etisalat Misr] aim is to scale up these initiatives to support the United Nations Sustainable Development Goals #SDGs, particularly SDG3: Good Health & Wellbeing, SDG 9: Industry, Innovation & Infrastructure, and SDG 17: Partnerships for the Goals."
Leadership Coaching Excellence (LCE), the coaching and judging strategic partner for the second year in a row, supported coaching and judging during the whole program. LCE expressed their pride to be a partner at Hack-21. Hany Abdelgawad, LCE head of corporate division, said "for the second year in a row, our strategic collaboration and partnership with the AUC School of Business Center for Entrepreneurship and Innovation are manifested in actual dynamics to serve many developmental purposes and incorporate coaching, transformation, and psychology approaches into entrepreneurship and innovation fields. I was impressed with the teams' efforts, growth, learning, and working on the received feedback from their coaches over three days. I am so proud of LCE's community coaches and judges who demonstrated high performance, dedication, and professionalism." In another note, Sermian Kum-Naksch, LCE Academy deputy director, commented that "it has been tremendously exciting judging this year's hackathon and getting to see so many young, bright minds working towards creating a more inclusive future. It was obvious that the entire event was the product of a great deal of inter-organizational collaboration and innovative thinking, rooted in the belief of the primacy of investing in and taking seriously the ideas of younger generations."
Hackathon 21 is a living example of the exemplary work our outreach centers play in contributing to the mission of the School in promoting entrepreneurship and innovation ideas around the world.