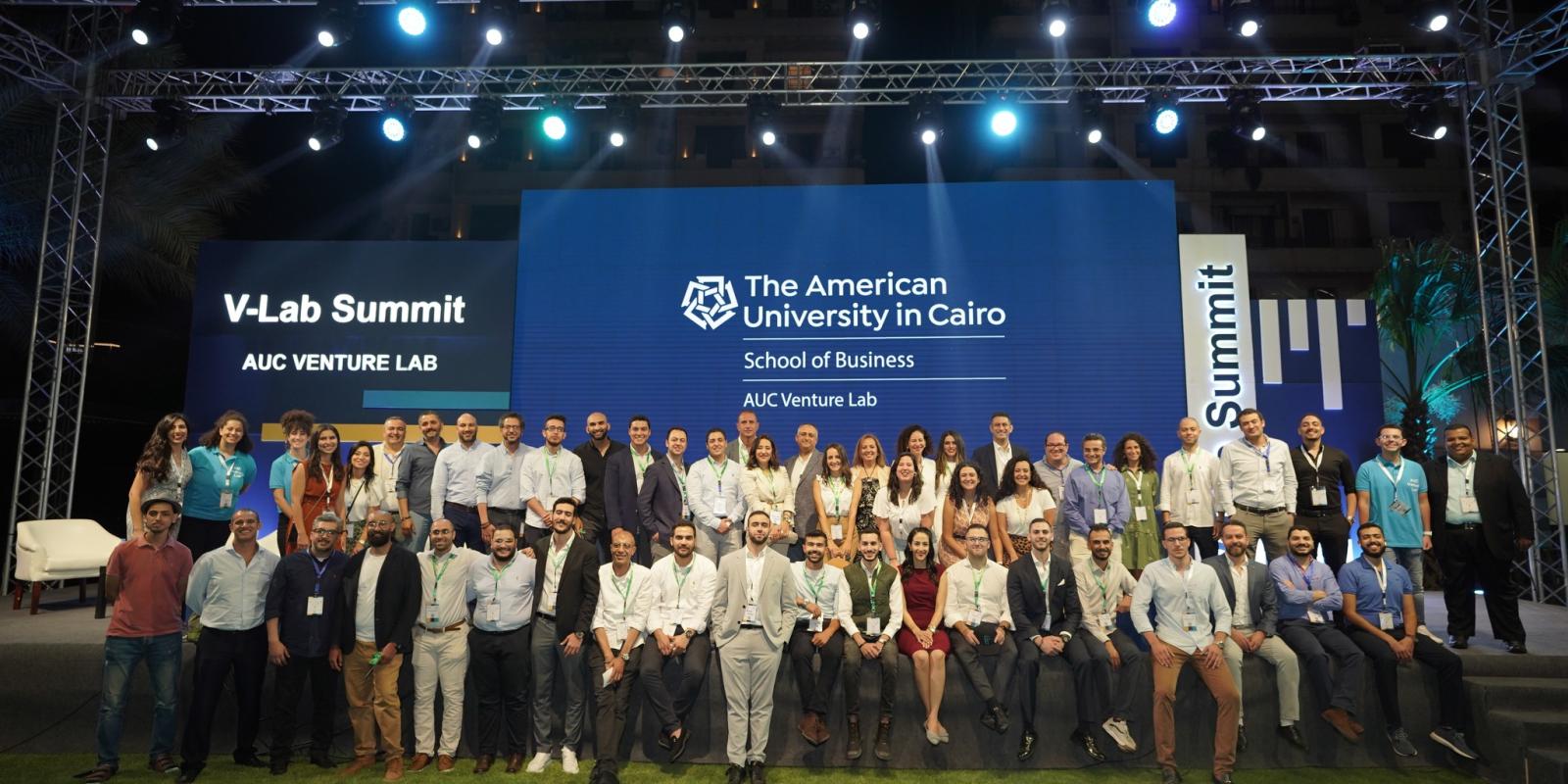 Highlights from AUC Venture Lab's first "V-Lab Summit"
Highlights from AUC Venture Lab's first "V-Lab Summit"
On June 18, AUC Venture Lab hosted its first V-Lab Summit at AUC Tahrir Square campus, a full-day event filled with expert knowledge, networking opportunities and the latest in the entrepreneurship ecosystem. The event featured valuable panels and inspiring one-on-one discussions as well as exclusive workshops and startup pitches during the spring 2022 Demo Day.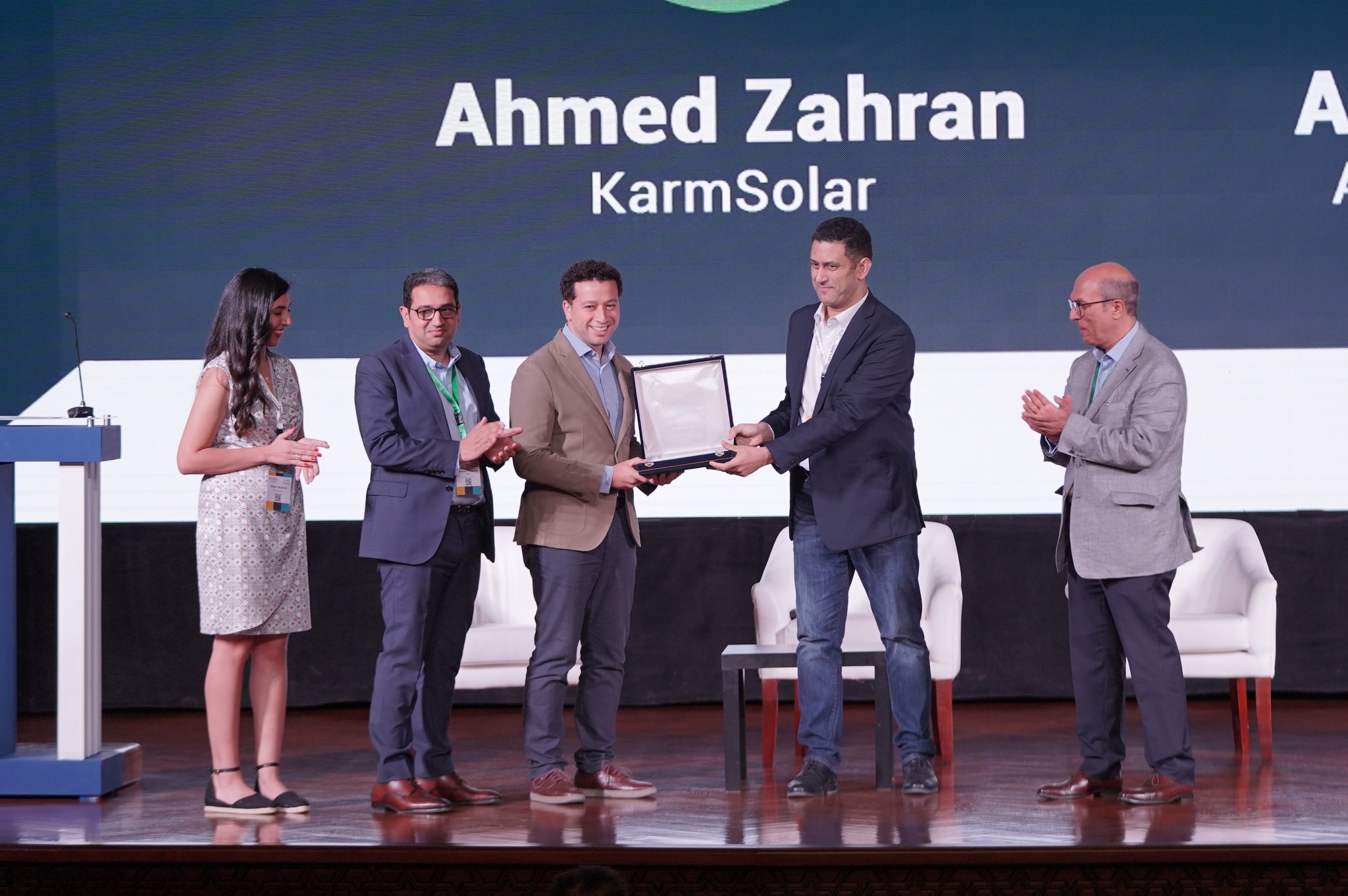 Celebrating outstanding entrepreneurs: The AUC Venture Lab Award
The V-Lab Summit seized the opportunity to celebrate outstanding and impactful entrepreneurs through the AUC Venture Lab Award. The spring 2022 AUC Venture Lab Award for outstanding entrepreneurial endeavors and efforts in supporting the ecosystem was received by Ahmed Zahran, CEO and co-founder at KarmSolar, and the KarmSolar team. This was followed by a fireside chat with Zahran and Ayman Ismail, associate professor, Abdul Latif Jameel Endowed chair of entrepreneurship at AUC School of Business and founding director of AUC Venture Lab, discussing the growth and innovation of KarmSolar and its impact on the environment.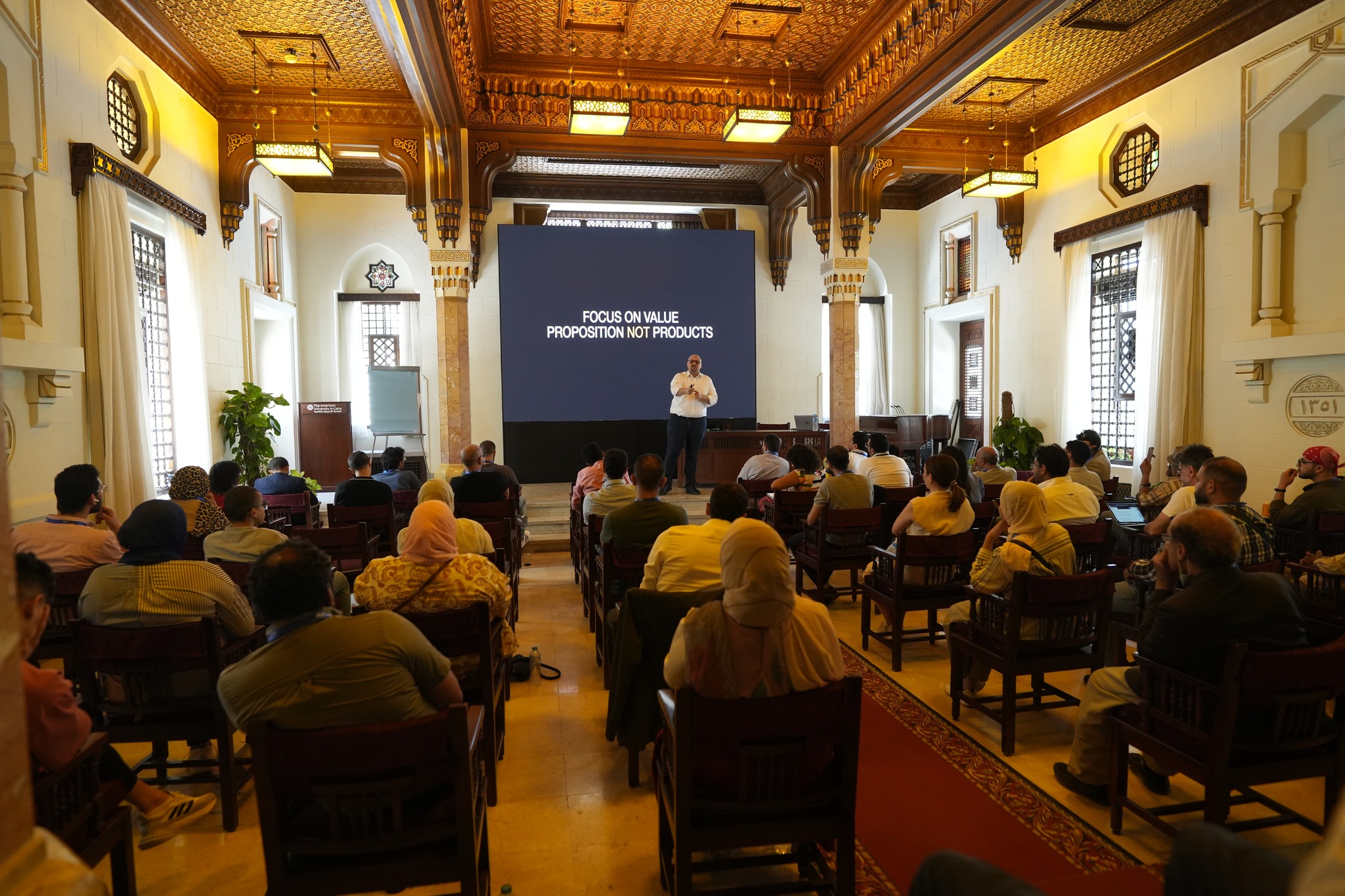 Exclusive workshops and networking opportunities
The event hosted a range of business workshops delivered by the V-Lab team as well as guest speakers tackling "Surviving with Innovation by Evidence-based Entrepreneurship" with Expert, Startup Advisor and Innovation Consultant Hani Naguib, "Delivering Value in Products that Can Really Sell" with AUC Venture Lab Acceleration Manager Yasmine Nagaty and Senior Program Coordinator Verina Rizkallah, and "Investments 101 for Entrepreneurs" with AUC Angels' Investment Associate Mohamed Ihab.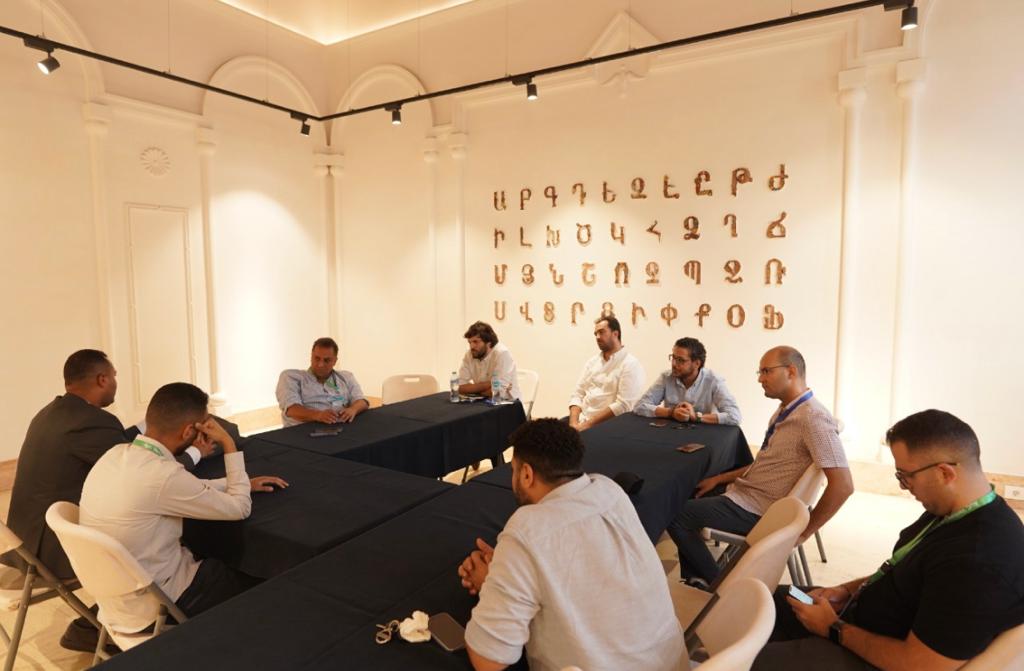 As part of the networking opportunities offered for startups during the summit was a session with three leading experts in the Venture Capital (VC) world: Basil Moftah, general partner of NClude, Rafeh Saleh, founding partner of Cubit Ventures and Tamer Azer, partner at Shorooq Partners. Some of the V-Lab's rising graduates and alumni engaged with the experts in a safe setting of feedback and advice, where each startup addressed some of its staggering challenges and how to solve them, in addition to discussing investment strategies and scaling support.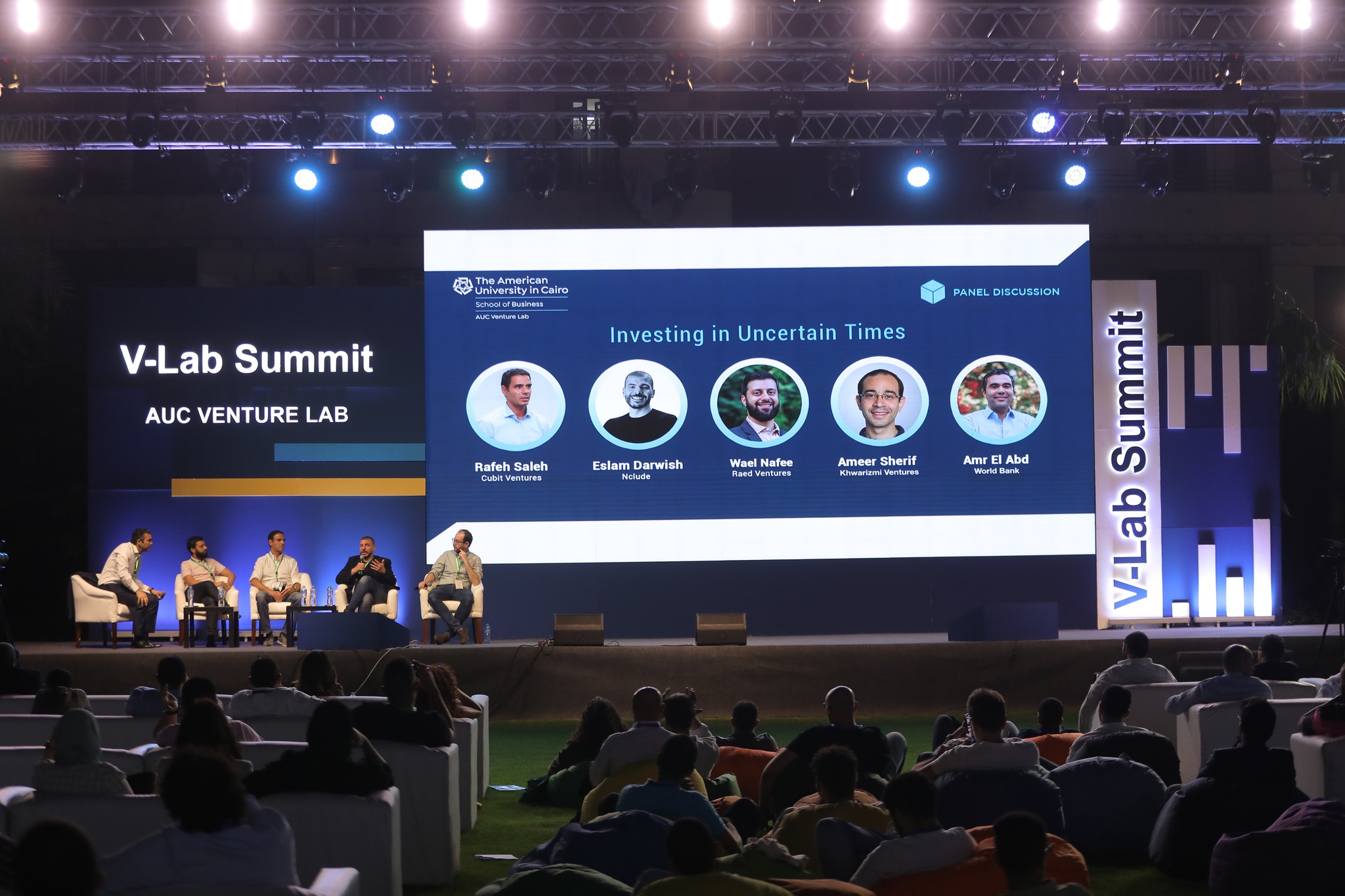 Thought provoking panel discussions and fireside chats
Business insights, growth opportunities and firsthand advice arose from the first panel of the day under the title "Building Investable Startups" featuring Ahmed Ashour, co-founder and CEO of Pylon, Enas Siam, co-founder and COO of Flextock, Hossam Taher, co-founder, CEO and head of product at Orcas, and Hussein Momtaz, co-founder and CEO of Koinz and moderated by Mohamed Rahmy.
This was followed by another fireside chat titled "Can Startups Save the Planet" with Sarah El Battouty, UNFCCC ambassador and founder of ECOnsult and MuBun Sustainable Furniture. Along with moderator Yasmine Nagaty, acceleration manager at AUC Venture Lab, El Battouty talked about the different policies and opportunities in the green economy space and how startup innovation could impact the environment.
The third fireside chat titled "Enabling Scalable Startups" was with none other than Mirna Arif, general manager of Microsoft Egypt. The discussion, moderated by AUC Venture Lab's Associate Director Lina Zalat, tackled how corporations perceive opportunities and risk in startups and how their resources can pave the way for startups' growth, as well as the disruptive ideas and agility that entrepreneurs bring to the corporate space.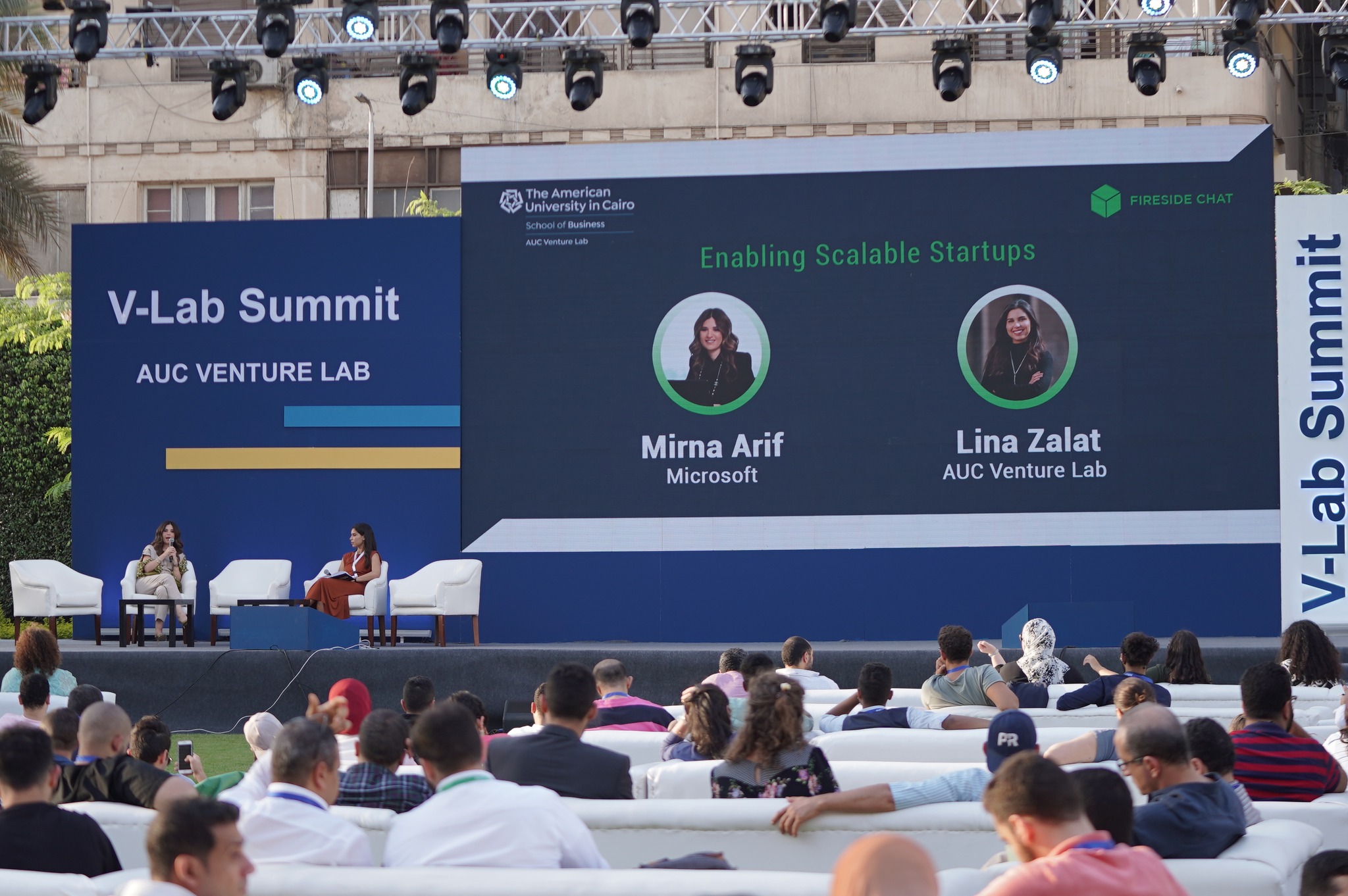 During the last fireside chat of the day titled "Digitizing Payments for SMEs", Islam Shawky, co-founder and CEO of PayMob and Basil Moftah, general partner at Nclude discussed with moderator Ayman Ismail PayMob's mission to digitize payments for SMEs by offering easy-to-use and customer-centric solutions. The speakers took a deep dive into PayMob's journey with their latest investor NClude and how they tapped the fintech market and the story of their latest investment round.
In the panel discussion titled "Fintech Opportunities and Trends", some of the leading faces of the ecosystem brought some valuable insights – between payments, infrastructure, savings, financing and regulations. They talked about how startups disrupt what used to be traditional spaces and the kind of impact and support startups can provide for unbanked segments with financial tools and financial inclusion. The panel included Ahmed Mahmoud Abdeen, founder of ElGameya, Fatma El Shenawy, co-founder and CSO of Khazna, Saeed Talaat, co-founder and CEO of KlickIt and Walid Hassouna, founder and CEO of ValU, along with Mohamed Hamza, open innovation program manager of Banque Misr.
The last panel of the night was titled "Investing in Uncertain Times" and hosted some of Egypt's leading investors including Ameer Sherif, partner at Khawarizmi Ventures, Eslam Gomaa Darwish, founding general partner at Nclude, Rafeh Saleh, founding partner at Cubit Ventures, Wael Nafee, partner at Raed Ventures. Moderated by Amr El Abd, consultant at the World Bank, the panel dug deep into the investment scene and the rising trends amidst the global challenges, and shed the light on challenges startups face in the investment scene and how investors assess startups and decide on investing in them.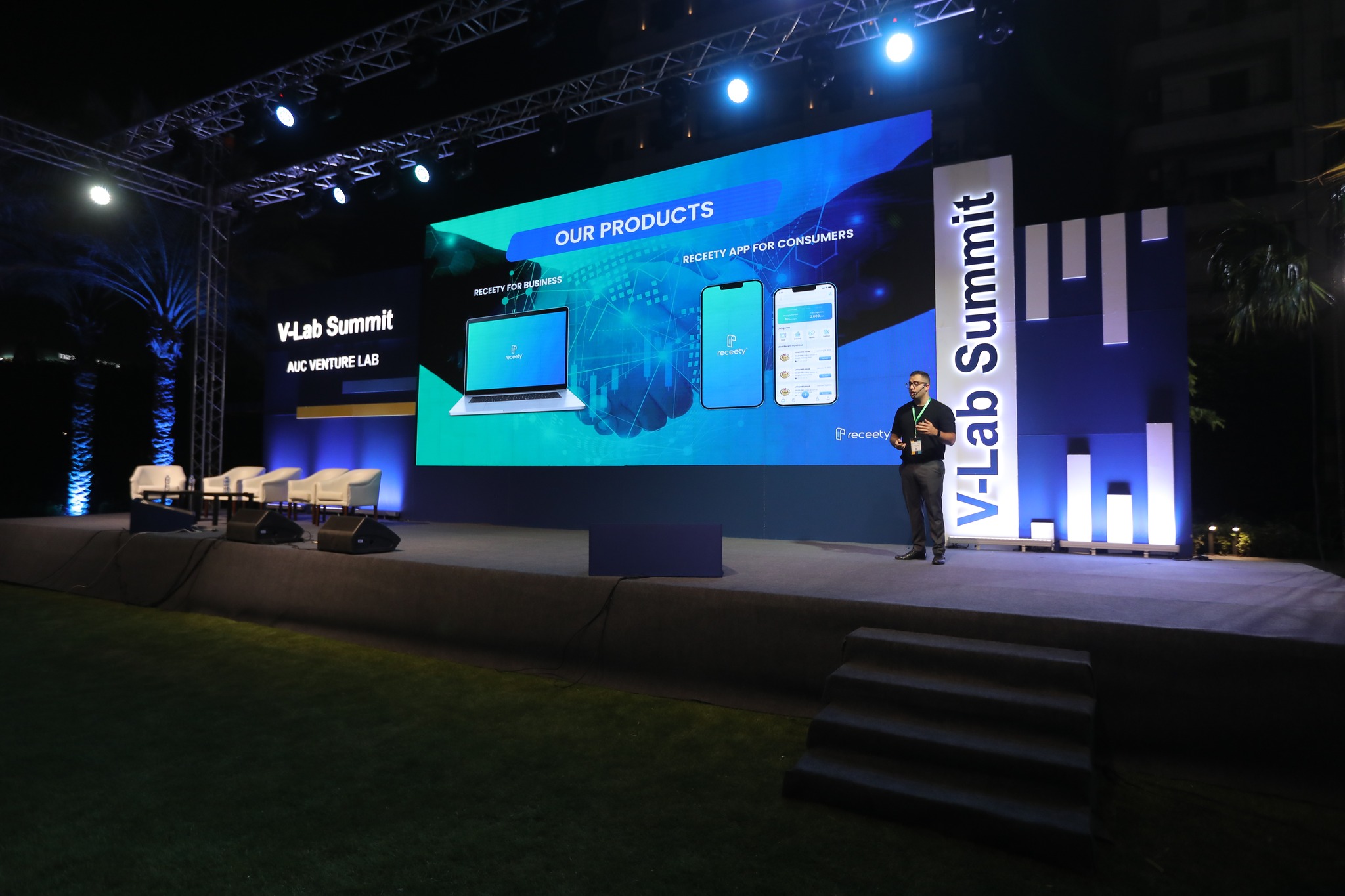 Spring '22 V-Lab Demo Day
For the first time, the Spring '22 Demo Day was incorporated as part of the V-Lab Summit. Following Dean Sherif Kamel's opening remarks, Haytham El Maayergi, group chief operating and transformation officer of Arab African International Bank (AAIB), the V-Lab Startup Acceleator's corporate leadership co-founder, delivered a keynote address.
After a short introduction on the V-Lab's work over the past years in helping entrepreneurs seek new grounds for innovations and opportunities by Ismail, Wessam El Beih, country director Egypt, Jordan and Lebanon at DROSOS FOUNDATION, delivered a keynote speech celebrating the longstanding partnership between DROSOS FOUNDATION and AUC Venture Lab.
The Arab African International Bank Cycle 18 cohort featured 13 startups covering the industries of e-commerce, healthtech, digital, sustainability and logistics. The founders pitched their innovations live in front of a wide array of ecosystem stakeholders including VCs, angel investors, corporate executives and banking experts. The AUC Venture Lab Startup Accelerator is supported by Corporate Leadership Co-Founder the Arab African International Bank, DROSOS FOUNDATION, Mountain View and Hivos.
To introduce the spring '22 cohort of the AUC Venture Lab Fintech Accelerator, Amin Khairy, head of financial inclusion and strategic partnerships at the Commercial International Bank (CIB Egypt), delivered a keynote speech highlighting the bank's strong role in supporting the Fintech Accelerator throughout the years.
Representing the Fintech Accelerator's partner, the International Finance Corporation (IFC), Menan Omar, economic development practitioner at the World Bank, also delivered a keynote speech launching the spring '22 Fintech cohort's Demo Day pitches. Omar highlighted IFC's support for the Fintech Accelerator, empowering founders on their entrepreneurial journey.
The spring '22 Fintech Cycle included five startups: Technopolitan, SWFT, BNFT, Wyrd and Receety, whose founders dazzled the audience with their tech solutions in prop-tech, payments and savings, lending, financial inclusion, consumer and micro-finance and sustainability. The Fintech Accelerator is powered by CIB Egypt and is in partnership with IFC and Mastercard.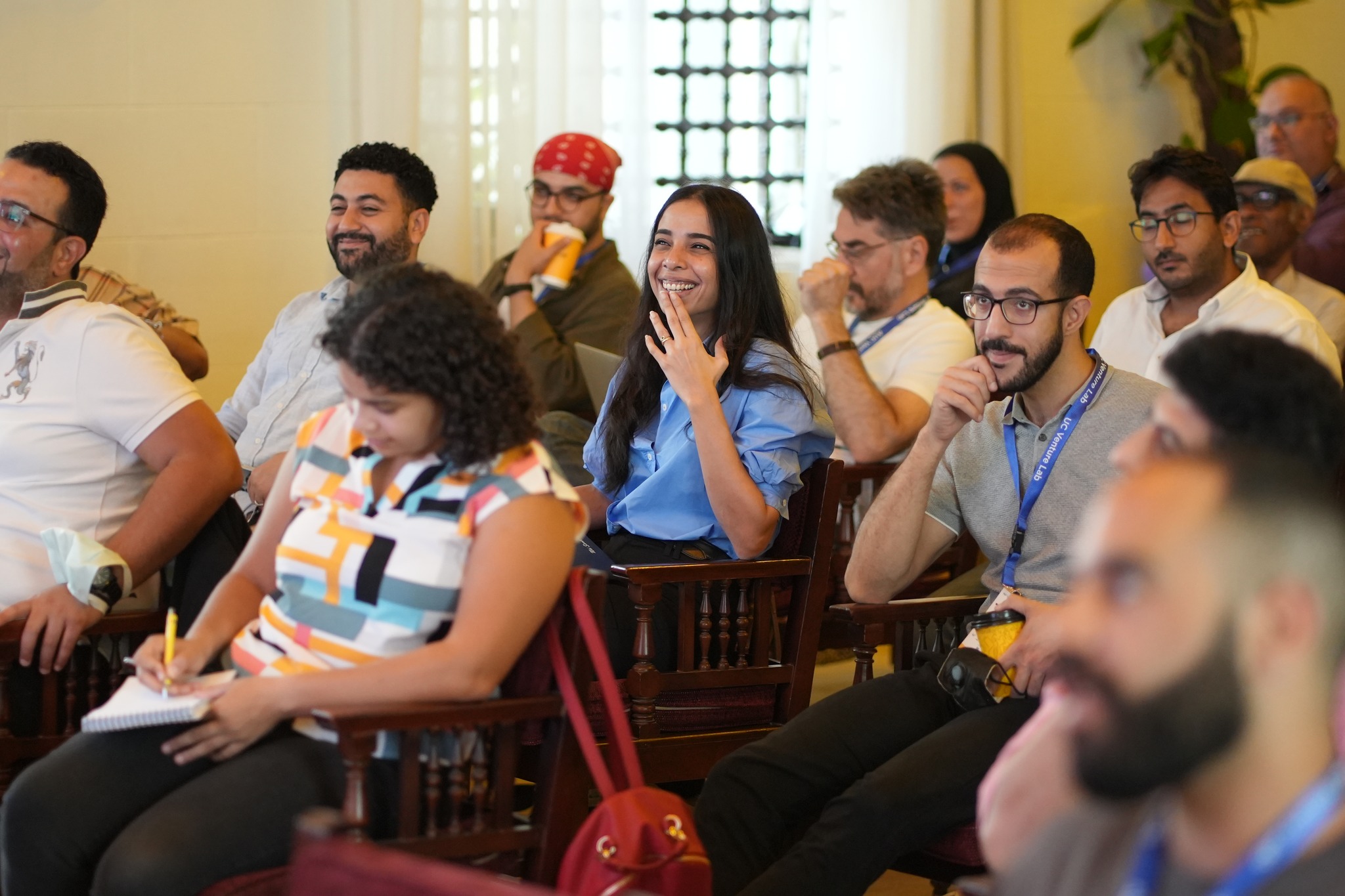 Did you miss the V-Lab Summit? Watch the full event here.