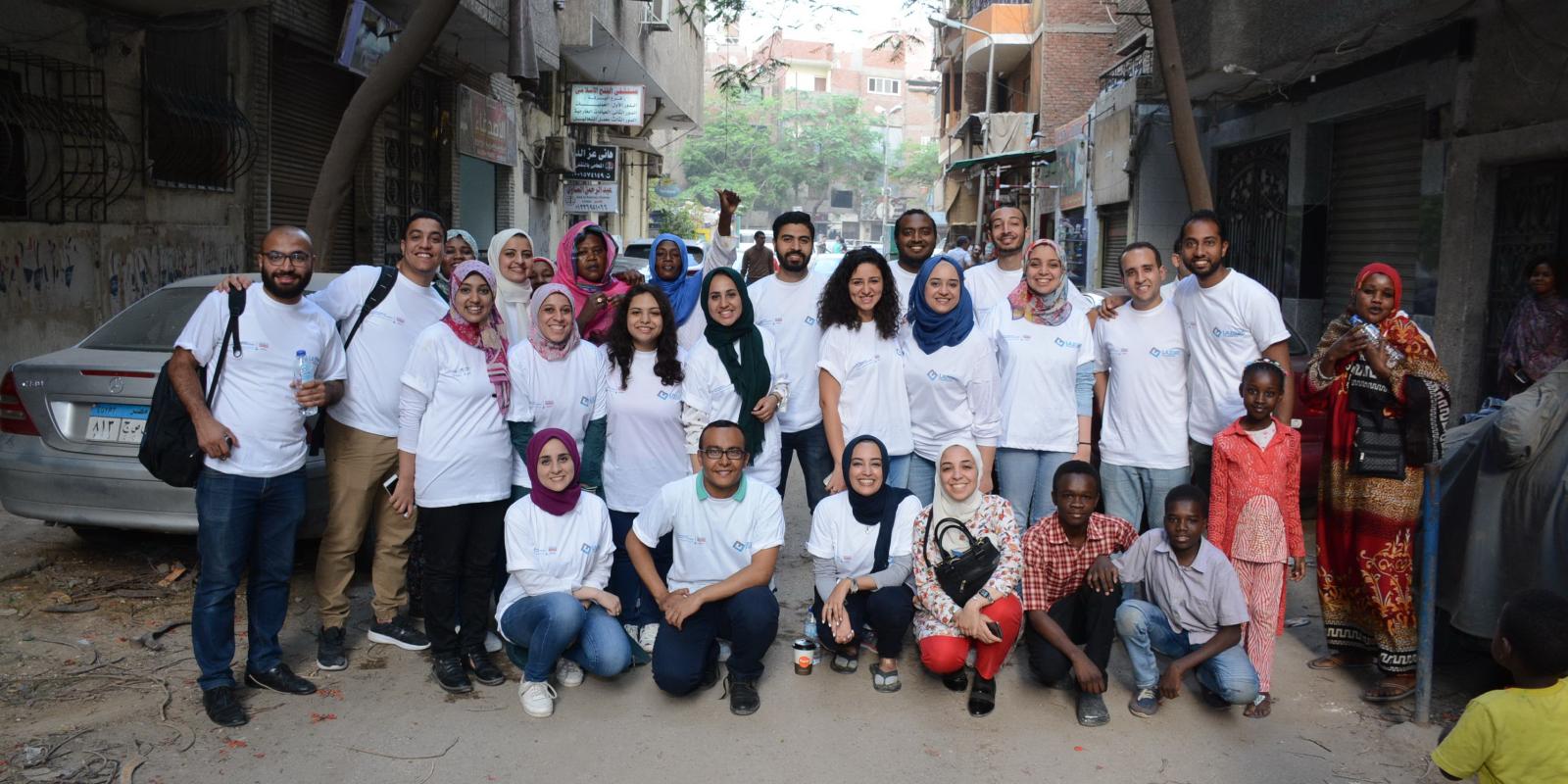 Lazord Program graduates their newest wave of civic engagement leaders
Lazord Program graduates their newest wave of civic engagement leaders
The Lazord Fellowship is a multi-dimensional program that seeks to empower young graduates to develop a critical understanding of civic engagement, and improve their leadership and technical skills for their future careers, regardless of the sector.
Lazord is one of the main programs under The John D. Gerhart Center for Philanthropy, Civic Engagement and Responsible Business promotes social change in the Arab region through building a culture of effective giving, corporate social responsibility and civic responsibility. Building on social value, the center serves as a source of knowledge, a cultivator of partnerships, and a catalyst for innovation, community engagement and a heightened sense of citizenship and social responsibility.
The Lazord fellowship was established at AUC by Gerhart Center and has been running since 2010. Now it has chapters in Jordan, and Tunisia as well, working with over 50 organizations. The fellowship is a yearlong regional program that includes a chance for the chapters and fellows in Egypt, Jordan, and Tunisia to meet together twice a year. After a competitive recruitment effort, fellows are selected in each of the 3 countries and placed for one year in a local organization. The fellows receive training provided by the local Lazord representatives as well as mentorship to help them realize their full potential as responsible leaders.
"We aim to select candidates who actually know how to work on the ground, have the open mind to critically think about any issue and who have the intellectual ability to criticize the current status to be able to lead a job in development. We also look for people who value development and who strongly believe in a certain purpose that they want to achieve," Nada Bahgat, Lazord Program specialist.
Each year a total of 12 fresh graduate fellows who have shown promising interest in the development field are selected from different parts of Egypt. The fellows get to be hosted for one year in a local non-profit organization as a full-time employee; receive a living stipend (based on the country) and a modest housing stipend (based on the fellow's placement and needs). The fellows are also offered a minimum of 10 training sessions by influential civil society leaders and professional trainers on an array of topics surrounding civil society, entrepreneurship management, leadership, team building and business skills; they undergo monthly mentoring sessions with professional mentors with civil society experience; and partake in networking opportunities with professionals and influential individuals from different sectors – at both a local and international level; as well as attend the annual opening and closing retreats with a regional cohort of fellows from all 3 countries.
After the yearlong fellowship, the fellows present their initiatives, researches or ideas and each country selects a candidate to compete in the final retreat, with the winner getting a symbolic financial award to help evolve the presented initiative.
"we started a community day initiative, in which participants and alumni work together on all the logistics of the day, with the aim to give back to society in mind. This year we went to Tadamon community center in Maadi and conducted sessions with Sudanese refugees on resume writing, how to market their products, health awareness, as well as art and storytelling classes for refugee kids," said Bahgat
Each year different NGOs present available job vacancies and Lazord pick from them. "We select NGOs with a good reputation, who have been around for over 5 years, that would provide the fellow with team experience, and a clear job description for the job openings" Bahgat explained.
For participants, this fellowship is life changing as, "It's a shared learning experience, at the end of the year you don't only leave with your own experience but with all 12 experiences," said Mohab Ali, capacity building officer and planning advisor in Gerhart civic engagement unit. Ali is an engineer from Minia who graduated from Lazord in 2014. "I knew about this fellowship through Facebook. Before Gerhart, I was an engineer and a volunteer. I wasn't decided on shifting my career to focus on development, but after the fellowship, I directed all my efforts to development." During the fellowship, Ali worked at Etegah NGO as a youth development program specialist. But then he realized that it was similar to what he already worked on as a volunteer prior to Lazord, so he shifted his work to IBM and worked in their corporate social responsibility program as a junior manager of an educational project. He continued to work with them for a while after graduation and then moved to Save the children international and then Gerhart.
"Lazord is a turning point, you go in with a singular random experience and you step into a world of different networks and ideologies. You come out with a lot of experiences, training and a new perspective based on education... The group discussions and feedback sessions were eye-opening as you hear the different experiences of others as well," Ali said. He continued, "the main issue in the development sector in Egypt is the management system itself and how the government deals with NGOs and how unorganized it is. There is only some logistics and paperwork required but when you come to measure the work that has been done or impact there is no way to measure it."
"Lazord really fills a huge market gap in Egypt, because there aren't any schools that teach you how to work in the development sector, at least not a proper one. So Lazord is really filling a market gap. It equips you with the basics in different areas to work in this field," said Osama Samir from Ismailia, a 2017 Lazord graduate and currently a programs assistant in Gerhart center. During his fellowship, he worked in the CSR at PWC.