Spreading awareness on family planning in Egypt – The latest youth competition by the Gerhart Center
Spreading awareness on family planning in Egypt – The latest youth competition by the Gerhart Center
Egypt's population rose from 72 million in 2006 to 100 million in 2020, and is expected to reach 128 million by 2030. This spike in growth is mainly due to the increasing birth rate, which rose from an average of 3.0 to 3.5 births per woman from 2008 to 2013. As the population rises, so do the concerns pertaining to achieving inclusive economic development.
John D. Gerhart Center for Philanthropy, Civic Engagement and Responsible Business aimed to tackle this issue with the youths' lens. A nine-month-long Egypt-wide youth competition aimed at developing innovative solutions for Egypt's family planning issue was implemented jointly by Gerhart Center and John Snow, Inc. (JSI), under the patronage of Egypt's National Population Council during the academic year 2020/2021. This activity is part of USAID's Strengthening Egypt's Family Planning Program (SEFPP).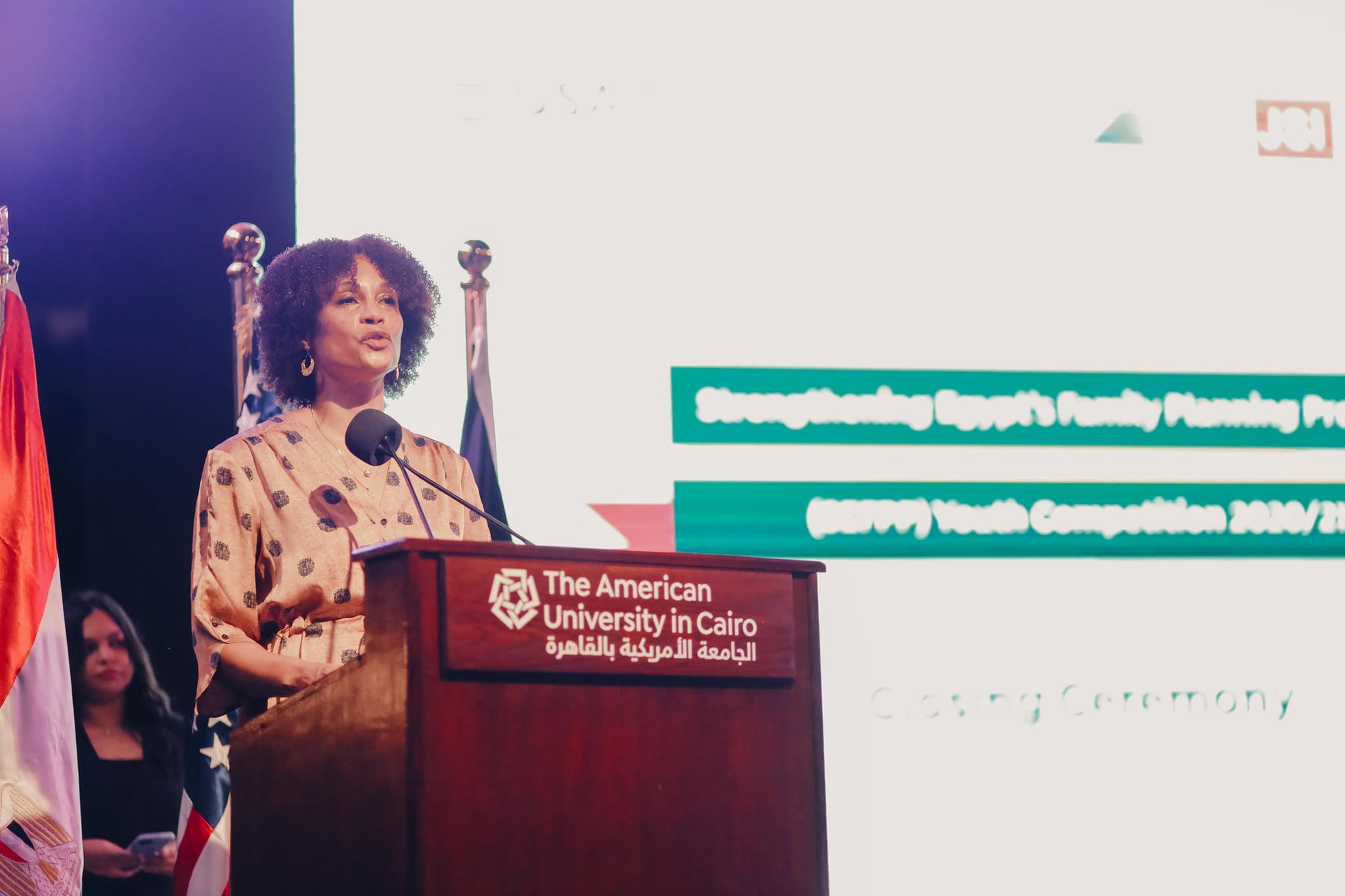 "This impressive competition, implemented by our long-time valued partner AUC, in conjunction with the National Population Council and JSI, through the USAID-funded SEFPP, merges USAID support in Egypt's youth with the government of Egypt goals in voluntary family planning," commented Margaret Sancho, deputy mission director at USAID Egypt, during the closing ceremony of the competition held on September 28, at the AUC Tahrir Campus.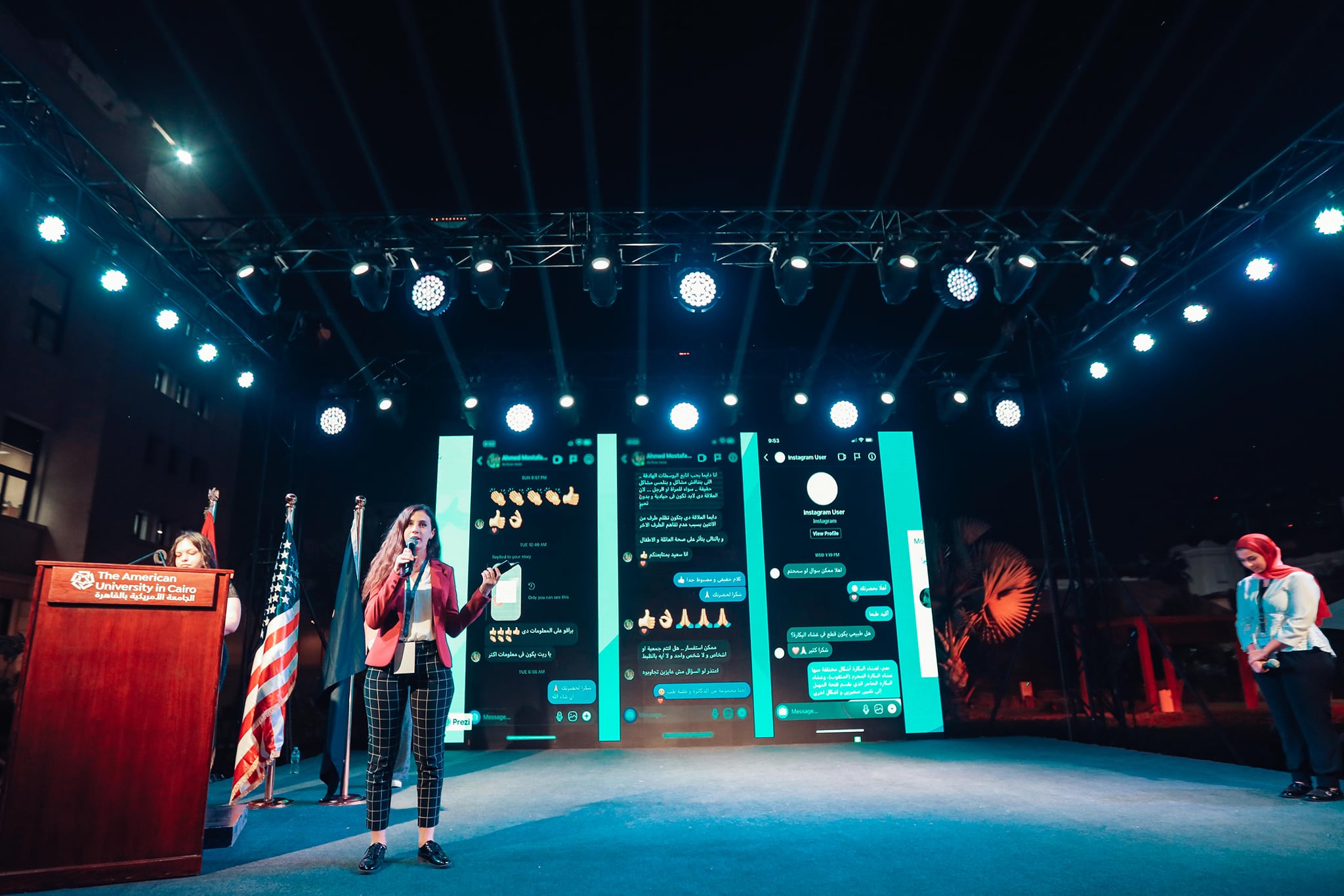 During the span of the nine-month program, fifteen initiatives were developed by 64 students, aged from 17 to 23 years old, from more than 20 public and private universities around Egypt. "Participants were involved in capacity building, initiative implementation, teamwork, and community outreach", explained Nada Bahgat, senior specialist at Gerhart Center.
Experts from Gerhart Center equipped the students with technical and non-technical skills (such as field research, problem analysis, project management, communication, and social media) to render them health ambassadors around Egypt. "Implementing this program arose from AUC's mission to empower young people to be part of the positive change in their communities and to lead change through creativity, innovation, and proactivity", said Alaa El Din Adris, associate provost for research, innovation, and creativity, highlighting how AUC values its collaboration and active engagement with Egyptian universities.
"The project is a definite eye-opener, as I have seen nothing like it before, especially targeting university students," Bassant Eid, a participant in the project, declared. "I learned a lot of terms regarding sexual health and family planning; I discovered that I was not really that aware of the concern," Ali Tamer, another participant, commented.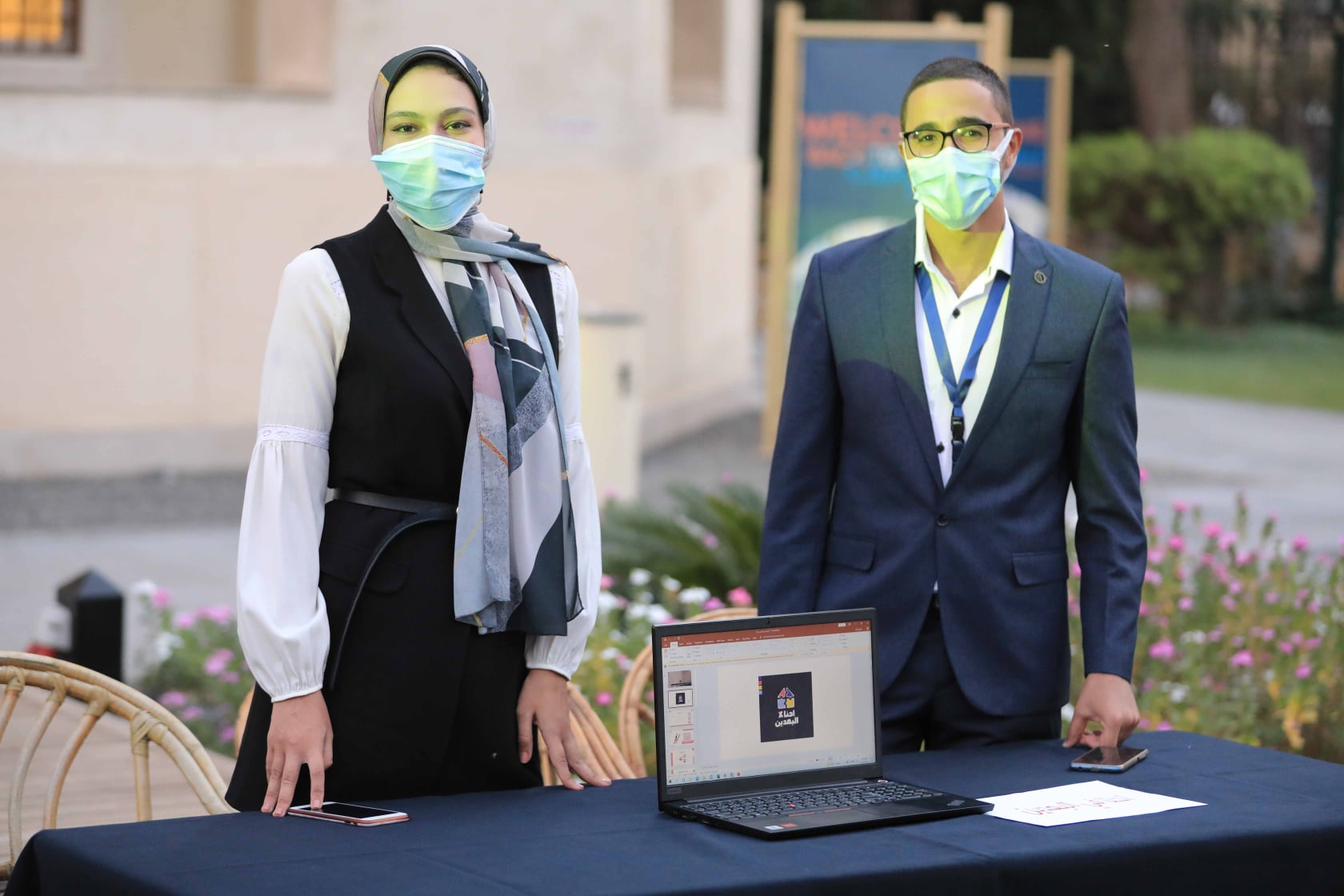 The program is based on experiential teaching and learning methods, providing students with real-world relevance, problem-based learning, and individual development. Full of enthusiasm, the students designed ideas that are interdisciplinarily focused on technology, counseling, art, community work, podcasting, animation, and social media. "Going to the field and dealing with the people taught us about the target population and how to best deal with them; this will help me along with my life," Mira Emad, another participant, mentioned.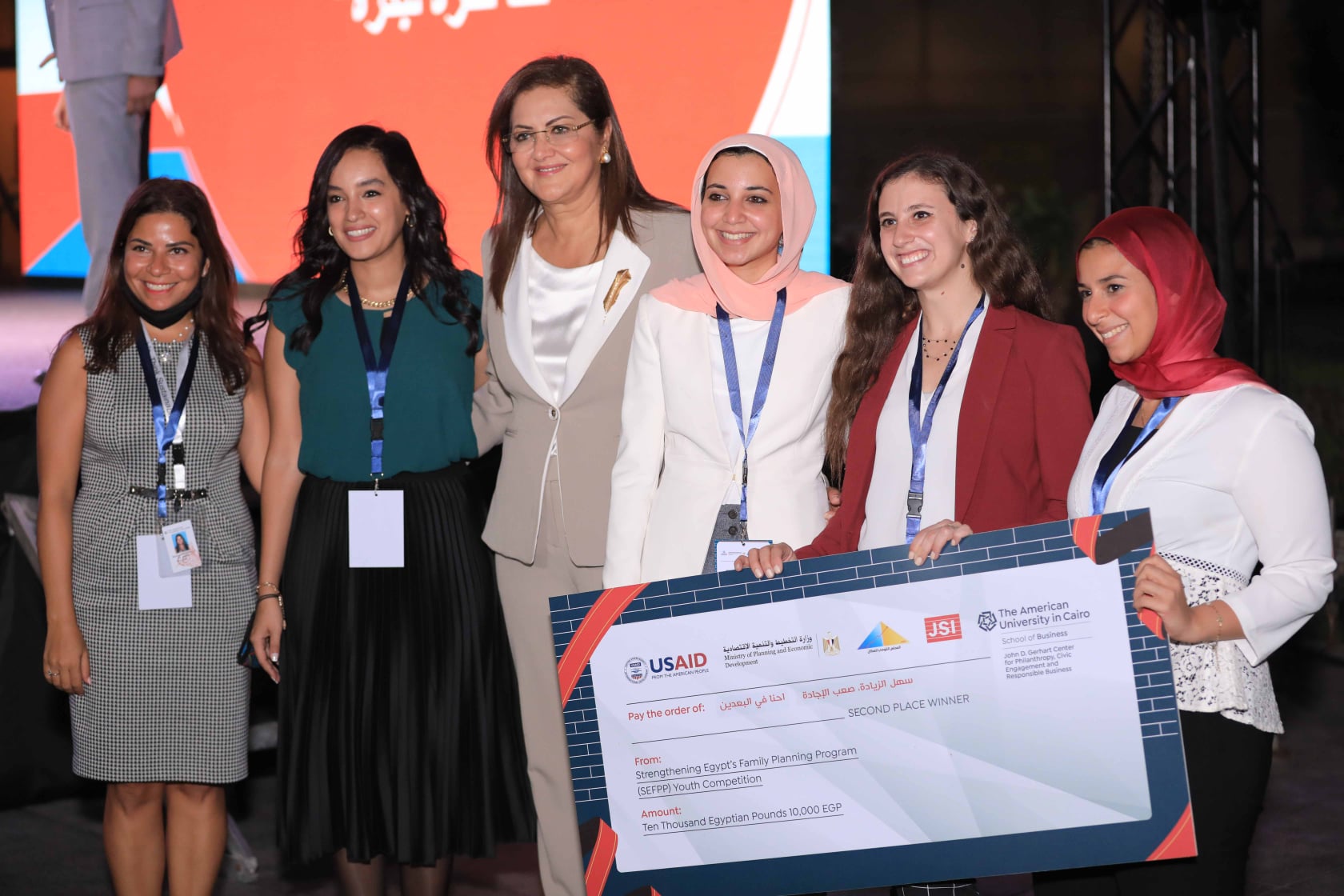 Ahsbha Sah (Think Smart) won first place, being awarded EGP 20,000 to help them implement their vision. Taking place in El-Demerdash hospital, the initiative aimed to orient patients through a booth at the hospital about contraceptives and family planning.
Sahel el-Ziyada, Sa'ab el-Ejada (Easy-to-be-Raised, Hard-to-be-Mastered), and Ehna fe el-Boadai'en (We are in the After) won second place, being awarded EGP 10,000. The first team's idea is to publish an awareness campaign titled "Sawa/Together", while the second team aims to establish an interactive theater, accompanied by a parallel social media campaign, with discussions to follow the play.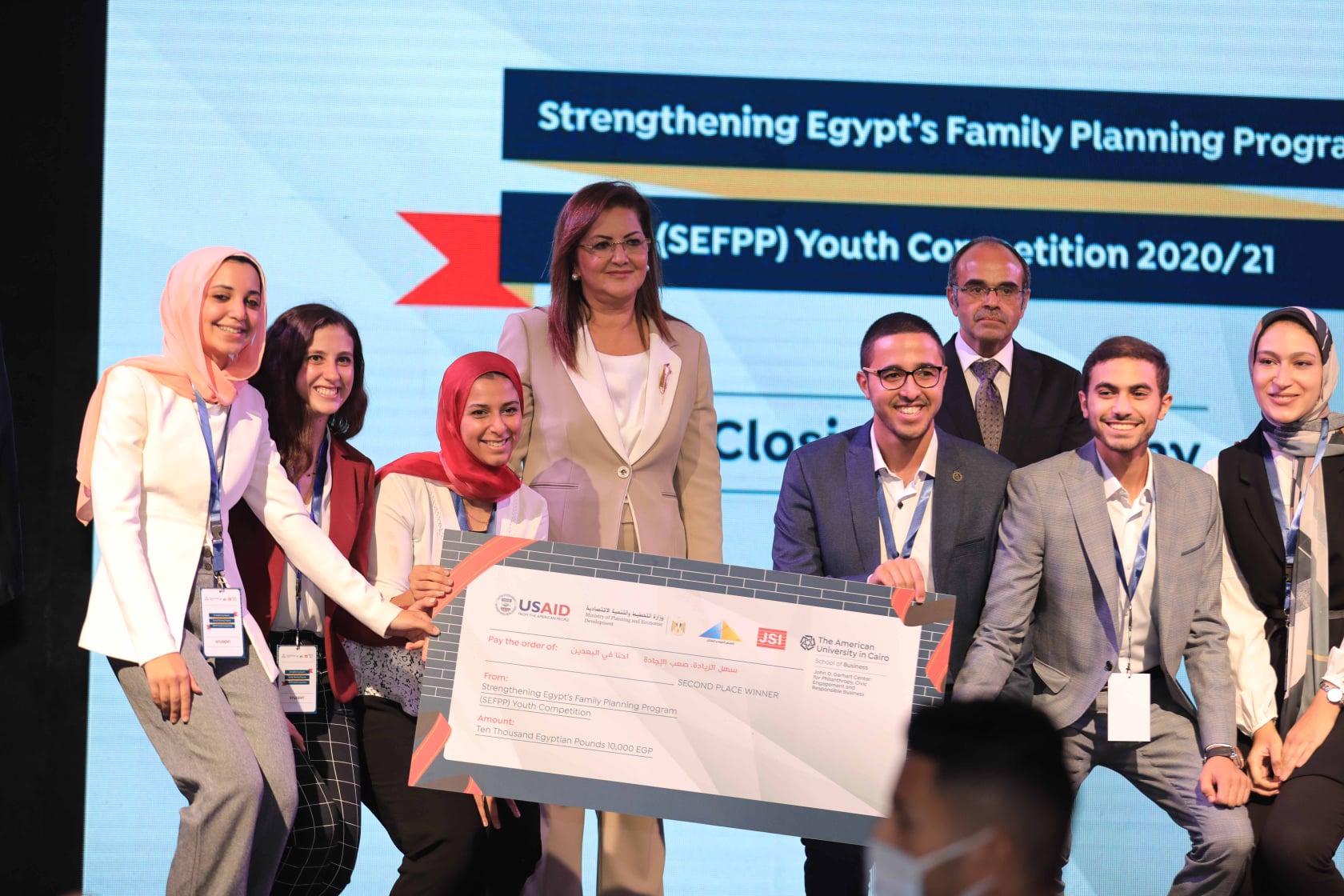 "We truly believe that the most important initiatives are those focused on youth, especially when those initiatives go along with the developmental plans of the government of Egypt," highlighted H.E. Minister of Planning and Economic Development Hala El Said during the closing ceremony of the competition. Adding that, "youth comprises 60% of the Egyptian population, and they are the future of this country."
Watch the full closing ceremony here.