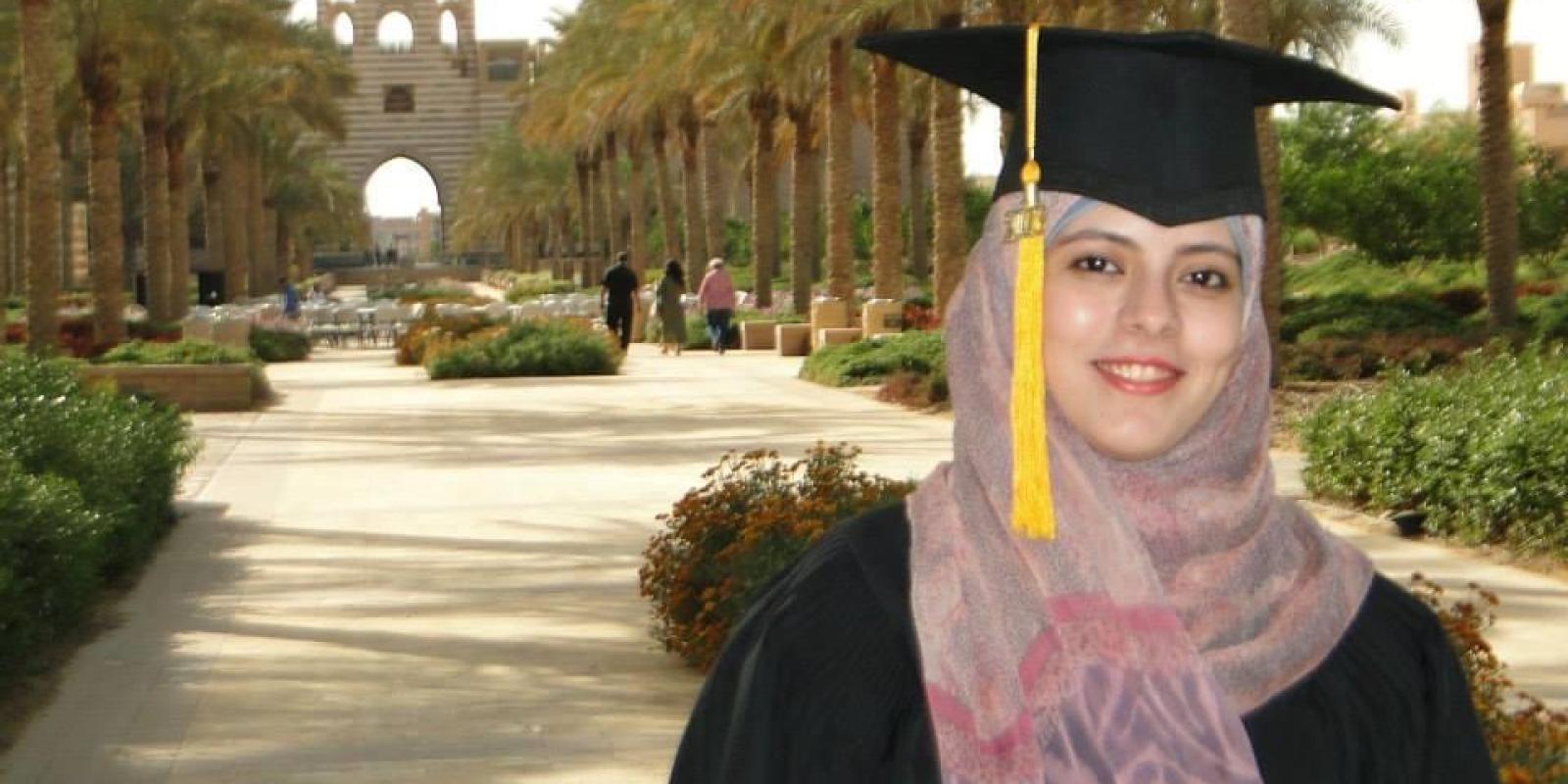 'Through Others We Become Ourselves' - Highlights of a Lazord Fellow's Journey
'Through Others We Become Ourselves' - Highlights of a Lazord Fellow's Journey
Born and raised in South Sinai, Heba Shama '13, architectural engineering graduate, moved to Cairo to pursue her undergraduate studies at AUC. Her stay was later extended to build her professional career in the development sector when she first learned about the Lazord Fellowship offered by AUC's John D. Gerhart Center for Philanthropy, Civic Engagement and Responsible Business in partnership with the Lazord Foundation.
"My passion to join the development sector started with one of AUC's elective courses in social sciences, questioning clutters and reasons behind current social issues in the Arab world. Another undergraduate course focusing on upgrading slum areas inspired me even more to seek a career path in philanthropy and civil society," said Shama.
The Lazord Fellowship is a multi-dimensional program seeking to empower young, fresh graduates to develop a critical understanding of civic engagement and improve their leadership and technical skills for their future careers. With chapters in Egypt, Tunisia and Jordan, the fellowship is a yearlong program where fellows receive job placements in a local organization, including a stipend, where they acquire professional and personal development training and mentorship by civically minded conscientious individuals to help them realize their full potential as responsible leaders. This year marks the 10th anniversary of the partnership between the John D. Gerhart Center for Philanthropy, Civic Engagement and Responsible Business and the Lazord Foundation.
"Lazord offered me an opportunity to employ my academic and technical skills through working for a cause I'm passionate about, while providing me with a chance to build my expertise in the development sector throughout this journey," reflected Shama. "The fellowship offered me an opportunity to be engaged, not only as an employee, but as an individual, in seeking education and mentoring."
When applying for the fellowship, Shama had high expectations based on her network of former Lazord alumni who spoke highly of their experiences. However, what she didn't expect was to be placed at an organization that was very relevant to her undergraduate studies. "I thought I would have to make a huge shift to be able to work in development. I knew little about urban development as a field back then," she explained.
Between 2013-2014, Shama was placed at Takween Integrated Community Development (Takween ICD) for her fellowship, an urban development company. During that period, she was heavily involved in dealing with vulnerable communities, and designed and led participatory projects promoting women's safety in public spaces, children's right to play, social inclusion of refugees in their host communities, and heritage documentation and preservation.
"I will always be indebted for this hands-on journey with Takween ICD. Not all development professionals get to directly interact with local communities and beneficiaries in the field, design development programs through participatory approaches, partner with government entities and provide recommendations on policies and proposals, while partnering with international organizations like UNWomen, UNHCR and UNHabitat," she asserted.
Moreover, the training provided by the Lazord Fellowship mentors on NGOs and nonprofit organizations' strategies and practices presented Shama with a solid background on community development and nonprofit management, which she found to be crucial competencies for her involvement with local communities. Overall, she found the mentorship aspect to be a unique feature of the fellowship, especially for fresh graduates just starting their careers. "As someone starting a slightly different, non-conventional career path for an architect, I think mentorship was crucial for me to realize my potential and use my technical and interpersonal skills in a field that I aspire to join," said Shama.
Shama particularly admired interacting with civically engaged citizens from both Egypt and the MENA region at large. She perceives it as an "eye-opening" experience through which she realized regional challenges and opportunities and recognized the importance of cross-border communication in efforts of achieving a common vision and creating a lasting change. Through this experience, she built her own regional network of professionals and individuals sharing her vision: "development of themselves and their communities."
Shama's journey with the Lazord Fellowship has changed her both professionally and personally.
"We carry a set of assumptions with us as when we start working in the philanthropy and development sectors. As we set foot in the field, we realize why so many development initiatives fail and that development agents fail in the very minute they think they know better or understand the local community better than the locals," she stated. "Along this journey, one gets to 'become' while rethinking these assumptions, even those about one's self. Furthermore, assumptions about the root causes of social issues and the best means to resolve them also change. Direct interaction with local communities allows us to better understand the context we work in as well as the local challenges each community faces, and how development models have to be locally driven to ensure sustainable solutions."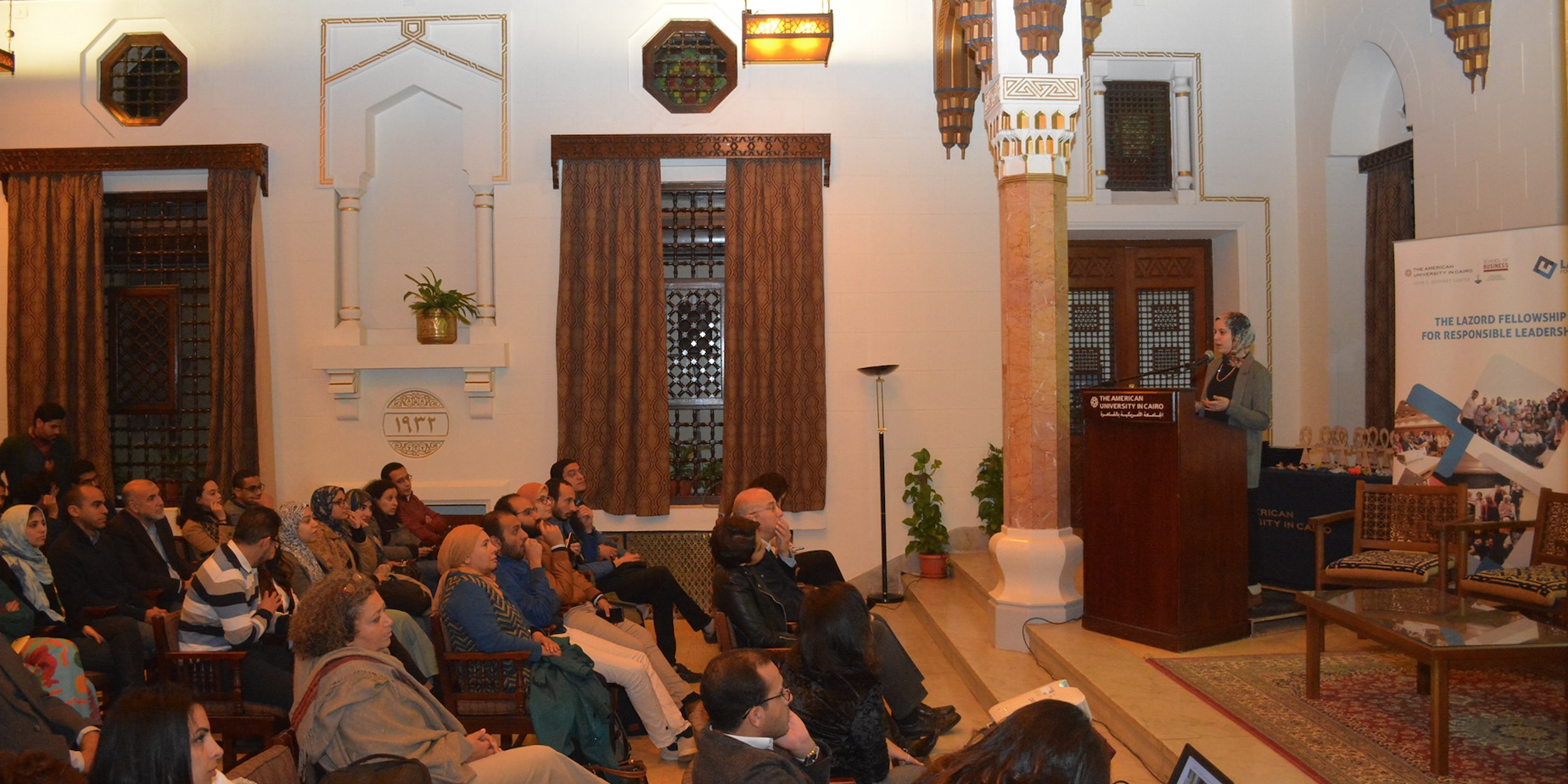 As a result of her experience, Shama advanced her education in development policies and practices to pursue her passion of empowering local communities and developing their resilience to cope with the changing socioeconomic factors while ensuring the inclusion of all community groups. She enrolled in an anthropology and development management master's program at the London School of Economics and Political Science, combining social sciences and development, and graduated in 2019.
"I walked out of my AUC undergraduate experience at AUC with more than education. Extracurricular activities were an environment to learn, grow, and practice integrity, commitment and effective communication," Shama said on AUC's role in her perception of civic engagement. "Through AUC's civic engagement initiatives, I became a global citizen with eyes opened on different cultures and development models, but with an appreciation and understanding of the richness, challenges, potential and resilience of the community I belong to and its power to develop local solutions for long-lasting issues."
Today, Shama is the case studies coordinator of the Education 2.0 Research and Documentation Project, a collaboration between Egypt's Ministry of Education and Technical Education and AUC's Social Research Center to research and document the current educational reform to better inform and provide evidence for educational policy making.
Celebrating its 10th anniversary, AUC's John D. Gerhart Center for Philanthropy, Civic Engagement and Responsible Business held a weeklong conference in partnership with the Lazord Foundation, hosting 12 graduating fellows to reflect on their learning journey and orienting a new batch of 12 incoming fellows. While the program was initially piloted as an initiative for AUC graduates, today, it has evolved to be open to the public, mirroring the many programs AUC offers beyond its campus walls.
If Shama were to offer advice to upcoming Lazord fellows, it would be: "Take the whole journey one step at a time. Remember that you are surrounded by an inspiring circle, so seek guidance and consultation; not only from your mentors, but also from each other as fellows."
"My last advice is a lesson for one's self as a development professional. Remember that 'we often know much less about the impact of anything than we think we know'-unknown."