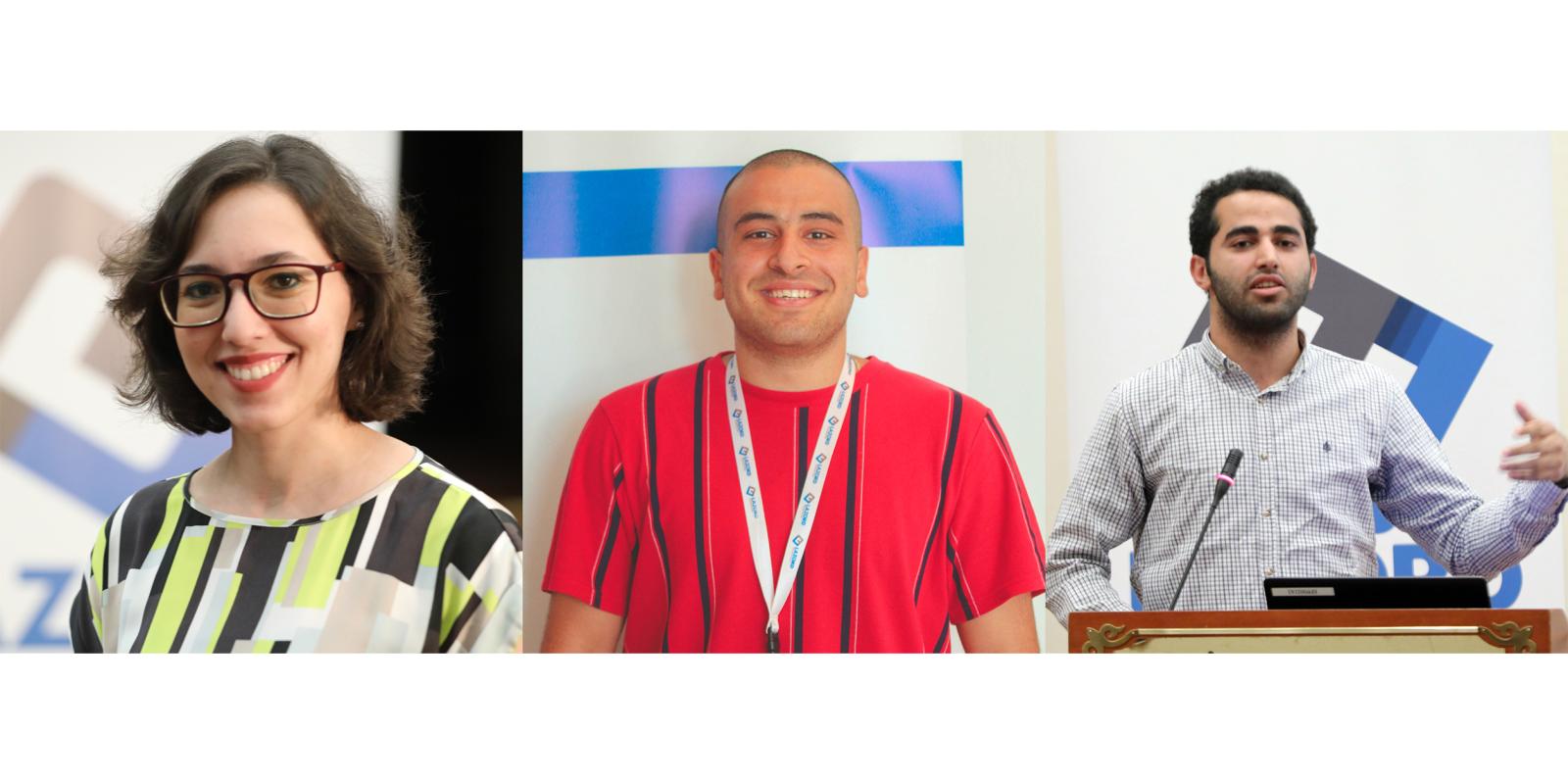 Triple Fellow Success: Reflections on Gerhart Center's Lazord Fellowship
Triple Fellow Success: Reflections on Gerhart Center's Lazord Fellowship
The John D. Gerhart Center Lazord Fellowship is a multi-dimensional program that seeks to empower its fellows to develop a critical understanding of civic engagement, and to improve their leadership and technical skills for their future careers in all sectors. The program achieves its mission through offering mentoring, providing job opportunities in organizations striving to advance the common good, and creating enriched educational opportunities.
The fellowship is a year-long regional program that includes a chance for the chapters and fellows in Egypt, Jordan, and Tunisia to meet all together twice a year. After a competitive recruitment effort, fellows are selected in each of the 3 countries and placed for one year in a local organization. The fellows receive training provided by the local Lazord representatives as well as mentorship to help them realize their full potential as responsible leaders.
Today, we shed the spotlight on three of the most recent Lazord fellows who have graduated on January 13, 2019. Noha Negm is a master's degree holder in Political Science from Paris 1 Panthéon-Sorbonne University; Bishoy Sadek is a political science graduate from the British University in Egypt and current MA student at University College Dublin; and Abdallah Essam is a Cairo University Faculty of Commerce graduate who was born with cerebral palsy, a disorder that affects muscle tone, ability to move limbs in a coordinated manner, and speech.
On hobbies and hidden talents, Noha enjoys playing basketball, reading novels and philosophical books, discussing complex concepts (especially with strangers!) and watching TED talks, while her hidden talent is her ability to predict the course of action in a series or movie while watching it for the first time. Similarly, Bishoy also admires reading and watching documentaries on Netflix, not to mention playing and keeping up with football. As for Abdallah, his main hobbies are sports and setting an example for other people with disabilities. Blending these two hobbies together, he founded the first football team in Egypt for cerebral palsy, aiming to change society's perception of persons with disabilities and what they can do, and send a quicker message through sports since they enjoy great popularity among Egyptians.
As for motivations and reasons behind joining for the Lazord Fellowship and their expectations out of the program, Noha found it the ideal chance to get immersed in the Egyptian civil society which she found herself distant from, particularly that the program isn't only about matching fellows with host organizations, but also about leading them to a better understanding of the development and civic engagement fields in the region and building their capacities via a diversified set of interactive components, which provide both personal and professional development. Agreeably, Bishoy explains that he perceived it as a perfect opportunity for him as a fresh graduate to unleash his potential and develop further competencies in the development industry since he considers the fellowship "the school of development where junior practitioners receive proper education on the functionality of the Egyptian civil society, and how to efficiently take part in it". Abdallah was also curious to know more about the field of development and increase his awareness on the progress of other countries and their state in real life, as well as develop his own skills in the field.
Upon requesting the three graduates to state their most favorable aspect of the Lazord Fellowship, Noha chose the weekly meeting with the 2018/2019 fellows and found the diverse group to add value to her learning journey, mentioning that they became her genuine friends by the end of the fellowship. Bishoy had a different choice to make; he chose the training component since he found it an exclusive opportunity to touch base with distinguished practitioners and accordingly expand knowledge. Abdallah, however, couldn't make up his mind. He enjoyed the mentoring sessions, the fellows, and the placement equally.
In terms of professional value-added, Noha is grateful for the expanded network of development practitioners and social changemakers she was able to build, which consolidated her knowledge of the civil sector and social innovation fields and shifted her mentality towards a more critical and solution-driven one. In addition, she believes she became a better interviewer and listener and improved her writing and field-research skills. Bishoy could not put the value into words, yet he believes he gained multiple competencies that will come in handy during his graduate studies and feels prepared to leave a distinguished footprint. As for Abdallah, he now feels in touch with the rest of the countries and feels more conscious than ever.
On the personal side, Noha found herself in Lazord's process of deep reflection and analysis, as it valued fellows' overall well-being and not just technical skills. She has taken it upon herself to continue reflecting on her journey so that she can make the choices she feels are most aligned with whom she aspires to be. Bishoy really values the people of Lazord, and describes them as "the remarkable stimulus for any personal change I have been through", and describes the experience saying: "it's like being exclusively invited for a book fair where you have an opportunity to choose from the special collections presented". Abdallah, on the other hand, sums it up saying he believes he has learned most of the features that will equip him to achieve all his hopes.
Lastly, having graduated from the fellowship and thinking of next steps, Noha is excited to explore her new assignment at her host organization, Ashoka Arab World, and continue to apply what she learned throughout the fellowship. She's also teaching at the Faculty of Economics and Political Science, where she's pursuing her passion as a "knowledge provider" as well as making Political Philosophy a bit more fun. Last but not least, she's developing a personal initiative aiming at integrating Arabic-speaking refugees and asylum seekers. As for Bishoy, he is now undertaking his Erasmus Mundus Joint Degree MA from Sweden and Ireland, which will keep him busy for a while. Finally, Abdallah is working to create a team for children with cerebral palsy and aims to continue to create a supportive community for disabled people.