An Unprecedented Journey to Graduation: The Commencement of the Class of Fall 2021
An Unprecedented Journey to Graduation: The Commencement of the Class of Fall 2021
"I urge all of you to engrave this moment into your memories for you are witnessing the rise of many stars, class of Fall 2021, together we can inspire galaxies of greatness for generations to come," stated Mayson Hatem, graduating class representative, as a final remark during her speech at the Fall 2021 AUC School of Business commencement, where 51 graduates and 125 undergraduates received their diplomas.
Each individual in the class of Fall 2021 has embarked on their own distinct journey filled with challenges and difficulties as well as moments of triumph and breakthrough. Yet, this journey is the catalyst that began shaping them into the change agents they ought to be in the business world and in society at large.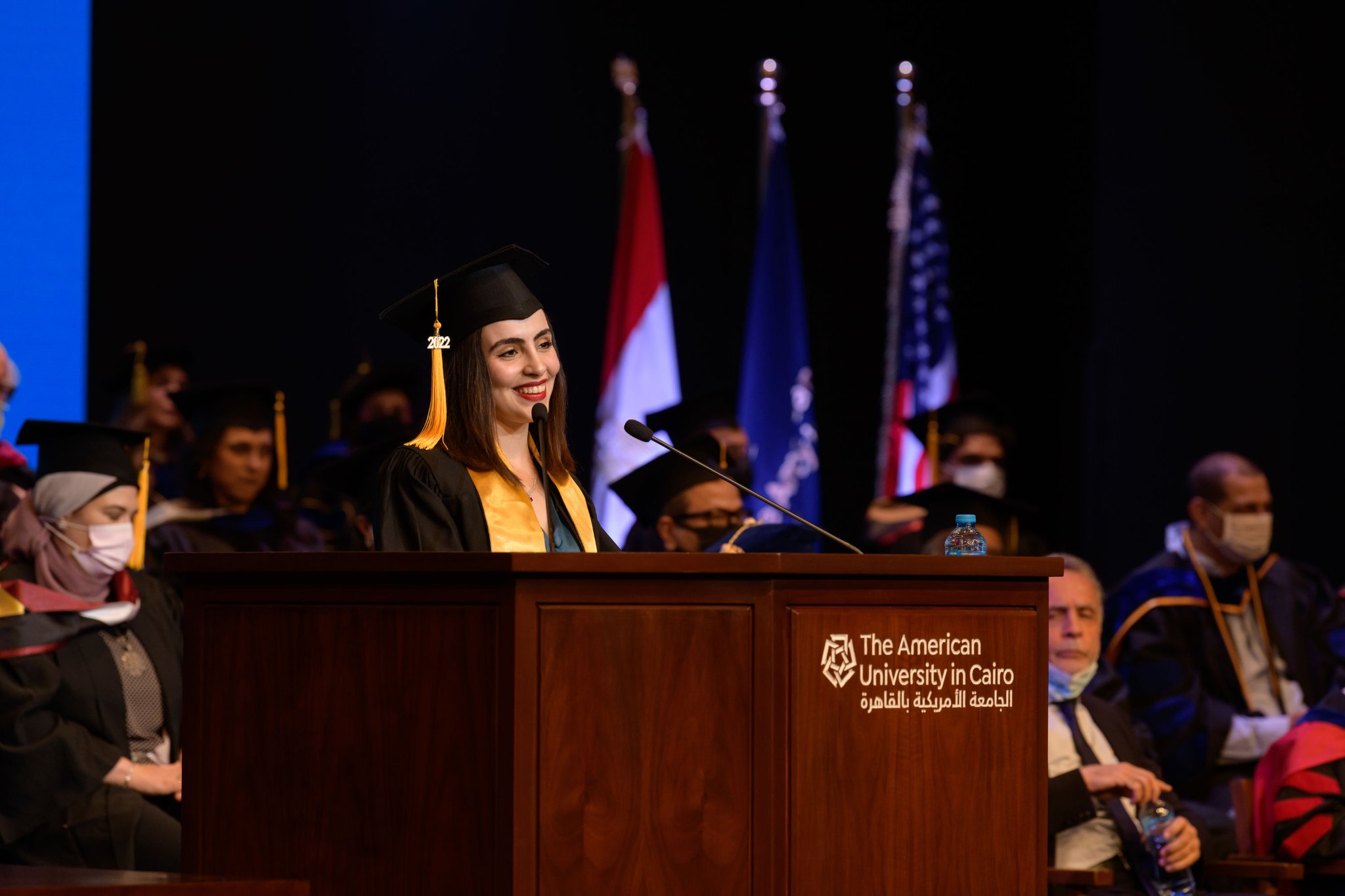 Unique challenges faced by the graduating class
Every university student can attest to the challenging nature of navigating through one's university years. However, the emergence of the COVID-19 pandemic in the past few years has exacerbated these complexities and difficulties that students must go through in order to successfully graduate. From adjusting to online learning to trying to manage one's own anxiety and mental well-being amid a worldwide pandemic and the multiplicity of challenges in between.
Dean Sherif Kamel, showed his appreciation and admiration for the graduates' ability to adapt to these changes and push through stating: "To graduate from university is an accomplishment in its own right, but to graduate while spending two years of the university experience during a pandemic is a challenge and passing it deserves a solid round of applause."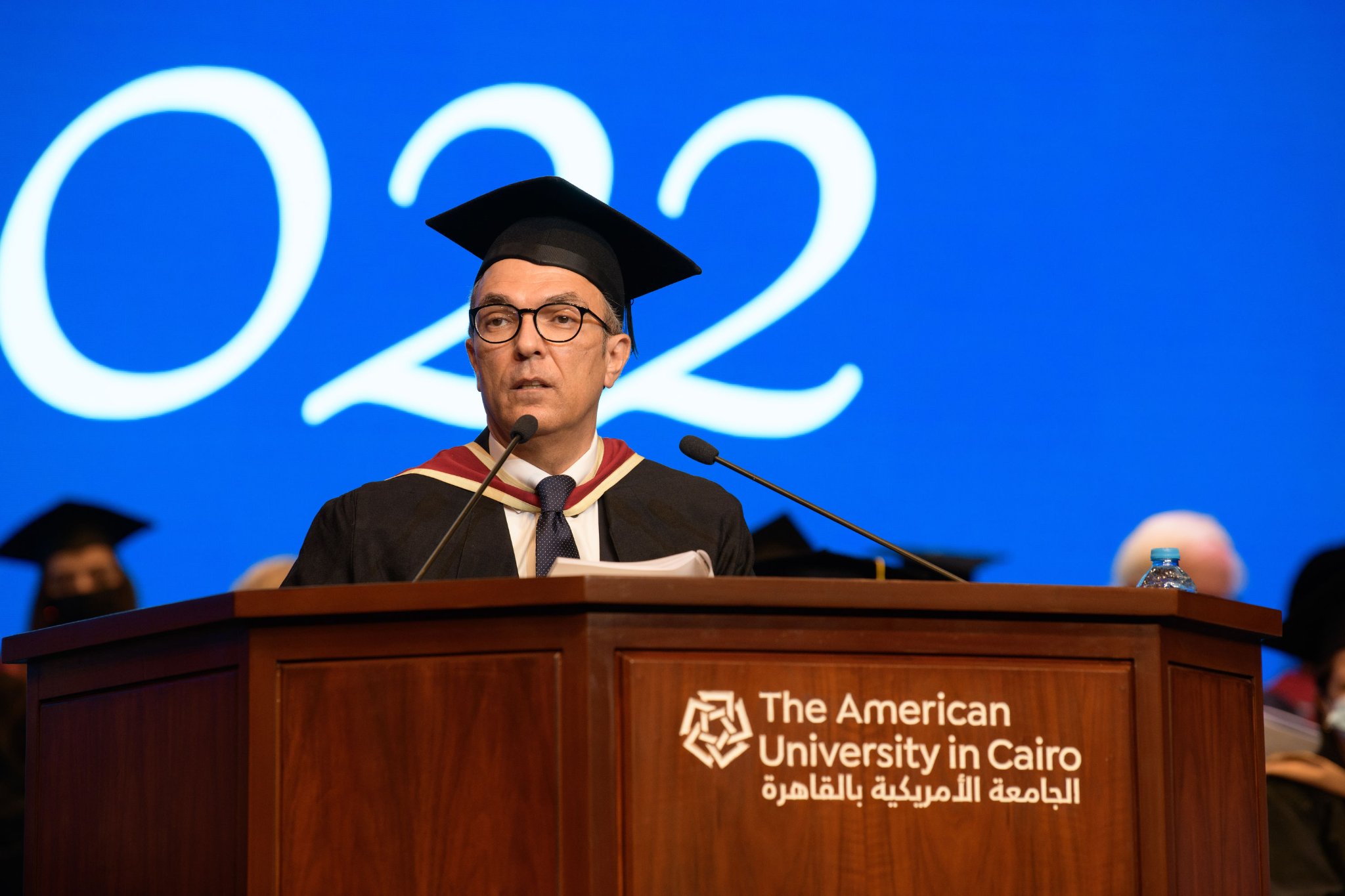 No student from this graduating class expected or planned around the possible rise of a pandemic. Similarly, most of the initial plans we come up with at the beginning of our university journey do not fall through the way we envisioned, but one still manages to create successes and personal development for themselves regardless. Hatem touched on this during her speech highlighting: "Most things do not go according to plan but that was undoubtedly the best thing that happened to me here." She further added: "I grew wiser and more mature, and I came to better understand the aims I was willing to reach and the battles I was willing to fight and with that mindset, growth opportunities came to present themselves before me every single day."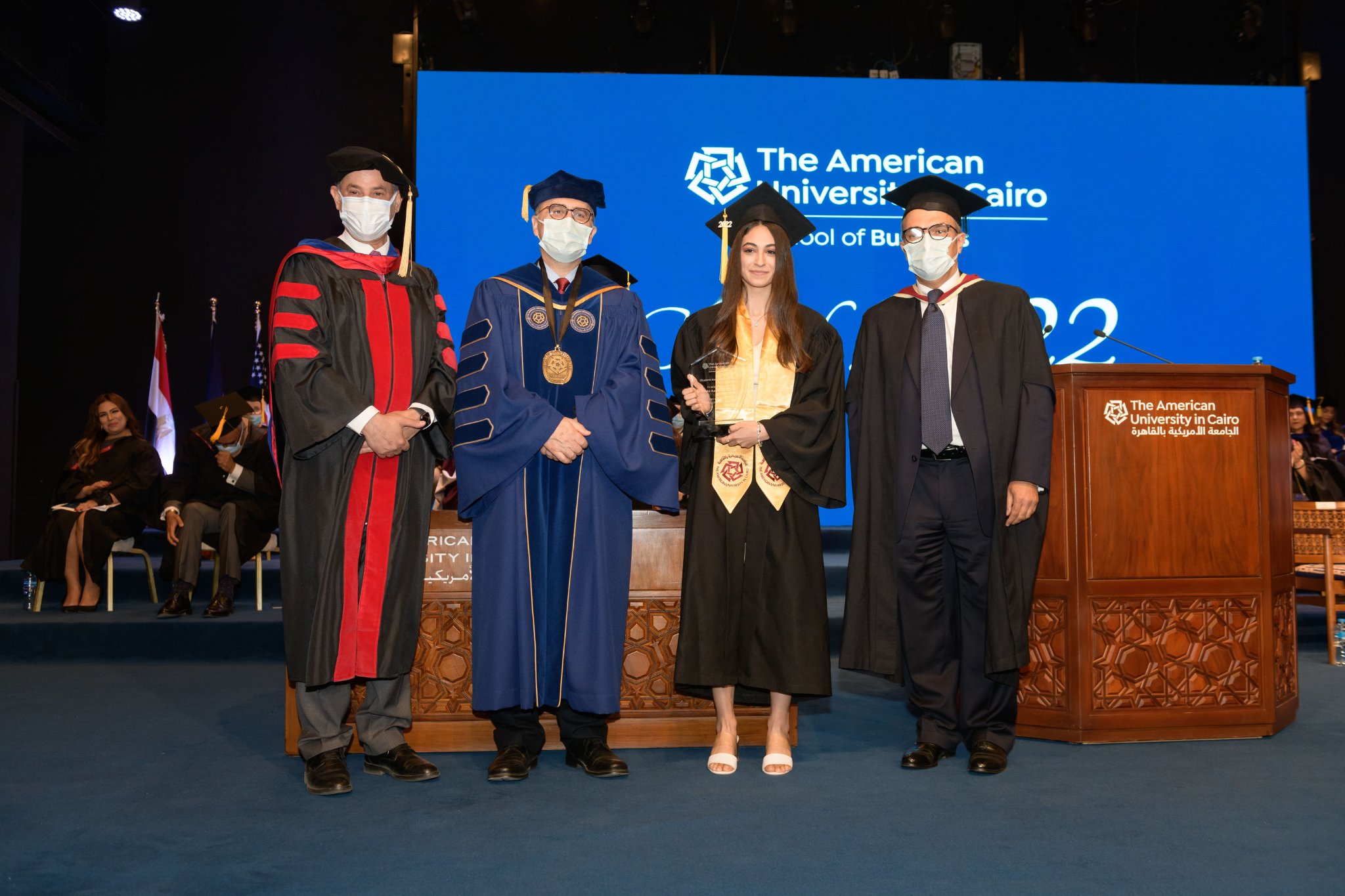 At times, a student's hardest academic or personal challenge during university is also a student's biggest opportunity for growth, development, and self-reflection or self-exploration. Now more than ever, it is evident that this rapidly evolving world and fluctuating global economy entails the forefront of challenges and opportunities for any fresh graduate.
"You are the lucky ones because you have experienced numerous market trends at the same time, this helps you understand the entire spectrum of challenges you can face, in a short period of time," highlighted Fadi Ghandour, co-founder of Aramex and executive chairman of Wamda Group, on the subject of challenges. He continued: "This is the time for you to act because, within these challenges, opportunities lie, because challenges are, by definition, opportunities. This is the time for you to be innovative and entrepreneurial individuals."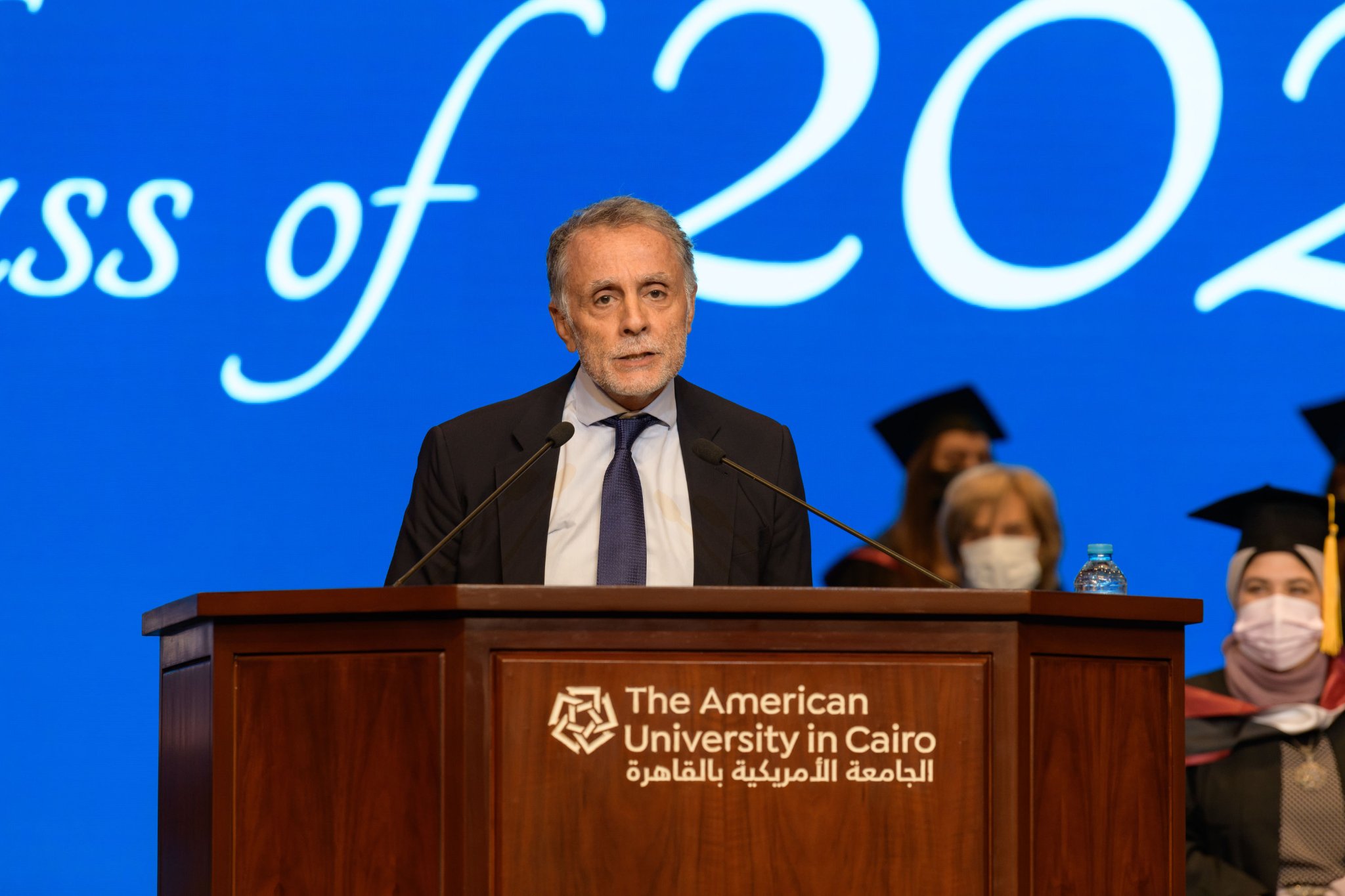 The leaders of tomorrow
The graduates of AUC School of Business are believed to uphold principles such as courage, leadership, and compassion and strive for excellence in all aspects of their personal and professional lives eventually leading to them adopting leadership roles and spearheading change in a diverse array of fields.
Hatem stressed on this matter stating: "In four years, AUC has shaped us into balanced well-rounded individuals," she continued: "between the craziness of one's work life and the warmth of one's social life as well as the fast pace of the professional aspects and the grounding that accompanies the personal ones, there was a lesson throughout it all."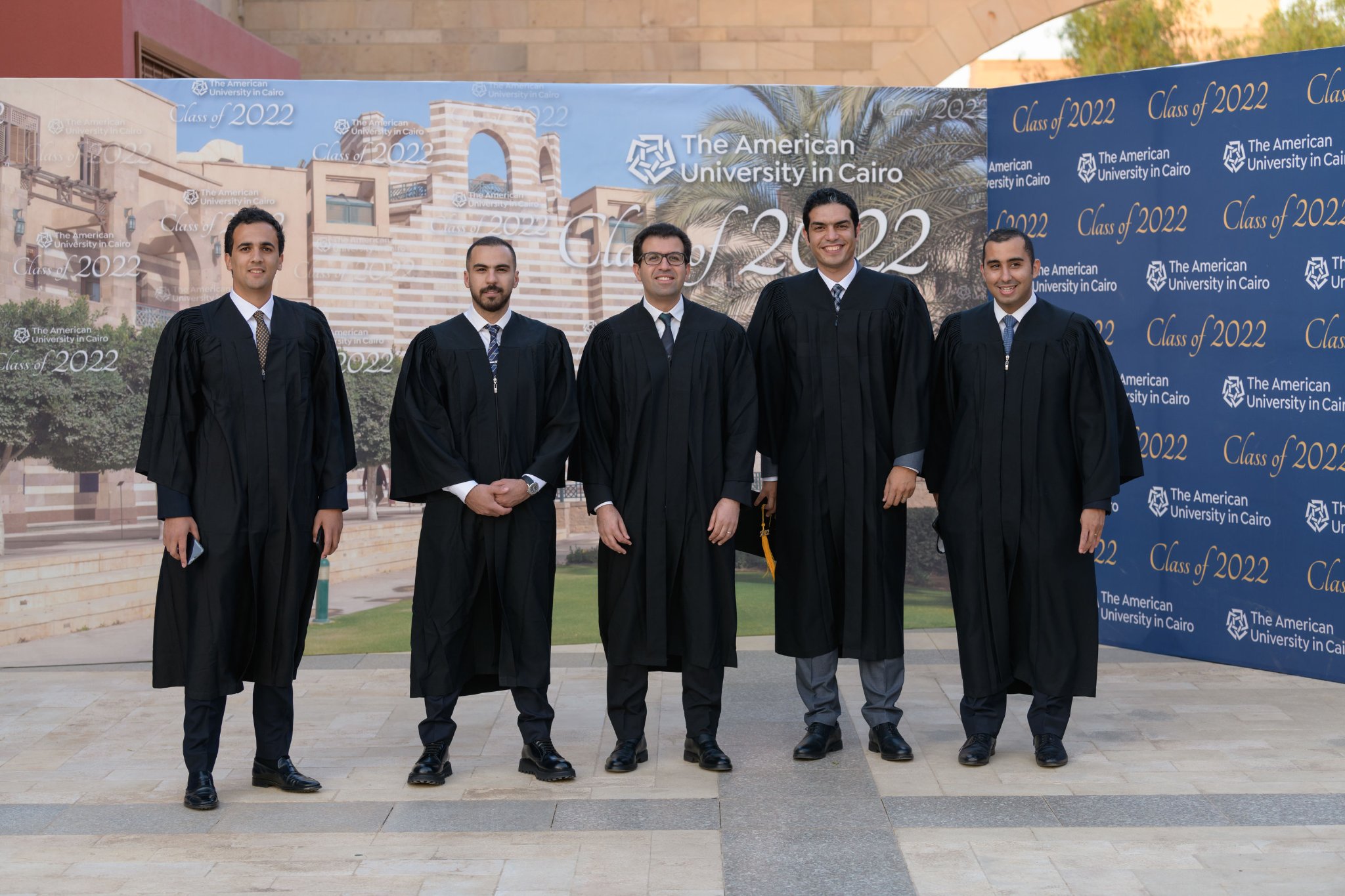 "We regularly asked a lot of you as students and learners during your journey at the university, now we ask of you as graduates even more," emphasized Dean Kamel, expressing his high expectations for the graduating class. He further added that: "[We ask you] To accept the responsibility of leadership and to exemplify the kind of courage, compassion, and creativity we foster in our students and celebrate in our alumni."
Final remarks
In summary, a graduation is a symbolic event marking the end of a longstanding university journey that is filled with trials, especially for the class of Fall 2021 having gone through a global ongoing pandemic. Graduation is the celebration of overcoming those trials and a celebration of shaping oneself into a much more accomplished, forward-thinking, confident, and agile self that is equipped to take on life's challenges and make the School proud by impacting one's surrounding business and social environments.