AUC School of Business receives Eduniversal's Africa Gold Award for the 5th time in a row
AUC School of Business receives Eduniversal's Africa Gold Award for the 5th time in a row
Maintaining its leading position as Africa's number one business school, AUC School of Business was awarded the Golden Trophy at the Eduniversal Awards Ceremony 2021 for the fifth consecutive year last Thursday.
The award is based on the results of the 2021 Eduniversal Deans' Vote Survey which ranks the top three business schools in each geographical zone. The award winning schools are recognized as the highest-ranked business schools among one thousand schools across 154 countries worldwide.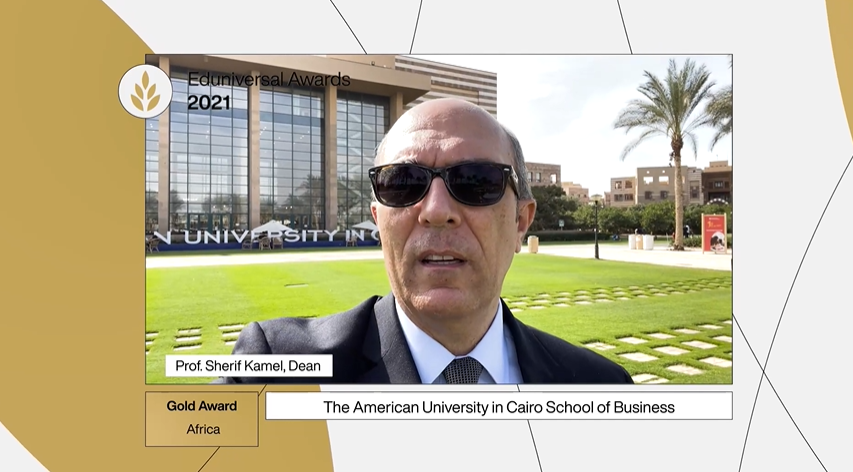 "We work together throughout the year to always better our service in the community," stated Dean Sherif Kamel while expressing his delight to be voted again by Eduniversal as the top business school in Africa.
The award comes as part of the 14th Eduniversal World Convention (EWC), held virtually for the second year, which provides a venue for deans and directors of business schools worldwide to come together to exchange ideas and discuss pressing issues that face their institutions. This year, the three-day event was streamed from Paris' iconic Palace of Versailles.
"We are celebrating institutions with the highest level of innovation and creativity enabling positive changes both at the strategic and operational levels," noted Martial Guiette, founder and CEO of Eduniversal Group. Guiette also took the time to thank Eduniversal's International Scientific Committee, which the school's Dean Sherif Kamel is a member of, representing Africa, for helping organize this year's event.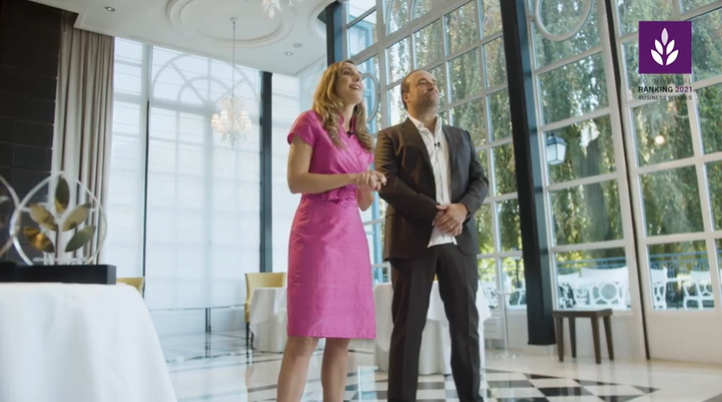 In addition to receiving the award, the school also took part in two separate activities during the convention. Under the slogan "A Commitment to Transformation and a Pledge for Impact", the school was featured in the third episode of EWC's "Let's Meet on my Campus" series. Dean Kamel also moderated a panel discussion titled "Globalisation and the Future of Higher Education".
Headquartered in Paris, Eduniversal is a global ranking and rating agency specializing in higher education. The company has established strong expertise in evaluating academic institutions and programs in France since 1994, and internationally since 2007. Every year, Eduniversal ranks the best one thousand business schools in 154 countries in 9 geographical zones: Africa, Central Asia, Eastern Europe, Eurasia and the Middle East, Far East Asia, Latin America, North America, Oceania, Western Europe.
Watch Dean Sherif Kamel accept the award here.