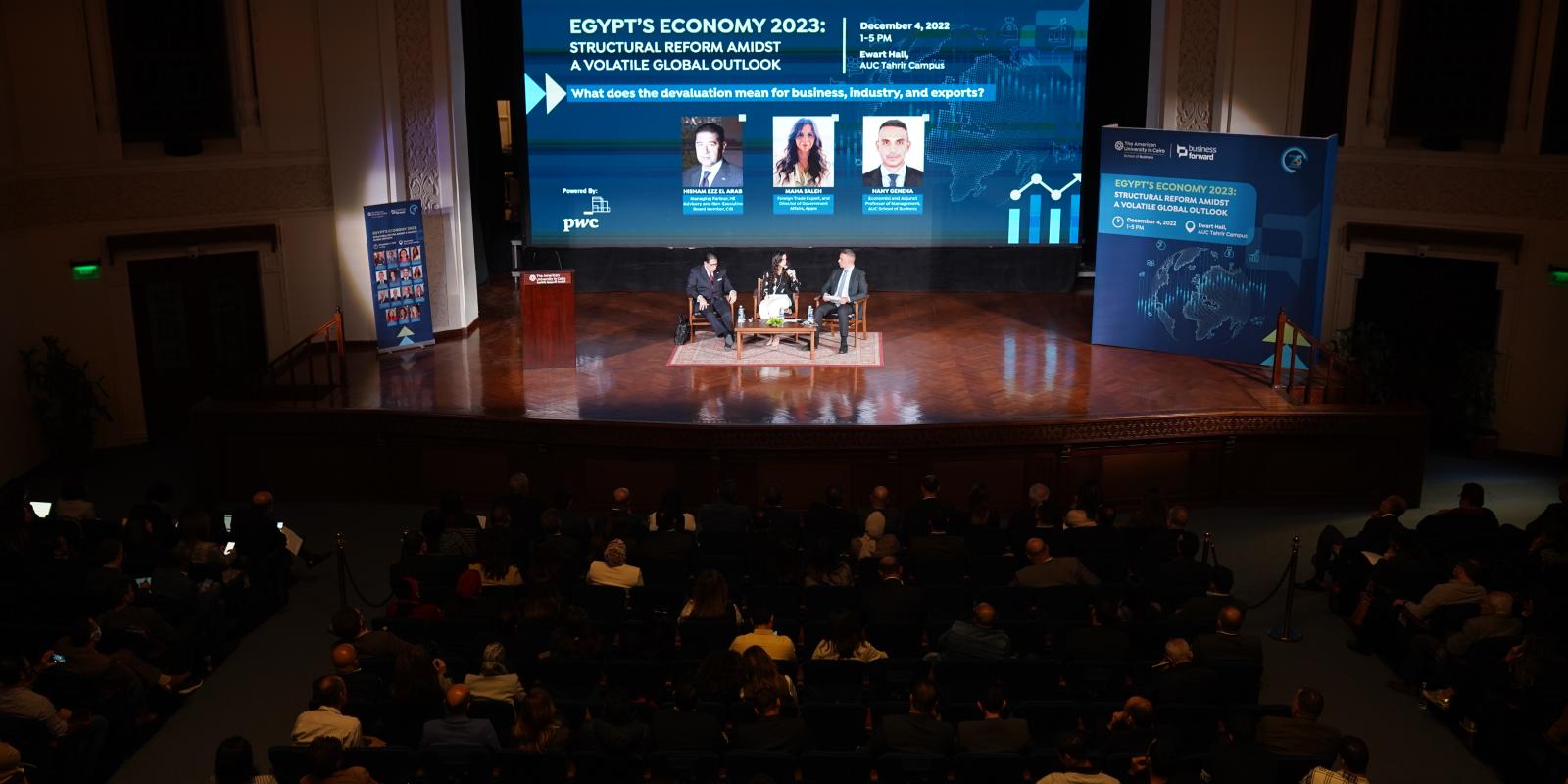 Business Forward 2022 Annual Event: Devaluation, external debt and the private sector
Business Forward 2022 Annual Event: Devaluation, external debt and the private sector
On December 4, Business Forward, the AUC School of Business knowledge portal, hosted its fifth annual event under the title "Egypt's Economy 2023: Structural Reform Amidst A Volatile Global Outlook" at AUC Tahrir Square's Ewart Memorial Hall.
To make sense of all developments and factors that affected Egypt's economy in 2022, Business Forward and its content partner Dcode Economic and Financial Consulting created the annual Business Forward year-in-review Video in collaboration with the School's Department of Economics, which is celebrating its Diamond Jubilee this year.
A floating pound: promises and missed opportunities for businesses and exporters
The first session of the event titled "What does the devaluation mean for business, industry, and exports?" featured an enriching discussion between Hisham Ezz Elarab, managing partner, HE Advisory and non-executive board member of the Commercial International Bank (CIB Egypt), Maha Saleh '02, foreign trade expert and director of government affairs at Apple, and Hany Genena '95, economist and adjunct professor of management, AUC School of Business.
"Over the past 50 years, we have not been practicing what we preach. We did everything other than trying to reach price stability thinking that the exchange rate is part of our dignity," said Hisham Ezz El Arab, renowned banker, non-executive chairman of the Commercial International Bank (CIB) and managing partner of HE Advisory.
Read more insights on the flotation of the pound here.
Unraveling Egypt's debts: problems and solutions
The second session titled "How should Egypt's external debt be perceived?" featured Ahmed Galal, economist and former Minister of Finance, Alia El Mahdy, professor of economics, Faculty of Economics and Political Science, Cairo University, Ahmed Kouchouk '99, Vice Minister for Fiscal Policies and Institutional Reform, Ministry of Finance, and moderated by Dina Abdel-Fattah '07, chair, Department of Economics, AUC School of Business.
"Debt is not a bad thing, it is even necessary especially when you have such low private savings and low incomes," said Ahmed Galal. The problem, he explained, is that the reasons why Egypt had to borrow in the first place do not get addressed at the roots.
Read more insights on Egypt's external debt here.
Essentials for economic reform: what are the prospects of Egypt's private sector?
The last session of the day was titled "What are the expansion prospects for the private sector?" and featured Khaled El Mikati, chairman of the board at Mikati Investment and Trading Co. (MITCO), Yasmine El-Hini, acting country manager for Egypt at the International Finance Corporation (IFC), Sameh Hassan '87, chief executive officer at Savola Foods Co., and Maged EzzElDeen, country senior partner at PwC Egypt.
"There are several ways to attract FDI, such as IPOs; however, it can be tricky since it is subject to global market conditions. Alternative investment schemes are strategic investments and Public-Private Partnerships (PPPs), as well as concession agreements," explained Yasmine El-Hini.
Read more insights on Egypt's private sector dynamics here.
Launch of #IMovedMyBusinessForward campaign: family business edition running until May 2023
The event also saw the launch of the latest edition of Business Forward's annual digital campaign. Watch the campaign video to learn more and fill out this form to join the campaign. This year's campaign focuses on family businesses and runs until May 2023.
"The campaign #IMovedMyBusinessForward will invite family businesses of all sizes to present their family business stories and to share their experiences, to reflect their challenges and perceived opportunities. In parallel, we will be also sharing through this campaign latest knowledge and research about the discipline of family business," said Randa el Bedawy, associate professor of Management at AUC School of Business.
This year's annual event and campaign were generously supported by PwC.
Watch the full event recording here or check out more snaps from the event here.