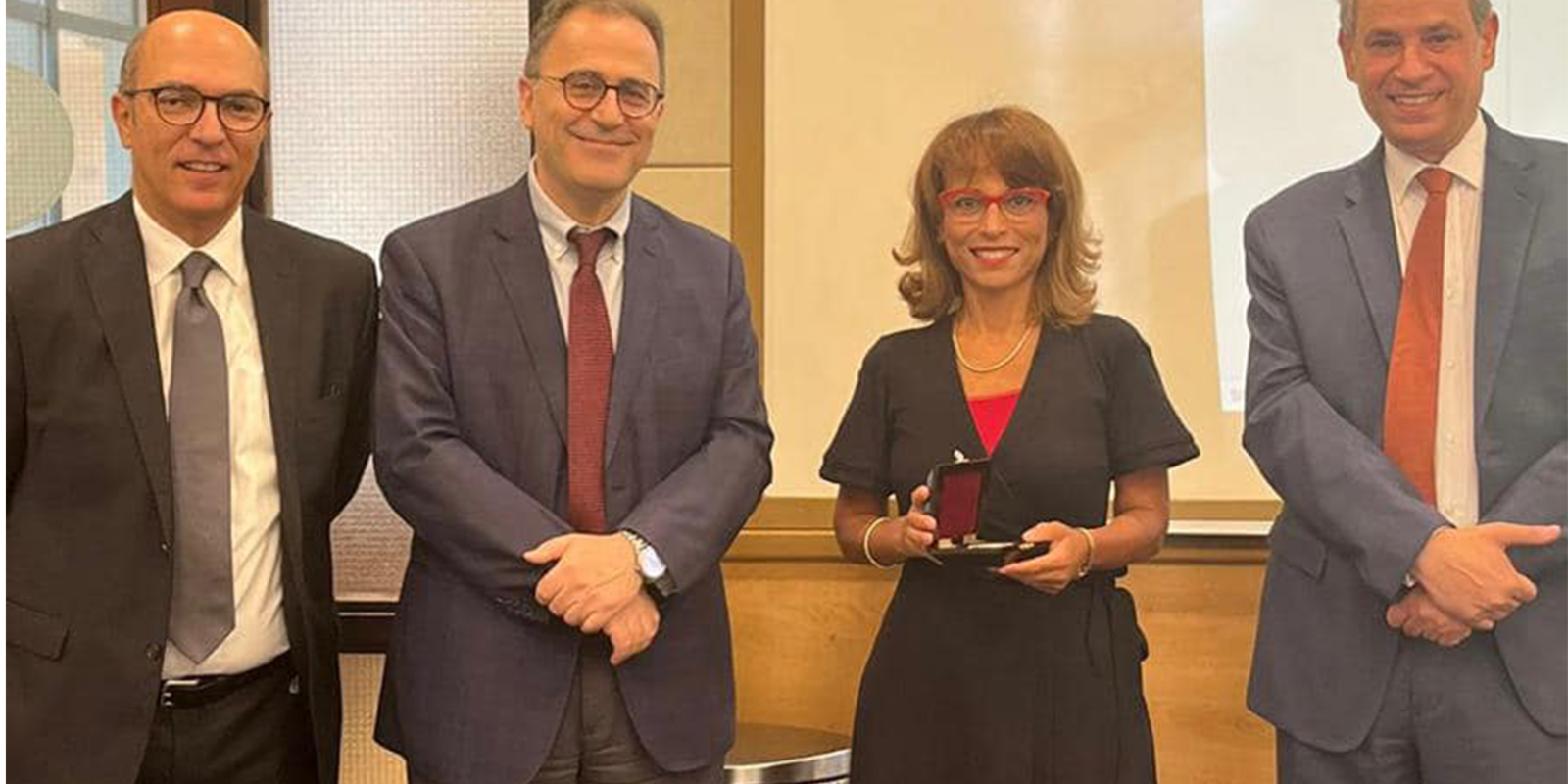 Celebrating 25 Years of Professor Nagla Rizk at AUC School of Business
Celebrating 25 Years of Professor Nagla Rizk at AUC School of Business
"Why we are here today is why AUC has been for the last 100 years making all the difference." – Dean Sherif Kamel.
Student, teaching assistant, research fellow, faculty, department chair, center director and associate dean; Nagla Rizk has worn all the hats there are at AUC School of Business.
The professor of economics and founding director of the Access to Knowledge for Development Center (A2K4D) has been part of the School since 1979, where she started her journey as an economics undergraduate student.
"I am proud to be a member of this institution because of people like you. You have given the institution a lot, so thank you for everything," expressed AUC President Ahmad Dallal.
"I used to visit the AUC Tahrir Campus with my mother, the late Professor of Sociology Madiha El-Safty, as a child, way before enrolling at the university," said Rizk at the celebration of her silver jubilee on September 13. "I started very young at the School and I am proud to have been part of its history," she shared.
"Professor Rizk ticked all the boxes over her tenure at AUC School of Business," said Dean Kamel, highlighting how she has always been adapting to global changes in education.
Indeed, Rizk has developed and introduced multiple courses to the School's Economics curriculum such as "The Digital Economy, Information Technology and Economics", "Undergraduate Econometrics", and "CopyrightX: The Economics of Copyright and Creativity", which is a Harvard course, where students receive a certificate from Harvard University.
"I have been visiting the AUC Tahrir Campus since I was a child in 1970. The Department of Economics has been my home since a very young age," expressed Rizk, adding: "Even when I went to Canada for my PhD, I still kept close contacts with the department."
Rizk shared her feelings about being celebrated by the School: "I am grateful and honored. I feel at home." She added: "As the Department of Economics celebrates its 75th anniversary, I am proud to have been an active part of one third of its history, and to have studied and worked with an incredible community of people including icons like Professors Adel Beshai, William Mikhail and Galal Amin. I have learned from each and everyone I engaged with throughout this journey."
These heartfelt comments were followed by her plans for the next 25 years: "I am just going to continue doing what I am doing – work hard, maintain high standards, explore new ventures, ensure constant development and give back to the department and the School through my teaching, research and service."
When asked about A2K4D, Rizk explained that the center was born out of her "firm belief in the role of knowledge and technology for the betterment of human lives in the context of a dynamic world powered by the internet and fast-evolving digital technologies, and the complex implications of all this for developing countries in particular."
"We should be at the forefront of issues happening worldwide," she explained. "Our role as Egyptians, Arabs and Africans is to bring the voice of our part of the world to inform global conversations on these issues, not as observers but as active contributors to shaping the narrative," she stressed, demonstrating how the center has partners in various parts of the globe to help fulfill this purpose.
"This is what A2K4D is about," she stated.
Rizk emphasized the link between research and teaching, and that teaching should draw on theoretical underpinnings to tackle timely issues and explore current contexts through practical examples that students can relate to.
Nagla Rizk has been and will continue to play a vital role in the development of AUC School of Business, whether through her academic contributions – her teaching and research – or through her internationalization and outreach efforts, where she was able to secure over three million dollars in grants and gifts to support research at A2K4D and the School. Furthermore, Rizk has represented the School in multiple fora around the world, and hence, helped expand our reach on the global stage, especially in the realms of access to knowledge, intellectual property, innovation, technology, the future of work and gender.
Thank you, Professor Rizk, and to many more years to come!