Pitchathon 21-22: From sustainable fashion to digital payment solutions and everything in between
Pitchathon 21-22: From sustainable fashion to digital payment solutions and everything in between
The business plan project Pitchathon is part of the Experiential Learning Entrepreneurship Program (ELEP) launched by the AUC School of Businesses Center for Entrepreneurship and Innovation (CEI) and the Business Association (BA). This initiative targets students who are enrolled in the Entrepreneurship and Innovation classes (ENTR 3102).
Ultimately, this project aims at bridging the gap between students' theoretical knowledge and experiential learning, and is divided into two main pillars: webinars and a competition. Top teams from each class are nominated by professors to participate in the Pitchathon competition, where they would pitch their business ideas to a panel of judges for a chance to win monetary prizes and potentially other opportunities.
This year, the innovative ideas presented had to tackle the United Nations' Sustainable Development Goals.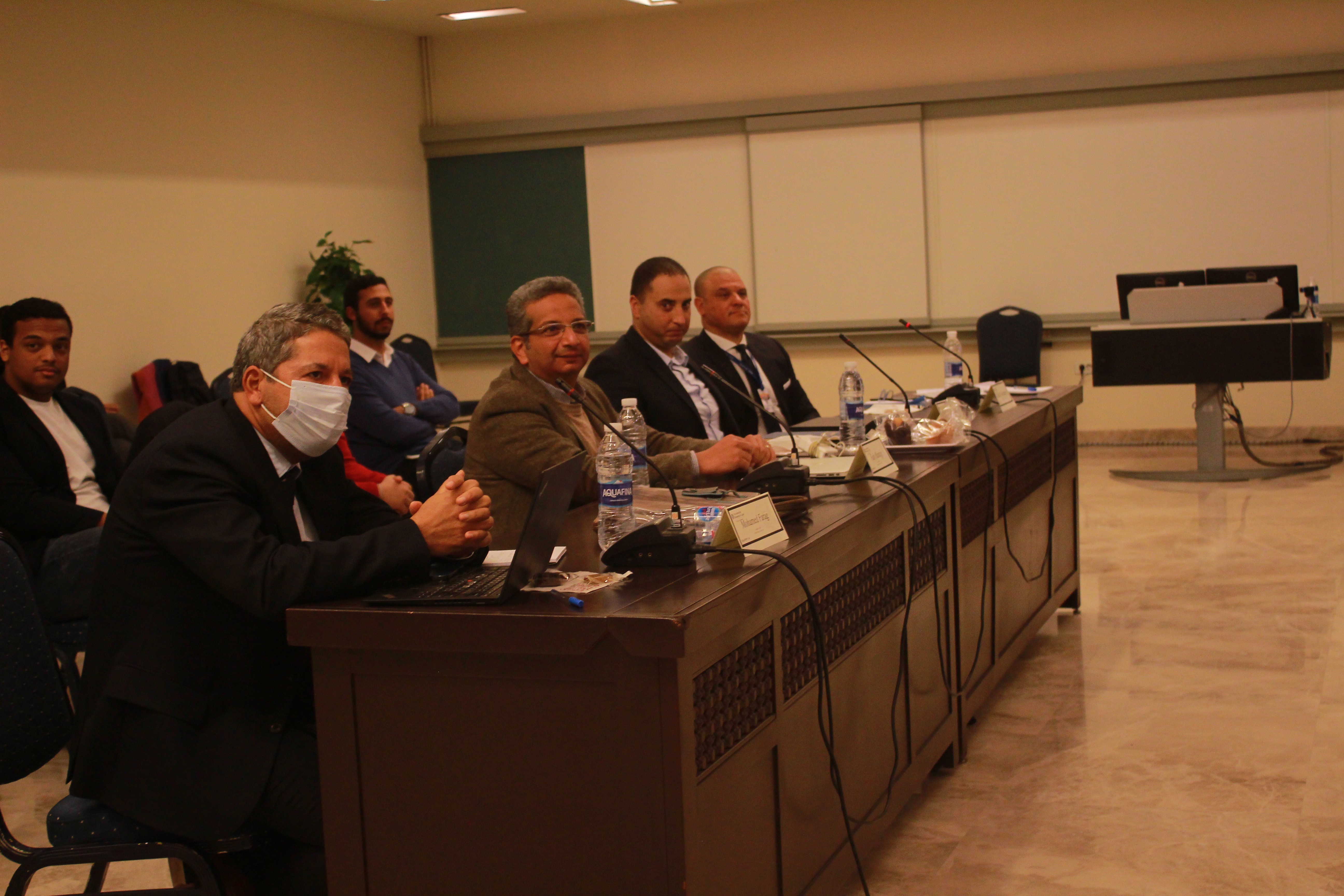 Pitchathon 21-22 featured an esteemed judging panel of established professionals Fady Ramzy, online marketing consultant and adjunct faculty at the American University in Cairo, Mohamed Farag, founder and CEO of Global Design Group Ltd., Walid El-Sherbiny, general manager, Risk Management Group, Suez Canal Bank, and Hany Abelgawad, head, Corporate Division, LCE - The Coaching Company.
"I am really proud of our new generation represented through the great teams that I have seen during this event," said El-Sherbiny, "I was so happy to witness their extraordinary energy and mindset and I consider them all as winners."
"Sky is not the limit anymore for these entrepreneurs," remarked Ramzy.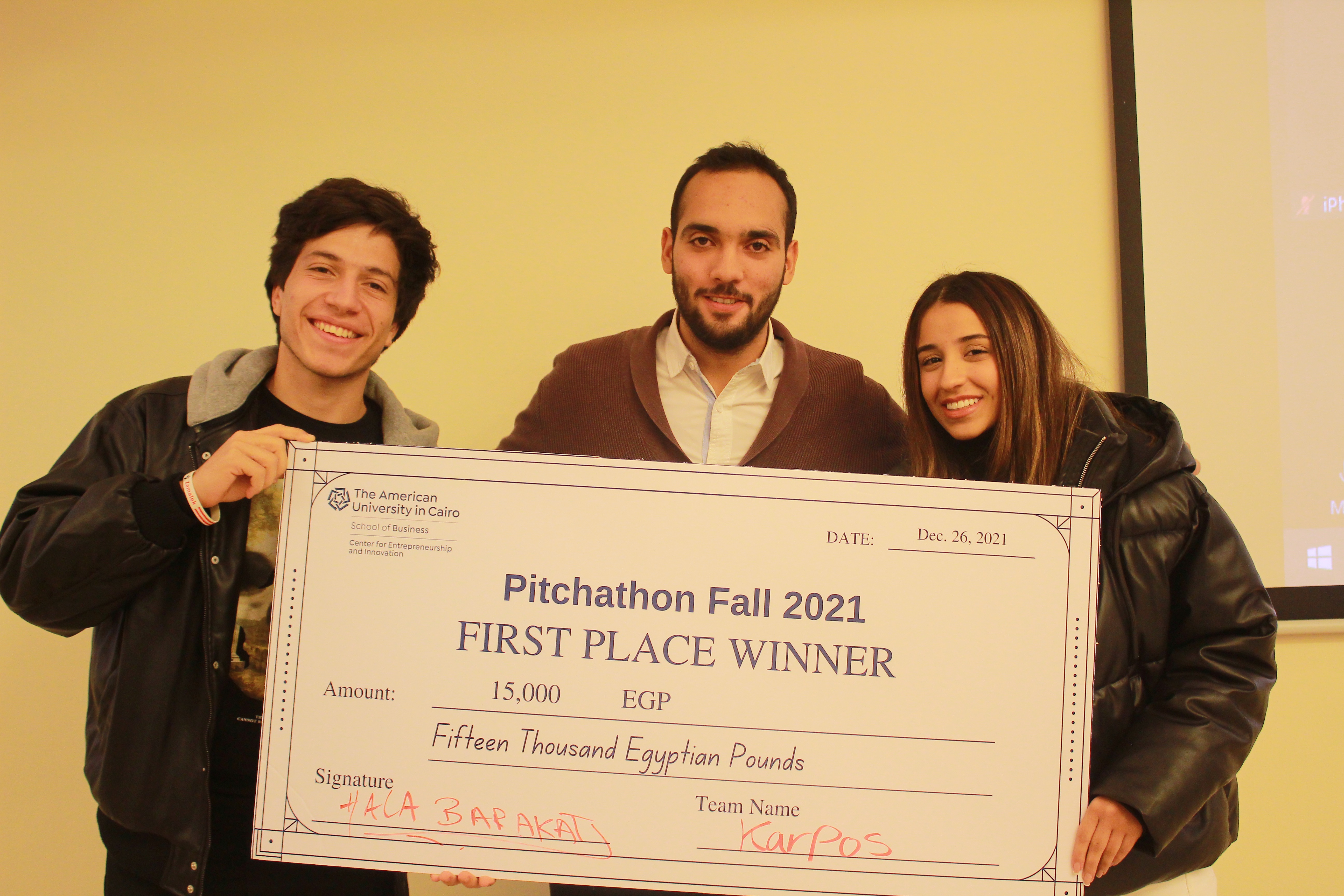 The winning team "Karpos" focused their project on sustainable fashion. The team featured students Ibrahim Elshorbagy, Cybal Ayoub, Mohamed Diab, and Ahmed Edris.
"We were thrilled to be able to develop a business model that has two overarching points: seeking a more sustainable world, while also being profitable," said the team members, adding: "We see ourselves as the early adopters of sustainable fashion in the MENA region."
The team got the chance to meet and work together for a semester-long. "It was not about the prize but rather about the journey, our team's win was no more than a crowning of our efforts. We enjoyed every part of the experience," the team members noted.
"As a team, we have something to offer to promote sustainability in our society. We need to change our cultural thinking to be headed towards more sustainability, less waste, and more adequate consumption, not just for the next generations, but for ours, too," emphasized the winning team, Karpos.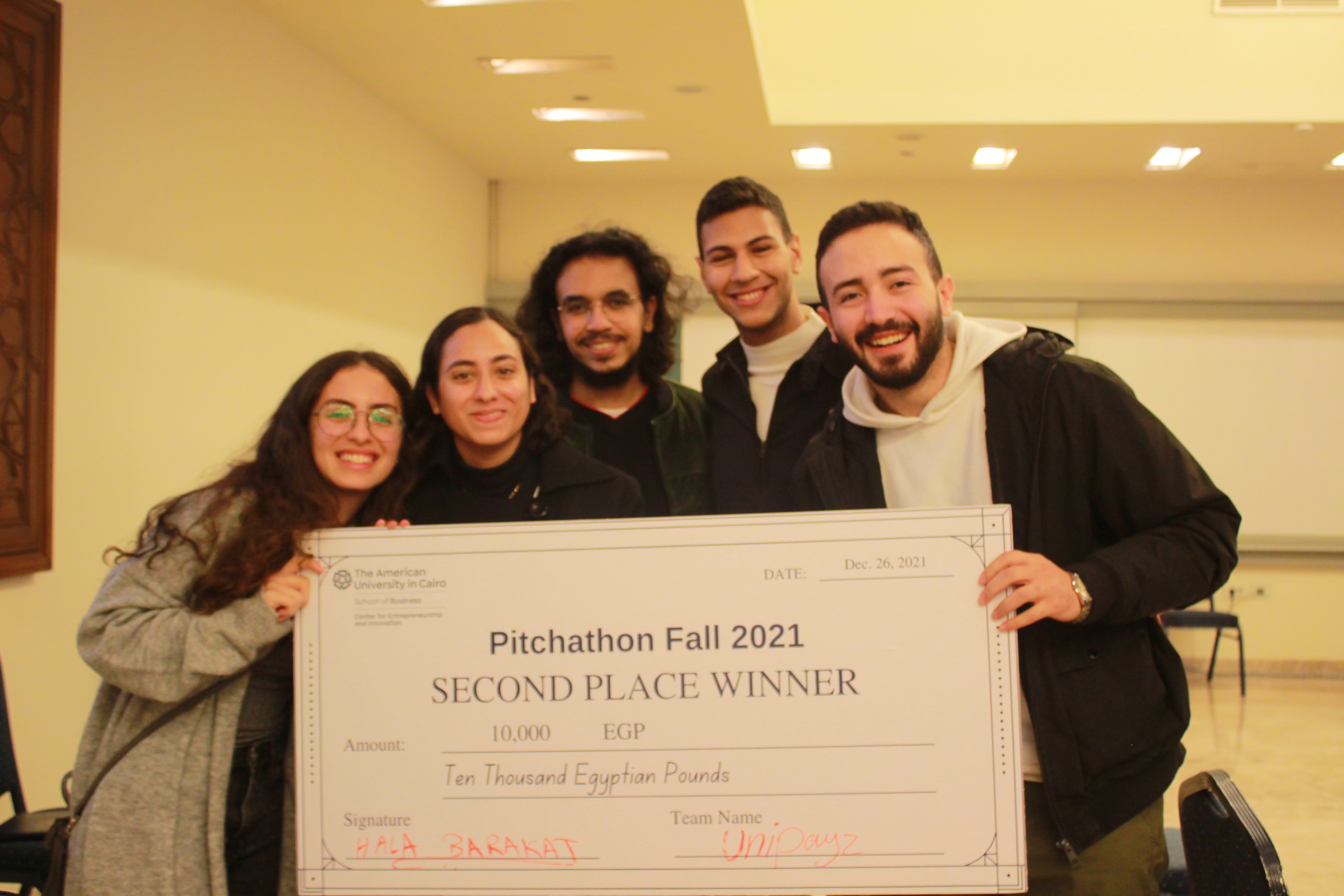 On the other hand, the runner-up team "UNIPAYz" offered a payment solution platform for universities and potentially gated communities as well. The team featured students Abdelghany Aboulnaga, Mariam El Sabban, Mohamed El Awadly, Hana Hassan, and Amr Elsayed.
"As the previous academics manager at the BA and having collaborated with CEI on this initiative, it was an honor to partake in the Pitchathon competition of Fall 2021 for its second round," highlighted Mariam El-Sabban, a member of team UNIPAYz.
"I was delighted to win second place and to share this moment with my friends. Showcasing our hard work in front of the panel of judges and receiving great feedback is what makes us look forward. As a team, we cannot wait for what the future holds for our student app, UNIPAYz," said Mariam.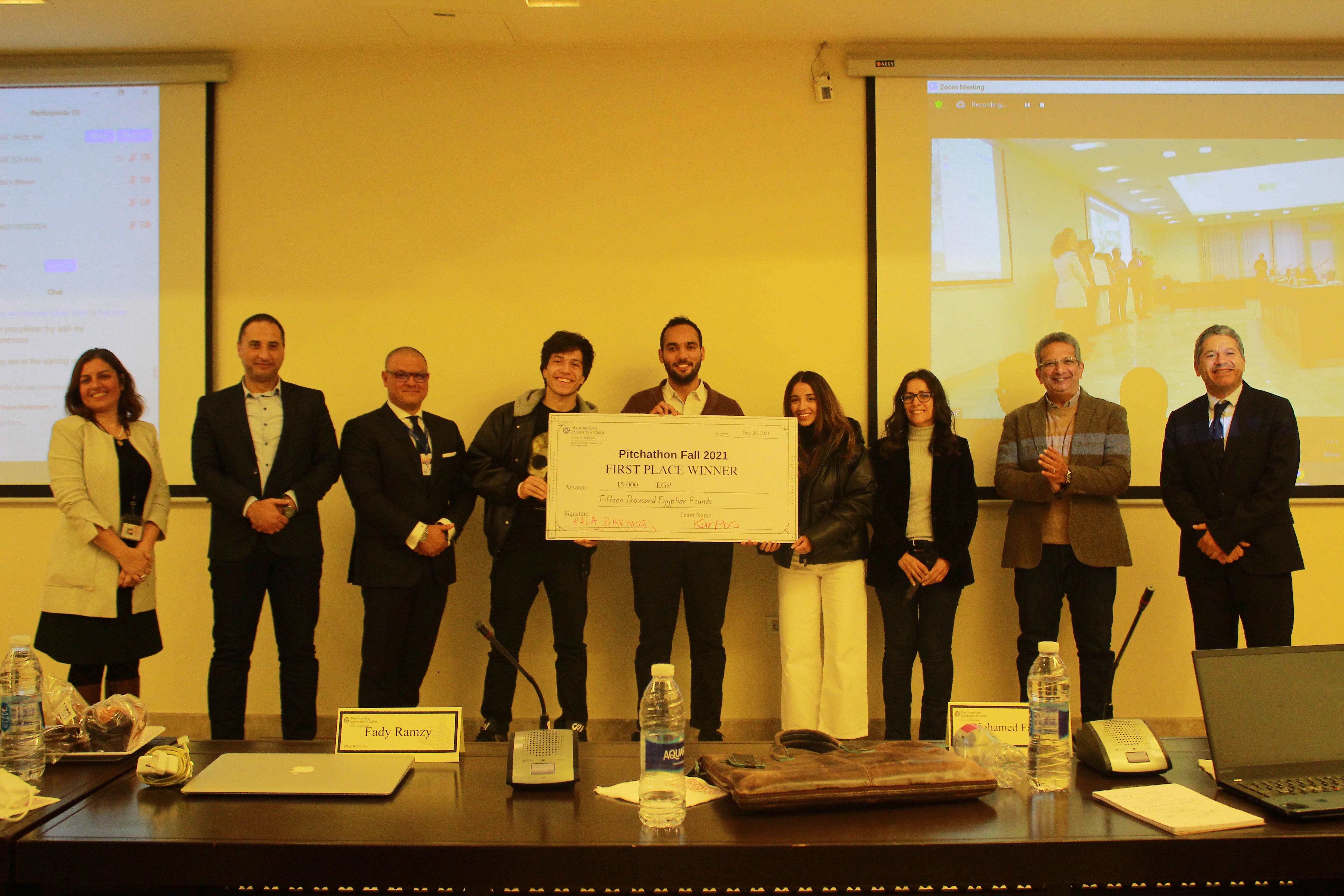 Pitchathon and ELEP have been launched in Fall 2020, with a total of 40 students participating over the past rounds. Student teams received scheduled mentoring sessions from industry experts who guided them towards developing their business models, providing them with insights drawn from their practical experiences. Moreover, last year's winning team went on to participate in the Babson Collaborative 2021 Global Student Challenge and two teams reached the semi-finals.
Learn more about CEI's other initiatives here.