Events
Events
January - December 2022
Incubating Feminist AI: MENA fair Hub's First Network Meeting
December 14, 2022
A2K4D is proud to be the Middle East and North Africa hub of the fair Hubs Network (Feminist AI Research Network), an initiative of the <A+> Alliance global coalition. In our first MENA network webinar, we introduced the fair Hubs Network. We brought together key stakeholders in MENA in an action-oriented conversation on how new technologies, such as Artificial Intelligence, can be harnessed to address MENA's most pressing developmental problems with a focus on gender inclusion.
---

Women and Work in Egypt's Informal Digital Economy: Evidence-Based Insights for Policy Making
November 23, 2022
In this webinar, A2K4D shared insights from fieldwork conducted in Egypt with women working via social media and messaging platforms. Speakers also discussed areas for action in terms of policy recommendations to benefit similar women digital entrepreneurs and women working in the digital economy in general. This webinar is hosted in collaboration with Friedrich-Ebert-Stiftung (FES) Egypt.
---

Women and Work: Egypt's Informal Digital Economy Post

COVID

-19

in collaboration with

Friedrich-Ebert- Stiftung (FES) Egypt.
January 31, 2022
In this webinar, we aimed to explore and further investigate the opportunities and risks for women, in terms of work, in the digital economy in Egypt and especially new forms of more informal digital work. This webinar picks up from a series of webinars conducted by A2K4D in collaboration with FES throughout 2020 on topics relevant to digitization, inclusion, and the impact of COVID-19 on the digital economy. Panelists: Christine Arab - country representative, The United Nations Entity for Equality and the Empowerment of Women (UN Women), Egypt; Rania Atef - founder, I Make This, Egypt; Hoda ElSadda - professor of English and Comparative Literature, Faculty of Arts at Cairo University, Egypt, Marwa Sharafeldin - visiting fellow Harvard Law School's Program for Law and Society in the Muslim World. Musawah, Global, and our associate director, Nadine Weheba. This webinar was moderated by: Nagla Rizk.
---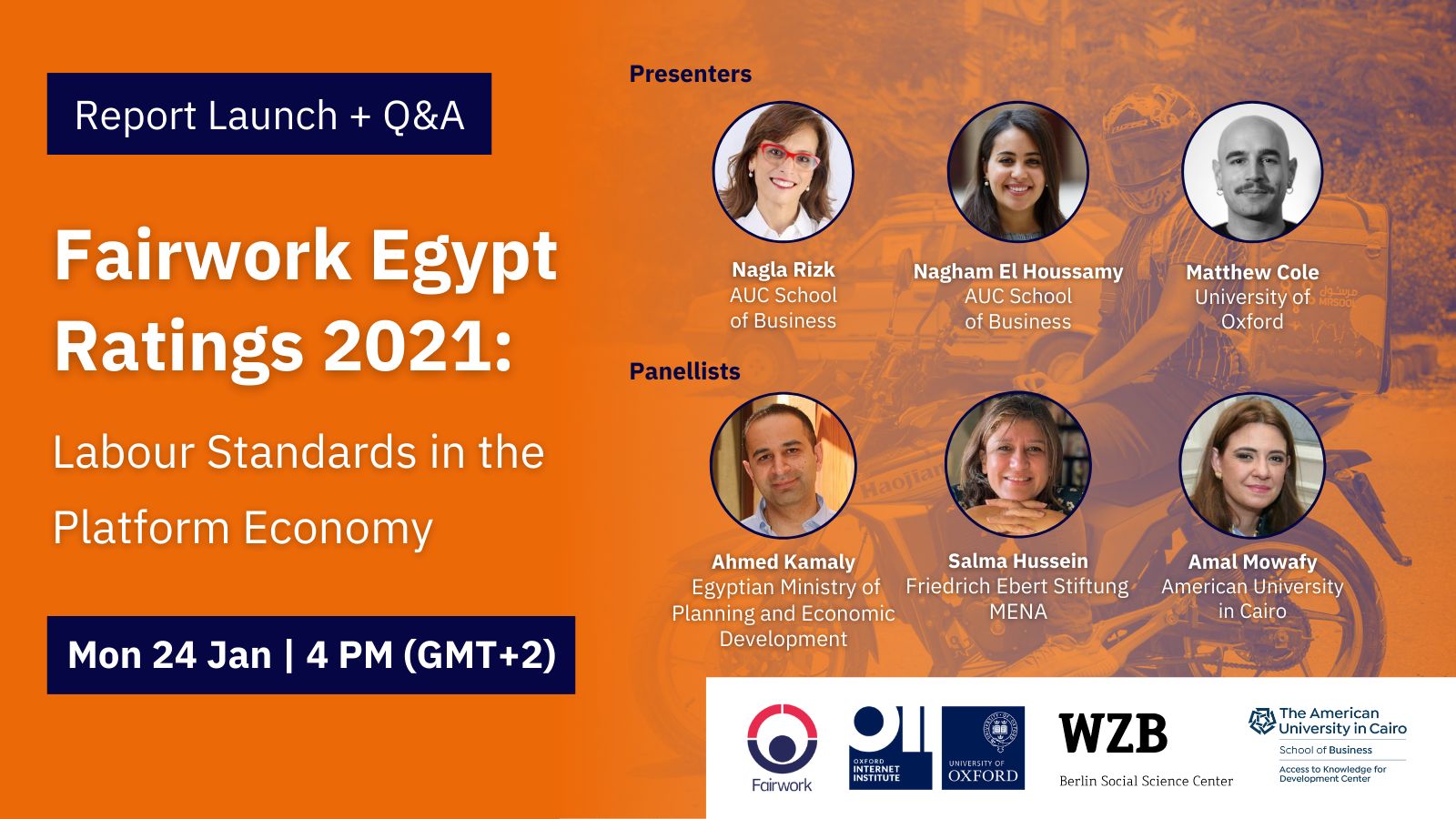 Fairwork Egypt 2021 Ratings: Report Launch
January 24, 2022
The Fairwork Egypt 21 report evaluates the working conditions of seven digital labor platforms – FilKhedma, Mrsool, Orcas, Swvl, Talabat, Mongez and Uber - against five principles of fairness—fair pay, fair conditions, fair contracts, fair management, and fair representation.
Egypt's local start-up scene has boomed and diversified to include new digital labor platforms in different sectors such as transportation, education, domestic services and delivery services. In a country dominated by informality, digital labor platforms present unique and flexible opportunities for workers to earn an income in Egypt. However, workers on these platforms often lack basic rights and protections. We hope that the findings in this report will help all the relevant stakeholders work collaboratively to ensure fairer standards, inclusion and sustainability in Egypt's platform economy.
Report authors Nagla Rizk, Nagham ElHoussamy, and Matthew Cole gave a brief presentation with key findings from the report. This was followed by a discussion with guest panelists Ahmed Kamaly, Deputy Minister at the Egyptian Ministry of Planning and Economic Development, Amal Mowafi, Chief of Party at USAID Scholars Activity at the American University in Cairo, and Salma Hussein, Regional Research Manager at FES MENA.